Peyton Manning and Indianapolis Colts take plaudits from Neil Reynolds
Peyton and Adrian Peterson lead Neil Reynolds' Pick Six, while Mike Tomlin stumbles in, too...
By Neil Reynolds
Last Updated: 02/12/13 4:08pm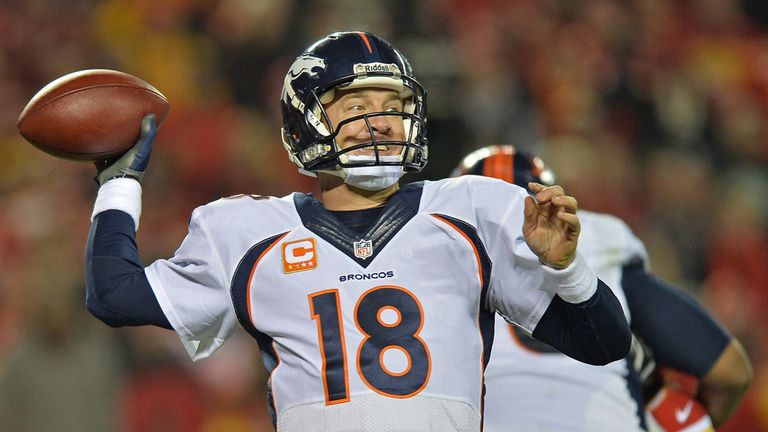 There was the odd spot of controversy and lots of close finishes but, more than anything else, we were treated to some offensive fireworks as the playmakers of the NFL stood up and took centre stage at the beginning of what will be an intense run-in.
Peyton Manning tossed five touchdown passes in Denver's 35-28 victory over Kansas City, Adrian Peterson rushed for 211 yards as Minnesota grabbed their third win of the year, and we saw a pair of receivers go over 200 yards on the day in Cleveland's Josh Gordon and Chicago's Alshon Jeffery. Both of those dynamic wide-outs ended up on the losing end on Sunday.
On what was a breath-taking night of American football action to kick off December, here is what caught my eye...
Peyton is a machine
Okay, so it wasn't a cold weather game as such and there was no wind to contend with, but Peyton Manning looked pretty comfortable playing away from home in a hostile environment on Sunday.
Manning overcame a shaky start to systematically rip apart Kansas City's defense. His arm strength is clearly nowhere near what it once was, but it's hard to pick holes in Peyton's production, even if he can be harried into mistakes when he is not given time to set his feet in the pocket.
Manning threw for 403 yards and five touchdowns as the Broncos took control of the AFC West, and possibly the entire American Football Conference. And it was on the deep ball that Manning demoralised and eventually defeated the Chiefs. He hooked up with Eric Decker eight times for 174 yards and four scores.
The shine has come off the Chiefs with three straight losses after a 9-0 start but they are still in the thick of the playoff race and cannot hit the panic button just yet. Peyton has produced this kind of form against a great many defences during his Hall of Fame career.
Peterson is also a machine!
Anyone remember the classic quotes from Rocky IV just as Ivan Drago is preparing to head out for the third round of the big fight in Moscow?
After giving Rocky Balboa the business for the first two rounds, Drago moans: "He's not human. He's like a piece of iron." I'm pretty sure the Chicago Bears are saying the same thing today after trying to contain Adrian Peterson (pictured) on Sunday night.
Peterson ran like a man possessed and virtually dragged the Minnesota Vikings to a 23-20 overtime win over the Bears. He became the third-fastest man in NFL history to reach 10,000 rushing yards and gained 211 yards on 35 carries on the night.
The Bears knew Peterson was Minnesota's only hope, yet they still couldn't stop him. There were times when he had no openings in front of him. On those occasions, Peterson simply ran into the heart of the Chicago defence and carried members of the opposition downfield with him.
I cannot confirm these reports, but I suspect Peterson spent the hours after the game signing autographs for Spider-Man, Superman and Iron Man - those guys know who the king of the superheroes truly is - he wears purple and he wears number 28.
Jets done with Geno already?
When you consider the New York Jets invested a second round draft pick in quarterback Geno Smith in April, it's hard to imagine they move on from him already after just 12 games.
But if the Jets stick with their struggling rookie passer just to break him in and make him a more viable prospect in the future, how does head coach Rex Ryan sell that to the veterans in his locker room who want to win now and are in the midst of the AFC playoff race?
Smith may have sealed his own fate during New York's dismal 23-3 defeat against the Miami Dolphins in front of their own fans. He was so bad that the Jets might deem him beyond saving. Smith showed some bright spots early in the year but has regressed terribly and he threw for just 29 yards and an interception before being replaced by Matt Simms at the half.
Simms didn't fare much better, however, and quickly realised that Geno has been working with inferior skill-position players around him. Simms threw for just 79 yards and an interception. If he is not going to be a significant upgrade on Smith, the Jets might as well go with their rookie second round selection and have him try to work through these rough times. At least they will find out if their young passer has the stomach for a fight.
Colts bounce back
The Indianapolis Colts must enjoy playing the Tennessee Titans. A week after being thrashed at home by the St Louis Rams, the Colts got healthy with a win in Nashville. And after losing heavily in Arizona in Week 12, Indy recorded a 22-14 home win over the Titans in Week 13 (pictured).
With that victory, the Colts took control of the AFC South. They have a three-game lead in the division with four to play - but all is not rosy in the Indianapolis garden.
They continue to get bogged down offensively and relied far too much on the boot of Adam Vinatieri (pictured) on Sunday night. The Colts kicked five field goals and scored just one offensive touchdown against the Titans.
As much as I like quarterback Andrew Luck and feel he has the potential to be truly great, that kind of offensive production - particularly when it comes to finishing drives - is not going to get it done in the playoffs.
He meant it!
There is no doubt in my mind that Pittsburgh Steelers head coach Mike Tomlin meant to impede kick returner Jacoby Jones during his team's 22-20 loss to the Baltimore Ravens on Thanksgiving Day.
How often do you see a head coach with his back to the action on the field, preferring to watch on the giant screen at the other end of the stadium? I have rarely seen that during my time in the NFL. It's almost as if Tomlin got lost on purpose in order to get in Jones' way.
If that is proven to be the case - and Tomlin is currently protesting his innocence despite the fact his own wry smile after the play gave him away - the Steelers and their coach must face a pretty severe punishment. That could then be used as a deterrent for other coaches thinking of pulling a similar stunt in the future.
Good weekend for Wembley-bound teams
Maybe the teams heading to London in 2014 were buoyed by the news that season ticket packages go on sale from Tuesday of this week.
Of the six teams heading to the UK in 2014, five were victorious in Week 13 as Detroit, Dallas, Jacksonville, Miami and finally Atlanta saw off their opponents. Only the Oakland Raiders were on the wrong end of the scoreboard this week, losing to the Cowboys on Thanksgiving Day.
I continue to be impressed by the job that Gus Bradley is doing as head coach of the Jacksonville Jaguars (pictured). When we spoke at length in London he told me that his task was to keep teaching and to keep reminding his players that their goal was to get better each and every week.
The Jags are far from the finished article but they have done just what their coach asked of them. They have improved dramatically from where they were at the start of the year and I doubt they are finished with the wins just yet. Jacksonville lost badly at Wembley by a 42-10 scoreline to the San Francisco 49ers. Since then, they have won three of their last four games.
When the curtain comes down on this season, the Jags will be a significantly improved team on the one that kicked off the 2013 campaign. That not only bodes well for a brighter future - that is a sign of good coaching.