NFL: Neil Reynolds talks 49ers defence, Ben Roethlisberger and the Buccaneers
Neil Reynolds was impressed with San Francisco's defence despite their loss to New Orleans...
Last Updated: 18/11/13 4:02pm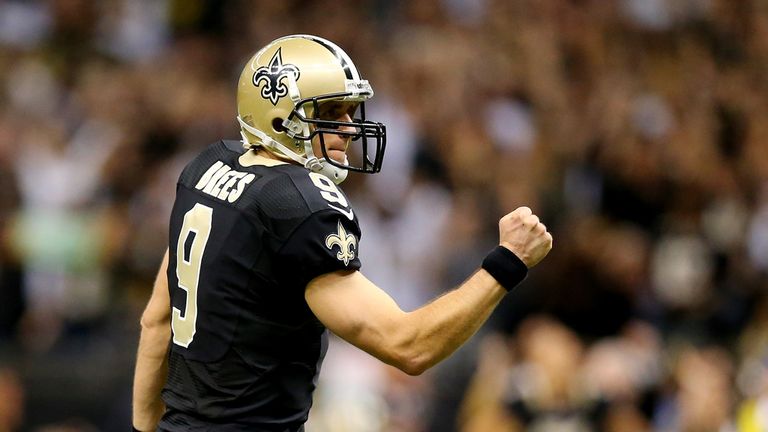 The contest between the Chicago Bears and Baltimore Ravens was delayed for one hour and 53 minutes due a mixture of severe thunderstorms, heavy rain and the threat of tornadoes, and the AFC North showdown between Cincinnati and Cleveland was played out in miserable conditions in the second half as the bad weather rolled in and a further tornado warning was issued in Ohio.
Chicago and Cincinnati won those contests in trying conditions but there were no such weather worries in the Superdome in New Orleans where the meeting between the hometown Saints and San Francisco 49ers caught the eye.
That seems as good a place as any to begin this week's Pick Six offering...
Heavyweight clash in NFC
The Saints and 49ers played out an enthralling game on Sunday night with Garrett Hartley kicking New Orleans to a 23-20 victory with his 31-yard field goal as time expired. This had the feel of a true heavyweight clash and I would not be surprised if this pair meets again in the playoffs in January.
First, I want to talk about the San Francisco defense because they were beastly in holding the Saints to just three field goals after the break. And that defensive effort came with very little help on the offensive side of the ball - the 49ers just could not get going in the all-important final period.
While the Niners were flying around and making big plays on defence, we have to credit Drew Brees for finding enough positive gains of his own to move the Saints into a winning position. It wasn't easy but Brees managed to spread the ball around to his receivers and edge his team to victory.
San Francisco quarterback Colin Kaepernick can only dream of spreading the ball throughout a number of targets. This fact highlighted a major difference between the 49ers and Saints this season - when Drew Brees threw a first quarter touchdown pass to Josh Hill, that was the tenth different player he had hit for a scoring strike this season. Kaepernick has thrown touchdown passes to just two players this year - Anquan Boldin and Vernon Davis.
The 49ers are still a very good team, but their lack of depth in the passing game is very worrying.
Big Ben strikes
And that is why I think it is ridiculous that the Pittsburgh Steelers will trade Ben Roethlisberger in the off-season! He was outstanding on Sunday evening as he threw for 367 yards and four touchdowns during his team's 37-27 win over the Detroit Lions.
In a league where there are not enough good quarterbacks to go around, do we seriously think the Steelers will trade away a two-time Super Bowl-winning passer? Sure, Roethlisberger is no spring chicken anymore and he has endured his share of injuries, but he is a proven commodity who can produce the goods when surrounded with some workable talent.
Big Ben has never been happy in partnership with offensive coordinator Todd Haley, but I think the Steelers have to work past that. If they do pull the trigger on a trade, I can only imagine it is because they want to hire cheaper labour in the form of a rookie signal-caller.
A Roethlisberger contract extension will not come cheaply for the Steelers but I think they have to bite the bullet and pay the man. He is still worth the investment and it would be wise for the Steelers to then add a young passer they can groom alongside Big Ben.
It's the Bad Week Jets!
It is incredible to think that the New York Jets have now played 10 games on the season and have still not managed to win back-to-back contests. Coming off their big win over the New Orleans Saints before their bye week, the Jets returned to the field by laying an egg in a 37-14 loss to the Buffalo Bills.
And it was the turn of bad Geno Smith at quarterback for New York. The rookie passer threw three interceptions and also lost a fumble. He now has 20 turnovers on the season and has received the dreaded vote of confidence from head coach Rex Ryan. If he cannot take care of the football, Smith is going to hold back a team with a strong running attack and a top-flight defence.
The Jets and the Miami Dolphins are now tied at 5-5 in the race for the final wild card spot in the AFC. Either team would be hard to read in the post-season - one week they can be pretty decent, then at other times they can serve up utter dross.
And let's not rule out the Bills just yet. They snapped a three-game losing streak on Sunday to improve to 4-7. And their next three opponents - Atlanta, Tampa Bay and Jacksonville - currently have a combined record of 5-25.
Wins like buses for Buccaneers
It's a joke as old as Christmas but it seems the wins are like buses for the Tampa Bay Buccaneers - you wait ages for one and then two come along at once. And this one was as emphatic as they come in the form of a 41-28 shellacking of the Atlanta Falcons.
When you look at the statistics it is clear that the Bucs had their way with the Atlanta defence and could literally move the ball at will. Mike Glennon hit on 20 of 23 passes and threw a pair of scores, Bobby Rainey rushed for 163 yards and scored a hat-trick of touchdowns, and Vincent Jackson caught 10 passes for 165 yards and one touchdown.
The Bucs are still playing hard and may yet save the job of embattled head coach Greg Schiano. As for the Falcons, they are a talented offensive team that has been hit hard by injuries on that side of the ball. But they need to upgrade significantly on defence to avoid future lost seasons such as this one.
Bengals create breathing room
The Cincinnati Bengals grabbed some breathing room in the AFC North with a 41-20 victory over the Cleveland Browns. This was our main game on Sky Sports and the result left the Bengals with a 7-4 record and the Browns rocking at 4-6.
I think this game came down to all three phases for the Bengals as they scored touchdowns on offense, defense and special teams.
I thought the Bengals played very well defensively and flew to the football with the kind of aggressive approach that would have warmed defensive coordinator Mike Zimmer's heart on a cold, wet and miserable day.
But I would be slightly worried about Andy Dalton at quarterback. Sure, he threw three touchdown passes but he also tossed up a bad interception that Joe Haden returned for a score. And he ended the day with just 93 passing yards.
That kind of effort is not going to win too many games in the NFL. On this occasion, Dalton was helped out by the aforementioned defence and special teams.
Tinkering Texans
I know it is sacrilege to think as much given that he suffered a mini-stroke just a couple of weeks back, but I wonder if Gary Kubiak is going to hang on to his job as head coach of the Houston Texans?
I have a few reasons for thinking this so bear with me... First, flip-flopping between quarterbacks is never a good thing for a team. Remember that old saying about how if you have several quarterbacks you don't really have a quarterback at all?
Matt Schaub was horrible early in the year and Kubiak was slow in pulling the trigger on a change. Case Keenum lit a brief spark under the Texans but was average yesterday, hitting on 13 of 24 passes for 170 yards, one touchdown and one interception. But did he deserve to head back to the bench after three second half drives ended in punts?
I understand the desperation given that Houston have now lost eight in a row after a 2-0 start, but I don't think the constant tinkering at that position is helping the Texans. Having made the move to Keenum, I don't see the long-term benefit in yanking him at the first sign of trouble.
Finally, if the Texans do make a move with regard to their head coach, we cannot deem it a knee-jerk reaction. Kubiak is now in his eighth season in charge of the AFC South club. They have had their moments but have largely failed to step up and go toe-to-toe with the big boys and it feels like their window of opportunity has slammed shut.
As cruel as it would be this season given Kubiak's health issues, it might be time for a change of head coach in Houston.