NFL: Neil Reynolds talks Jay Cutler, New Orleans and Peyton Manning
Neil Reynolds questions Chicago's decision to persevere with injured Jay Cutler in his NFL review.
Last Updated: 11/11/13 12:44pm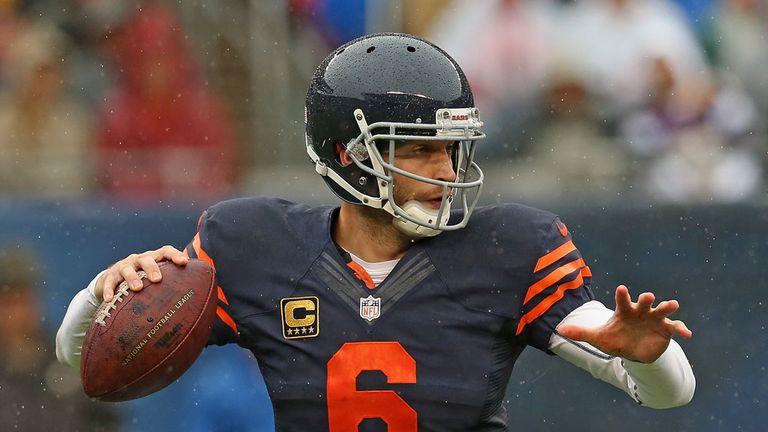 But how many of you out there were expecting road victories for the Carolina Panthers, St. Louis Rams and the previously winless Jacksonville Jaguars?
The Panthers ran out 10-9 winners over a San Francisco 49ers team that was riding a five-game winning streak into the hard-hitting contest, while the Rams hammered the high-flying Indianapolis Colts by a 38-8 scoreline.
Plus, the Jaguars - who had lost every game this season by at least 10 points - clawed, scrapped and fought their way to a 29-27 victory over the Tennessee Titans.
There were also plenty of spectacular touchdowns, as well as late drama in Chicago and Baltimore. In other words, it was just another typical, edge-of-your-seat weekend in the NFL.
Here's what caught my eye...
Bears fail to save Cutler from himself
The Chicago Bears missed an opportunity to take control of the NFC North Division as they slipped to a 21-19 defeat at the hands of the Detroit Lions at Soldier Field. And I think a lot of the defeat can be put down to the fact Jay Cutler was clearly hurt and the Bears did very little to get him out of the game.
I'm all for players attempting to play through pain - and Cutler was never going to tap out himself after being slammed for doing just that during the 2010 NFC Championship Game - but surely the coaches have to step in and make the decision for him?
Cutler re-injured his groin and we should remember it was not that long ago that he tore his groin completely off the bone. His mobility was severely hampered and I don't think he was throwing anywhere near as well as he is capable of doing.
The Bears managed just a pair of Robbie Gould field goals in the second half with Cutler at the helm. They eventually turned to Josh McCown when trailing by eight late in the game. He promptly led them on a scoring drive before the failed two-point conversion attempt ended the contest in the final minute.
This was a close and intriguing game, but I think Bears head coach Marc Trestman should be feeling some heat today about risking the future health of his quarterback in pursuit of just one win, albeit what would have been a very important one against a division rival who now owns the head-to-head tiebreaker against your club.
Panthers are for real
What a difference five weeks can make in the NFL. After the season's opening month, the Panthers were a disappointing 1-3 and head coach Ron Rivera was firmly on the hot seat after another slow start.
But now the Panthers are right in the middle of the NFC playoff picture after grabbing their fifth successive win. And Sunday's victory over the 49ers was very much down to the guys on the defensive side of the ball.
Led by star linebacker Luke Kuechly on the road, the Panthers held the reigning NFC champions to just three Phil Dawson field goals. They constantly harassed and harried 49ers quarterback Colin Kaepernick as he threw for just 91 yards and one interception on the day.
The Panthers have playmaking offensive weapons in quarterback Cam Newton (pictured), wide receiver Steve Smith and tight end Greg Olsen. But Sunday's win not only showed they have to be taken seriously this season, it was a victory that proved this team is being powered by one of the best defenses in the NFL.
Rams spring a massive surprise
I didn't see this one coming as the Rams slammed the Colts in Indianapolis with a total team performance - offense, defense and special teams.
The Rams set the tone early with a defensive touchdown on Chris Long's 45-yard return of an Andrew Luck fumble and never looked back. They swarmed to the ball on defense, sacking Luck three times and intercepting three of his passes.
But the real star of the show was electrifying rookie wide receiver Tavon Austin, who scored on a 98-yard punt return and catches covering 57 and 85 yards.
The second of those receiving touchdowns looked as if Austin had been placed on fast forward while everyone else was moving at normal speed.
Foles plays another clean game
The key to the Philadelphia Eagles winning football games is not whether they can find a dazzling running quarterback like Michael Vick to lead Chip Kelly's high-octane attack. Their formula is just like everybody else in the NFL - take care of the football and don't turn it over.
Nick Foles (pictured) is doing just that for the Eagles and that's why he is firmly in control of the starting job in Philadelphia. Foles is not as breath-taking as a fully fit Vick, but he is a darn sight more careful with the football and has thrown 16 touchdown passes and no interceptions this season.
Foles hit on just 12 of 18 passes in Sunday's 27-13 win over the Green Bay Packers at Lambeau Field but those strikes covered 228 yards and three of them went for touchdowns.
But this was never a contest as the Packers went from the sublime to the ridiculous at the quarterback position. It was bad enough starting the game without the injured Aaron Rodgers (broken collarbone) but to lose Seneca Wallace early left Green Bay in a real bind.
They turned to Scott Tolzien, who was on the practice squad just a few days before the game, and he failed to deliver the goods in a one-sided loss.
Saints shine indoors again
The 49ers head to New Orleans to take on the Saints in the Superdome next Sunday in one of our two main games on Sky Sports. That will be quite a challenge because the Saints are a formidable bunch on home soil and the Niners don't appear to have the offensive weapons to keep pace at the moment.
The Saints ran out big winners on Sunday night, thrashing the Dallas Cowboys by a 49-17 scoreline - but I want to see more consistency from this team outdoors before I label them as strong Super Bowl contenders.
Don't get me wrong, New Orleans are talented and dangerous - but they just don't play as well out in the elements, losing both of their games this season on the road and outside against the New England Patriots and New York Jets.
It's probably only a small concern to Saints fans right now, but how do you think your team would do against the Seahawks in a potential NFC Championship Game in Seattle on a cold and rainy January day in the Pacific North-West?
That would be a concern for me.
Broncos must get division crown
I watched Peyton Manning hobbling around during the second half of last night's 28-20 win over the San Diego Chargers and thought it imperative that the Denver Broncos get a first round bye when the playoffs begin in January.
The only way the 8-1 Broncos can do that is to topple the 9-0 Kansas City Chiefs and win the AFC West. I really think by the time January rolls around their veteran quarterback is going to need some bonus time to get ready for the post-season.
The 37-year-old Manning has taken an increasing number of hits over recent weeks and has pain in both ankles and took a shot to his knee last night. The four-time NFL Most Valuable Player is shredding defenses across the league but there are two foes who can still de-rail his Super Bowl challenge - Old Father Time and Old Man Winter!
The Broncos have some massive games coming up in the next month as they face Kansas City twice and New England in Foxboro. If they can win those contests and take control of the AFC, they will happily sit Peyton in Week 17 and on wild card weekend in a bid to make a Super Bowl run in the middle of January.