Nick Foles caught Neil Reynolds' eye after the latest round of NFL
Andrew Luck, the Jets and Nick Foles caught Neil Reynolds' eye over the latest NFL weekend.
Last Updated: 07/11/13 6:17pm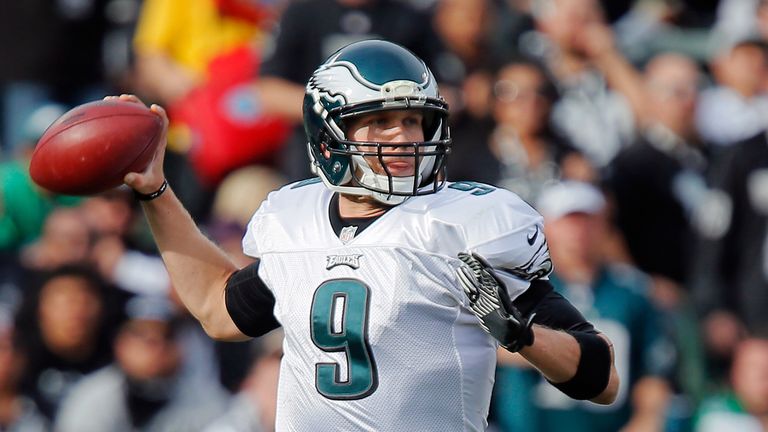 Week 9 in the NFL felt more like the unfolding of a dramatic soap opera rather than a collection of American football games being played across the United States.
The action on the field was spectacular as the stars of the NFL dazzled us with a series of tackle-breaking touchdowns, stunning scoring catches and some fine defensive play.
There were dramatic comebacks, overtime thrillers, a collapsing head coach (Houston's Gary Kubiak was taken to hospital during his team's loss to Indianapolis) and a pair of brothers going head to head - those Ewing brothers have got nothing on the Ryan boys, Rex and Rob.
So there's plenty to talk about - let's get stuck in!
The Magnificent Seven
On a night of compelling storylines, I have to admit I didn't see this one coming - Philadelphia Eagles quarterback Nick Foles tied the NFL single game record with seven touchdown passes during his team's 49-20 demolition of the Oakland Raiders.
Foles rarely missed as he hit on 22 of 28 passes for 406 yards and those seven scores. What makes his performance so incredible is the fact that he barely had a hold on the starting job in Philadelphia heading into the game and might have been on the sidelines had Michael Vick not been suffering from a hamstring injury.
Foles was also going up against a Raiders defense that - believe it or not - had been playing pretty well on home soil this season. He carved them up and could easily have thrown touchdowns eight, nine and 10 had he not been pulled from the action in the fourth quarter.
Now, Foles needs consistency to win the starting job long-term because one swallow does not a summer make and he still has to convince some in the Eagles' organisation that he is their man moving forward.
The only bright spot for the Raiders was the play of British offensive lineman Menelik Watson, who saw his first playing time of the year at right tackle, and defensive end Jack Crawford, of London, who recorded the first sack of his career.
We were watching you, boys, and you did the UK proud.
Jets win physical chess match
There were lots of big hits and game-changing plays made on the field during the New York Jets' surprising 26-20 win over the New Orleans Saints on Sunday.
But I thought the victory said as much about the tactical strength of the Jets as head coach Rex Ryan (pictured) and offensive coordinator Marty Mornhinweg as they won the chess match against Saints head coach Sean Payton and defensive coordinator Rob Ryan.
Rex Ryan dialled up enough pressure on Drew Brees throughout the contest and was able to not completely eliminate the Saints' dangerous passing attack, but at least keep it in check.
Offensively, I thought the Jets were on the money in focusing their attack around powerful running back Chris Ivory, who was clearly motivated in rushing for 139 yards and a touchdown against his old team.
But Mornhinweg also delved deep into his playbook - the Jets ran end-arounds, runs from the Wildcat formation and even had wide receiver Josh Cribbs completing a nicely-thrown pass downfield.
This was a physical display from the Jets from start to finish - but they also showed considerable brains to complement their brawn.
Seahawks survive
I am struggling to work out the Seattle Seahawks at the moment.
I don't know whether to worry about the fact they have struggled in beating the St. Louis Rams and Tampa Bay Buccaneers over the past two weeks or to admire their resolve for digging deep and carving out a pair of close-fought wins.
I'm leaning towards admiring the spirit of the Seahawks and their refusal to be beaten. Also, it is hard to be too critical of a team sitting on top of their division with eight wins and just one solitary loss on the season.
Seattle are finding ways to win, are still to welcome back their two starting offensive tackles and wide receiver Percy Harvin from injury, and remain on course for homefield advantage in the NFC playoffs.
They are not perfect, but there are a great many teams who would love to be in their position at this stage of the year.
More than just Luck
He may only be in his second NFL season, but Andrew Luck (pictured) is a special player with all the qualities required to lead the Indianapolis Colts to a Super Bowl win.
In fact, I am convinced that Andrew will win the big show before his time in the NFL is done. He just has that winning mentality required to take a team all the way.
Take last night's game against the Houston Texans as further evidence of Luck's poise and determination with a contest on the line. The Texans led by 18 in the third quarter but Luck was calm and efficient in leading the Colts to a 27-24 win. He never panicked and delivered some big-time throws.
Check out video footage of Luck's two-point conversion pass to Coby Fleener to end the scoring - his tight end was double covered and Luck had roughly a three-inch window in which to place the ball. He delivered a strike right on the money.
It was the 10th comeback win delivered in the fourth quarter or overtime by Luck in just his second season. That's the most of any quarterback in his first two seasons in the league since the AFL-NFL merger in 1970 and Luck still has eight games to go in year two.
Chiefs remain perfect
They may not always look pretty, but you have to credit the Kansas City Chiefs for their perfect 9-0 start to the 2013 season. And this week all the credit has to go to the Chiefs' defense.
Kansas City failed to score an offensive touchdown against a plucky Buffalo Bills team but they still managed to eke out a 23-13 win thanks to a 100-yard interception return score by defensive back Sean Smith and an 11-yard fumble return touchdown from linebacker Tamba Hali.
The Chiefs are proving that gaining yards in the NFL is all well and good, but it is turnovers - and what you do with those opportunities - that proves to be the difference between winning and losing.
Miami not-so nice!
There are worrying stories of bullying coming out of Miami as starting offensive tackle Jonathan Martin (pictured) left the team last week after suffering an "emotional breakdown."
According to reports, other members of the Dolphins offensive line have been bullying and teasing the second-year player and those stories appear to have been confirmed by Miami suspending starting guard Richie Icognito.
The Miami Dolphins have to feel a little shame this morning for allowing the "bullying" to happen in the first place, but I have to credit them for taking swift action with regard to Icognito. That cannot have been an easy decision because he is a starter and a key member of their offensive line.
But some things are bigger than chasing a wild card spot in the AFC playoff race and I applaud Miami for attempting to stamp out the ugly culture that obviously permeates their locker room.
Sadly, there is a hierarchy to an NFL locker room and I have witnessed it first-hand over my years covering the league. And there is no doubt that bullying and intimidation does occur from time to time.
This is a sad story that threatens to de-rail Miami's season. But I would happily watch Miami fail to win another game this season if it helped to stamp out the bullying culture that exists on that team.
Action has to be taken - now we can only hope it helps to alleviate the problem.