Neil Reynolds finds out what got the Steelers so fired up ahead of their game against the Jets
Neil Reynolds picks out the good and the bad after the latest round of NFL matches.
Last Updated: 14/10/13 2:03pm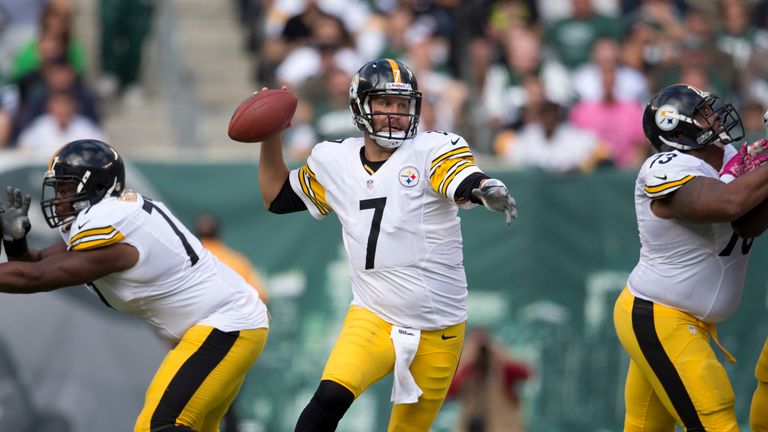 It seems that every week we witness the equivalent of a 4-3 thriller or a 3-2 game with the winning goal coming in the 90th minute. It was that way again on Sunday night as the New England Patriots defeated the New Orleans Saints with a touchdown right at the death and that is nothing unusual.
Last week's 51-48 thriller between the Denver Broncos and Dallas Cowboys ended with a winning field goal for the Broncos as time ran out. And earlier this year on Sky Sports we saw the Chicago Bears defeat the Minnesota Vikings with a Martellus Bennett touchdown with just 10 seconds left on the clock.
Of course, if you are a long-time fan of the NFL you understand that this kind of down-to-the-wire action is nothing new. In fact, thrilling finishes are part of what we have come to expect from the weekly roller coaster ride that is the National Football League.
With that in mind, here are six headlines that could write themselves this morning...
Tom Terrific strikes again
I didn't think Tom Brady was brilliant throughout Sunday night's win over the New Orleans Saints. In fact, there were times when he was bordering on poor and when I say that, I'm thinking about his late interception that looked set to be very costly for the New England Patriots.
But given one more chance by his stubborn defense and needing a touchdown to win, Brady was at his best when it mattered the most - and that's why he is one of the greatest quarterbacks in NFL history.
Taking over on his 30-yard line with 1:13 remaining, the task was ominous but clear - you need a touchdown to win, Tom, and you have no time outs to help you stop the clock.
No problem. Brady was masterful and in control as he completed four passes for 53 yards, including a key nine-yard completion to Austin Collie on fourth down, to move New England to the Saints' 17 yard line.
From there, Brady delivered an inch-perfect - and it needed to be that good - pass into the back corner of the end zone to rookie wide receiver Kenbrell Thompkins. The catch was made with five seconds remaining in the game. The Patriots ran out 30-27 winners and Brady took another step towards the Pro Football Hall of Fame in Canton, Ohio.
Chiefs pound the Raiders
The Kansas City Chiefs do not possess the most prolific offense in the NFL but they are winning with sound football on that side of the ball, playmaking special teamers and a dominant defense that is playing at a championship level.
With all that mixed together, the Chiefs are worthy of the 6-0 start that has surprised the NFL this season.
Raiders quarterback Terrelle Pryor put up a valiant fight during Sunday's 24-7 loss to the Chiefs, but he could only do so much against such a dominant defensive unit. The Chiefs were a relentless, swarming bunch of bullies who appear desperate to prove that defense does still matter in today's pass-happy NFL.
The Chiefs notched 10 sacks - two shy of the NFL record - and grabbed three interceptions, returning one for a touchdown. It was as dominant a defensive display as you could wish to see in the modern NFL and offers serious hope that the Chiefs are no flash in the pan.
Steelers find their form
The Pittsburgh Steelers looked more like their old selves on Sunday as they fought to a 19-6 road win against the New York Jets. Given how dominant the Steelers were in that game, you have to wonder what got them so fired up?
The answer, of course, is ping-pong! Steelers head coach Mike Tomlin removed the table tennis table and equipment from the Steelers' locker room this week in a bid to get his team focused on football. Clearly, he made his ping-pong-loving players so angry that they took it all out on the unsuspecting Jets.
Importantly, Ben Roethlisberger played a clean game at the quarterback position and the Steelers were more opportunistic on defense than they have been for much of this season, creating turnovers of their own against up-and-down rookie passer Geno Smith.
Those will be the football reasons put forward for this Pittsburgh win, but, to me, this comes down to the clear message that you should never mess with a 300-pound man's ping-pong balls.
Ugly scenes in Texas
Houston Texans fans are not happy with under-performing quarterback Matt Schaub - and rightly so given how he went into last night's game having thrown a pick six in four straight contests.
But that was no reason for the fans in Houston to cheer loudly when Schaub exited last night's game with the St. Louis Rams after suffering a nasty-looking ankle injury. That is a classless act from the fans in Houston and those who openly cheered the injury suffered by a man they should be supporting should hang their heads in shame today.
And they should be careful what they wish for because backup quarterback T.J. Yates is clearly not the answer either and fared no better in Houston's 38-13 loss to the Rams. Incredibly, Yates showed he has been paying far too much attention to Schaub this season as one of his early passes was returned 98 yards for a touchdown by Rams linebacker Alec Ogletree.
The Texans are in free-fall having lost four in a row. It's a trying time for everyone on that roster in Houston, but I find it hard to feel too much sympathy for the Texans fans this week.
Jags put up a fight
We're hurtling ever closer to the second International Series game at Wembley Stadium on Sunday October 27 when the Jacksonville Jaguars will play host to the San Francisco 49ers. And while they remain winless on the season, the Jags did put in a competitive performance against the heavily-favoured Denver Broncos on Sunday night.
Denver were the largest favourite for any game in NFL history - 28 points - but the Jaguars played with pride and can hold their heads high after a 35-19 defeat. The star of the show for Jacksonville was second-year wide receiver Justin Blackmon, who caught 14 passes for 190 yards in a losing effort.
They may still struggle to keep pace with the San Francisco 49ers at Wembley Stadium at the end of this month, but the emergence of Blackmon means they are going to be much more entertaining to watch than we might originally have thought.
Niners keep rolling
The San Francisco 49ers are not yet firing on all cylinders but they have moved nicely to a 4-2 record following Sunday's 32-20 win over the Arizona Cardinals, which was their third win in a row.
Colin Kaepernick has failed to replicate the free-flowing passing form of his 400-yard day in Week 1, but he is also working with limited weapons through the air. Fortunately, he is developing quite the dangerous rapport with tight end Vernon Davis.
It helps from a matchup point of view that Davis has the speed of a wide receiver, scoring from 61 and 35 yards in Week 6. Until Kaepernick gets some of his injured wide receivers back and healthy, Davis is going to be a key performer in the passing game for the Wembley-bound Niners.