Neil Reynolds hails the success of the Vikings v Steelers clash at Wembley
Neil Reynolds thinks an NFL franchise in the UK is a step closer after another great game at Wembley.
By Neil Reynolds
Last Updated: 30/09/13 12:24pm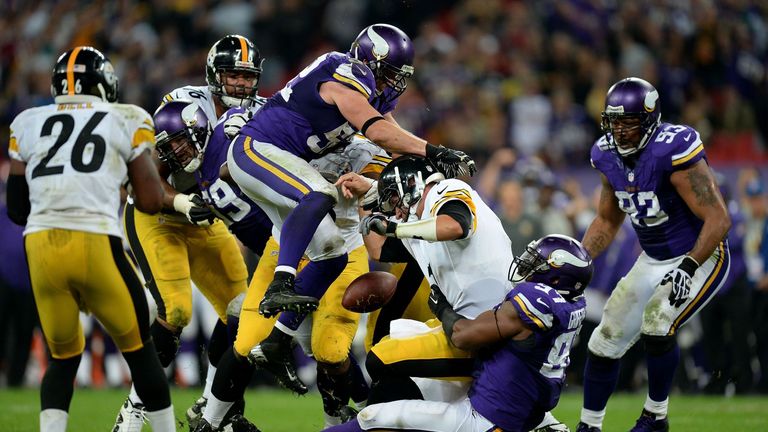 On Saturday, more than half a million fans attended the NFL Block Party event on Regent Street. I was fortunate enough to host that event on behalf of the NFL and it was an absolute blast to see existing fans mixing with those who are new to the sport.
And on Sunday, the Minnesota Vikings and Pittsburgh Steelers served up the best of the seven International Series games played to date.
As I watched that cracking game unfold from the Sky Sports booth at Wembley Stadium, I started thinking about this column and how I would react to the weekend. Here are my impressions of a great week when the NFL came to town.
Here is what caught my eye in Week 2...
What next?
You have to wonder what NFL UK Managing Director Alistair Kirkwood and his team are going to come up with next. Not content with fan rallies that pack 45,000 fans into Trafalgar Square each year, Kirkwood decided to push the boundaries this time around.
And the Regent Street event was a massive success. It had something for everybody. Existing NFL fans could enjoy seeing a host of stars past and present being interviewed on stage, while others were content to get their faces painted and catch a few passes while having fun trying out the games placed up and down the heart of one of London's busiest streets.
Either way, I reckon the NFL made a lot of new fans over the weekend and that is the idea given that we want to grow the game and have a franchise of our own someday.
I do wonder what will be next, a street party taking in all of London? Or, why stop there? Maybe we'll see NFL-style street parties up and down the land in the future, celebrating the game being played on these shores Jubilee-style!
The stars show up
The big names that were promoted by the NFL ahead of the Vikings-Steelers game certainly showed up on Sunday night as Minnesota recorded a thrilling 34-27 win over Pittsburgh.
Adrian Peterson rushed for 140 yards and two touchdowns, thrilling the Wembley Stadium crowd of 83,518 with a 60-yard scoring run in the second quarter.
Greg Jennings had a quiet start to the season at receiver for the Vikings but came up big on Sunday with touchdown grabs covering 70 and 16 yards. And veteran defensive end Jared Allen was a constant menace to the Steelers' offense, recording two and a half sacks and providing lots of pressure.
It was nice to see the headline acts making the headlines on Sunday night.
Big Ben makes some noise
We should not forget Steelers quarterback Ben Roethlisberger, who I thought was excellent in a losing cause. Big Ben was running for his life at times but it was a thrill to see how he refuses to go down easily.
Roethlisberger was sacked five times and injured his hand while throwing a touchdown strike to Jerricho Cotchery, but he still racked up 383 passing yards and had the Steelers knocking on the door late in the game.
Big Ben is the ultimate competitor and although this is not the most talented of Pittsburgh teams, I cannot help but think their quarterback gives them a chance to win every single weekend. He is a gamer and was unlucky to be on the losing side of things on Sunday.
The fab five
The Vikings have long boasted one of the strongest offensive lines in the NFL but they had been below par for the opening three games of the year.
That all changed on Sunday night as the Vikings dominated the line of scrimmage against what is a very tough and challenging Pittsburgh front. Center John Sullivan, guards Brandon Fusco and Charlie Johnson and tackles Matt Kalil and Phil Loadholt gave Matt Cassel a decent amount of time to fire passes downfield and, while Peterson was kept in check at times, they did open some big holes for their star runner to inflict significant damage on the Steelers.
In a sport where we probably focus too much on the superstar 'skill position' players, it feels right to credit the guys in the trenches every once in a while.
A quarterback controversy emerges
Christian Ponder must have been looking on nervously on Sunday night as he nursed his broken ribs while the Vikings notched their first win of the season.
Ponder has been inconsistent throughout the 2013 campaign and for much of the 2012 season and has committed far too many turnovers, placing extra pressure on his defense. The Vikings certainly tidied up that area of their game on Sunday as they did not hand the Steelers a single turnover.
Cassel missed on some throws but did have his moments, throwing for 248 yards and two touchdowns. Most importantly, he did not throw an interception and, as Adrian Peterson pointed out in the post-game press conference, he provided very vocal leadership in the huddle throughout the game.
Watch this space in regard to the Vikings' quarterback situation. Ponder faces quite a challenge to wrestle his job back from Cassel.
One step closer
Talk of an NFL franchise in London always intensifies when the International Series games are played, but I think those kind of conversations are justified.
As I have mentioned on air several times before, I think we're gaining momentum in the UK and we definitely moved one step closer to getting a franchise of our own after this weekend.
First, the NFL grew the game considerably this weekend by exposing the sport to many new fans. Second, they sold out Wembley Stadium yet again and showed that attracting big crowds to our national stadium is not an issue. And third, they showed that they are more than capable of providing a team with first-class practice facilities and everything they need to prepare for a big game.
We're not there yet and the game still has to grow considerably before we get an NFL team in London, but we are certainly on the right track and the wonderful week that was has done nothing but good for our chances.