Neil Reynolds: Wembley will witness an edgy affair on Sunday night
Neil Reynolds reviews Week 3 of the NFL and looks ahead to the big game at Wembley this week.
Last Updated: 23/09/13 12:53pm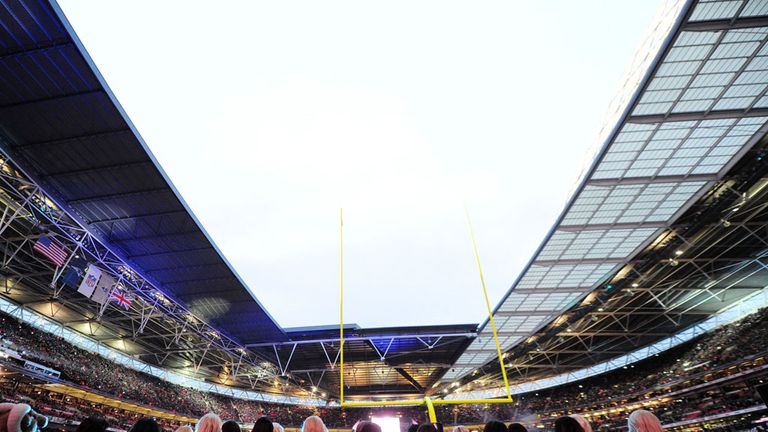 Well, the always-unpredictable NFL has put laid to those playoff dreams - for now - as the Vikings and Steelers are heading to Wembley without a win to their names. While that has damaged the morale of both teams after three weeks of action, it should make for a good game in London this weekend.
Both clubs will be fighting to keep their respective seasons alive on Sunday night and a packed Wembley Stadium crowd should witness an intense and edgy affair. The players and coaches from both teams will know all too well that a loss on Sunday night might result in a very long, trying and frustrating season.
Aside from Minnesota's home loss to Cleveland and Pittsburgh falling to the Chicago Bears, here is what caught my eye in Week 3 of the NFL season.
Tannehill looks elite
There has been much conversation about the quarterback class of 2012 but it usually starts with Andrew Luck, moves on to Robert Griffin III and ends with Russell Wilson. But Ryan Tannehill has forced his way into those conversations thanks to massive progression in his second season.
Tannehill has led the Miami Dolphins to a 3-0 start and he did it the hard way in Week 3; driving his team 75 yards in 13 plays inside the dying minutes of the game. I was watching this game unfold on RedZone in Sky Sports studios and - probably due to years of seeing Miami quarterbacks make a hash of throwing the football - I expected a pressure-produced mistake from the young passer.
But Tannehill looked in control, he delivered accurate passes - three of them on third down to keep the drive alive - and, I have to admit, he looked pretty special. His lofted one-yard touchdown pass to tight end Dion Sims with 38 seconds remaining was not only inch-perfect, it was a brave call down near the goal-line when a run might have been the safer option.
The play call emphasised just how much faith this Miami coaching staff has in its young signal-caller. And Tannehill didn't let them down. I'm not about to anoint him as the second coming of Dan Marino, but he is clearly the best they have had in South Florida since number 13 retired.
Colts get physical
I have to admit I didn't see this one coming! The Indianapolis Colts marched into Candlestick Park, stared down what I thought was the bigger and stronger San Francisco 49ers team, punched them firmly on the nose and walked out with a 27-7 victory.
I felt that if the Colts were to have a shot at winning this game they would have to use some finesse and some fancy play-calling on the offensive side of the ball. But they stuck it to a 49ers team that might have been feeling the after-effects of a Week 2 physical beating dished out by the Seattle Seahawks.
While the normally-physical 49ers will be worried about getting shoved around for a second consecutive week, the Colts will be delighted with their running game - led by Ahmad Bradshaw and not the newly-signed Trent Richardson - and a defense that held the dangerous Colin Kaepernick to just 150 passing yards and one interception.
The Colts were exciting to watch in 2012 and they produced plenty of highlight reel plays with their skill position players. But they rarely showed the kind of backbone that was on display on Sunday night and that really did make me sit up and take notice.
Coughlin on the hot seat?
If I had a pound for every season in which New York Giants head coach Tom Coughlin was supposedly on the hot seat... well, I'd only have about five quid but you get my point!
Coughlin has been through adversity before and he remains one of the very best coaches in the NFL, in my mind. But there can be no excuse for the way his team is playing at the moment - we're only three weeks in and the club that has won two of the last six Super Bowls appears to have thrown in the towel.
The Giants laid a big, fat egg in Carolina as they fell to a 38-0 drubbing at the hands of the Cam Newton-led Panthers. If you were a Giants fan, I'm sure you felt that was a disgusting effort by your team - Eli Manning could not generate any offense and might as well have replaced his number 10 with a bullseye as he was sacked seven times.
As miserable as New York have looked in the opening three weeks of the season, I maintain that they are too talented to be 0-3, especially given the miserable way they have lost each game. I'm not turning up the heat on Coughlin just yet, but he will be warming that hot seat before too long if his team doesn't show massive improvement.
Saints win again
They are not garnering too much media attention at the moment but the New Orleans Saints are looking very good for their 3-0 record this season - and it's no longer all about their normally-prolific offense.
New defensive coordinator Rob Ryan might be the biggest self-promoter in the game but his unit is backing up his bold words so far this term. The Saints will always be about offensive superstars such as Drew Brees (342 yards and three touchdowns) and tight end Jimmy Graham (nine receptions for 134 yards and two touchdowns), but their defense is way better than the group that ended up ranking as the worst in NFL history a year ago.
The Saints harried Carson Palmer into two interceptions during Sunday's 31-7 win and also sacked the Arizona Cardinals quarterback four times.
Ravens win ugly
Baltimore Ravens, the defending Super Bowl champions, don't look anywhere close to their best on the offensive side of the ball but they've now won two in a row and are proving themselves to be a scrappy and determined bunch.
Despite offering very little offensively, the Ravens ended up comfortable 30-9 winners over the previously undefeated Houston Texans, scoring on defense through Daryl Smith's 37-yard interception return and an 82-yard punt return from Tandon Doss.
With Ray Lewis on hand to be inducted into Baltimore's Ring of Honour, the Ravens were always going to be motivated. As for the Texans, they have to be concerned at the poor performance put forth by quarterback Matt Schaub. I still don't believe he has the tools to lead this Texans team all the way to the Super Bowl.
NFL to take over London
The NFL is taking over London this week as the Minnesota Vikings play host to the Pittsburgh Steelers at Wembley Stadium on Sunday evening.
If you're in London and want to take a stroll down Regent Street, you'll already see plenty of NFL pageantry beginning to take shape. And on Saturday more than 600,000 people are expected to get exposed to the NFL during the Block Party on Regent Street.
It should be a great day and will get even more people into American football, which is always a good thing. I'll be hosting the event and I'm looking forward to it very much - although I'm not relishing the prospect of interviewing head coaches Leslie Frazier and Mike Tomlin, who have a combined record of 0-6 this season!
If you're going along to the Block Party on Saturday or if you're at Wembley Stadium on Sunday, enjoy your NFL weekend and spread the word. The NFL is in town and it's here to stay!