Neil Reynolds: It was a wild weekend in the NFL
Neil Reynolds reviews NFL Week 2 as the Seahawks cruise and the Manning Bowl ends in a rout.
By Neil Reynolds
Last Updated: 16/09/13 3:23pm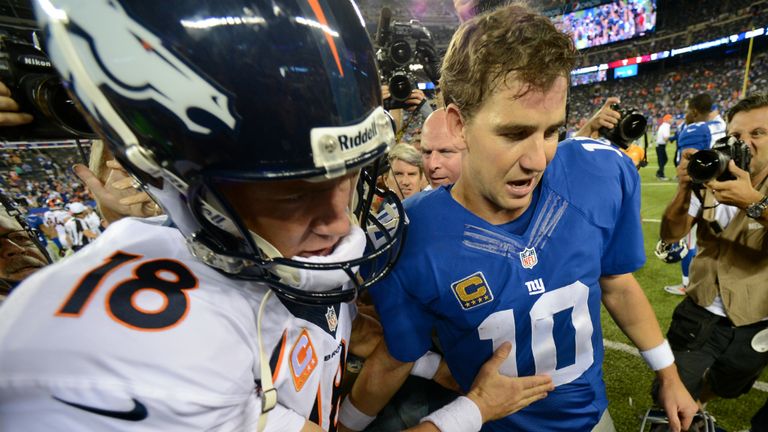 But we should all know by now to expect the unexpected in the NFL. That was the case as another wild weekend unfolded before our eyes on Sunday.
Okay, so San Francisco losing to the Seahawks in Seattle was not a surprise given the quality of Pete Carroll's team and how tough they play at home, but few of us would have given the San Diego Chargers the edge over the Eagles on the road and Detroit would have fancied their chances of improving to 2-0 as they travelled west to take on the Arizona Cardinals.
Instead of wins for those impressive Week 1 teams, the 49ers were hammered 29-3 by the undefeated Seahawks, the Chargers topped the Eagles in a 33-30 thriller and the Lions fell to Arizona 25-21, shipping a late touchdown to running back Rashard Mendenhall.
Here is what caught my eye in Week 2...
Seahawks pound their rivals
When I was in San Francisco this summer it became clear from talking to the 49ers that there is no love lost between the Niners and the Seahawks. I don't want to use a strong word like 'hate' but there is some genuine dislike there!
So the Seahawks would have enjoyed literally pounding their NFC West Division rivals into submission on Sunday evening. Seattle won 29-3 on the strength of a dominant defensive display. Oh, and they also set a world record for the noisiest crowd at a sporting event!
One week after he shredded Green Bay for more than 400 yards, San Francisco's Colin Kaepernick was held to just 127 passing yards and his four turnovers were a career-low. Wide receiver Anquan Boldin had just one reception for seven yards and San Francisco's runners combined for 13 yards on 11 attempts.
These Seahawks are beastly on defense. They don't just try to tackle you - they try to take away your manhood with each crushing blow. There is a long way to go this season, but this Seattle team appears capable of resurrecting that age-old mantra that defense wins championships.
Cutler reigns as it pours
The atrocious weather conditions should have made it difficult to throw the football at Soldier Field on Sunday night - but that didn't stop quarterback Jay Cutler shining for the Chicago Bears as they recorded a dramatic 31-30 win over the Minnesota Vikings.
Cutler was on the money with a lot of his throws and displayed big-time arm strength and accuracy. But he also showed a great deal of poise with the game on the line, firing a perfect 16-yard touchdown strike to tight end Martellus Bennett with just 10 seconds remaining.
On the play that broke the hearts of the Wembley-bound and winless Vikings, Cutler showed incredible accuracy, placing the ball where only his receiver had a chance to go and get it.
Again, there is a long way to go this season and he still had some ups and downs, but Cutler looks in good form and capable of leading a playoff charge in Chicago. He may never be the most natural of leaders but Cutler is letting his play on the field speak volumes in 2013.
Peyton 3, Eli 0
The third Manning Bowl took place on Sunday and it turned into a rout as Peyton's Denver Broncos pulled away for a 41-23 victory over the sputtering Giants, led by younger brother Eli. Peyton now leads Eli 3-0 in regular season showdowns.
The Broncos moved the ball every possible way in Week 2 - Peyton attacked New York through the air, Knowshon Moreno led a strong rushing attack and Trindon Holliday produced a special teams spark by scoring on an 81-yard punt return.
What was most impressive about the Broncos was the fact that after more than three hours of play, they had produced a solid, if not breath-taking, display. But they had still romped to 41 points. Their ability to score big each weekend looks ominous for the rest of the AFC.
Chargers stun Eagles
'One game does not a season make' and the Eagles learned that the hard way on Sunday as they fell to a high-scoring loss at the hands of the Chargers. We were all ready to send Eagles head coach Chip Kelly to the Hall of Fame after his Week One victory in Washington - we can hold off on popping the champagne corks on that one.
The Eagles were still exciting to watch, scoring 30 points and racking up 511 total yards, but where was their defense? That was an alarming performance from the men on that side of the ball and the lack of a strong defensive unit could ultimately de-rail what we all believe will be a fun team to watch.
Tannehill delivers statement win
In a battle of second-year quarterbacks, Miami's Ryan Tannehill got the better of Andrew Luck, of the Indianapolis Colts. While his numbers were impressive - Tannehill threw for 319 yards and one touchdown - what was most noticeable was that he avoided the big mistake that can hurt a team on the road.
While Luck threw a costly interception in the end zone, Tannehill guided Miami to a pretty flawless display en route to a 24-20 win. In addition to a clean game from their quarterback, the Dolphins were not flagged for a single penalty.
With some dynamic weapons working around a fast-developing quarterback - and with a top 10 defense on the other side of the ball - the Dolphins look well worth their 2-0 start.
Bills put it in Manuel
Eyebrows were raised when the Buffalo Bills moved up in April's NFL Draft to select Florida State quarterback E.J. Manuel in the first round. While raw and with room to grow, Manuel clearly has something about him and has shown the NFL stage is not too big for him.
Manuel played a major role in Buffalo's 24-23 win over Carolina in Week 2, throwing a crucial two-point conversion to wide receiver Robert Woods and later firing the game-winning score to wideout Stevie Johnson with just two seconds remaining.
Manuel's numbers were nice - 296 yards and one touchdown - but what impressed me the most was his ability to make big-time throws when his team needed them the most. Having said that, his winning touchdown pass could not have been any easier because Johnson was wide open.
I like the mental make-up of Manuel. He appears to be a real gamer and his progress should be interesting to chart as the 2013 season unfolds. The rookie passer has the Bills believing they have a chance to win every time they step on the field - that's already a pretty big step forward in Buffalo.