NFL Draft features Brits with real shot at success, says Neil Reynolds
The NFL Draft is almost here - and this time there is genuine British interest, says Neil Reynolds.
Last Updated: 24/04/13 3:08pm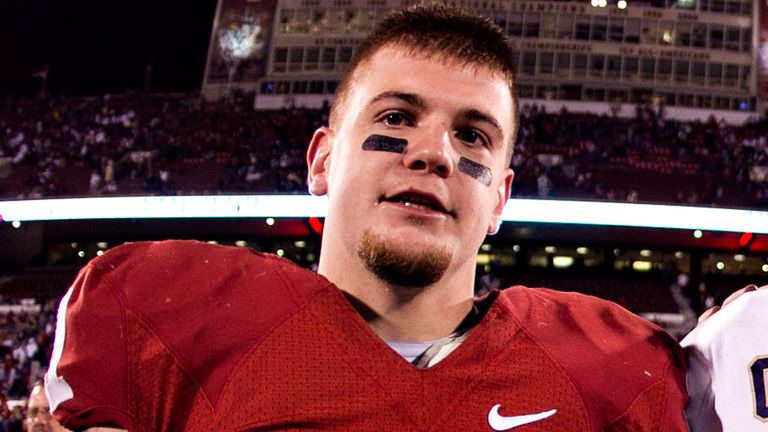 While the NFL Draft offers an opportunity for the leading amateur stars from American universities to hit the financial jackpot and become household names overnight, the primary aim of the annual selection process is to provide competitive balance across one of the most powerful sports leagues in the world.
In a bid to level the NFL playing field each year, the team with the worst record from the previous season - the Kansas City Chiefs - picks first in the Draft. Then the team with the next-worst record and so on, all the way to the reigning Super Bowl champions, the Baltimore Ravens, who will hold the 32nd and final pick of the opening round.
Round one takes place on Thursday night and can be seen live on Sky Sports from midnight. Rounds two and three are held on Friday April 26 and rounds four to seven will unfold on Saturday April 27.
With hundreds of players set to head to the NFL, you would expect some great storylines to be revealed in the coming days. This upcoming NFL Draft is packed with interesting sub-plots.
Here are six to look out for later this week...
Genuine British interest
We're not talking about public relations stunts here or Americans with British grandparents. And we're not talking about Brits who have lived in the United States all their lives and sound about as British as Dick Van Dyke. No, we're talking exciting prospects who are genuine Brits and have a real shot at succeeding in the NFL.
Leading a quartet of British players with the potential to be drafted this weekend is Florida State offensive tackle Menelik Watson, who grew up in Manchester and moved to the United States on a basketball scholarship before switching to the gridiron.
Watson was raised in tough circumstances by a single mother and two of his three brothers ended up in prison. But Menelik stayed away from trouble and now stands on the verge of becoming a multi-millionaire as a potential first round draft choice. He has been linked with several teams, including the Cincinnati Bengals, Houston Texans, Green Bay Packers and Baltimore Ravens.
"Nothing is too far-fetched" Watson says of his NFL dream. "I hate it when people say you can't do something."
The pride of Crawley, Oklahoma Sooners linebacker Tom Wort has the potential to be picked up by an NFL team either on Friday or Saturday. As a three-year starter on one of America's leading college teams, Wort played in 37 games and recorded 190 tackles and 10 quarterback sacks.
After growing up in Manchester as a rugby player, outside linebacker/defensive end Eze Obiora has turned heads as a raw but exciting prospect at Southern Illinois. He is being tabbed as a third day selection by a team looking to develop an outside pass-rusher.
"I'm coming from nothing to potentially playing in the most competitive league in the world but I really want to do it. I don't want to look back in 50 years and have regrets."
Rounding out the British quartet is the wild card of the group - Olympic discus finalist Lawrence Okoye, who has been working towards a switch to American football over the past several weeks.
Okoye impressed scouts at the NFL Super Combine in Dallas, Texas, and has reportedly worked out for the San Francisco 49ers, New Orleans Saints and Chicago Bears. There are now some pundits predicting a late round selection for Okoye, even though he has zero American football experience.
After a workout in London last week he told me: "It would be pretty audacious of me to say I should be drafted when I've never played a down of American football before. But it's a crazy world and we'll see what happens.
Hayden's miracle comeback
Houston Cougars cornerback D.J. Hayden was putting together a nice 2012 season and was among the top prospects for the 2013 NFL Draft. And then his world fell apart during a routine November practice when he made a tackle and was kneed in the chest by one of his own team-mates.
Hayden slumped to the ground and was in trouble. He tore the inferior vena cava (IVC) - the largest vein in the human body that is responsible for bringing blood from the lower half of the body back to the heart. The injury was so devastating that it was the kind normally found in car crash victims.
According to medical reports, only 50 per cent of patients make it to hospital and the majority die shortly after during surgery. The injury came with a 95 per cent fatality rate and the 22-year-old Hayden - a promising young prospect with his entire life ahead of him - was just minutes from death.
Somehow, Hayden survived and although he faced a long road to recovery and lost 24 pounds from his muscular frame, he never gave up on his NFL dream. On March 18 - just four months after the devastating injury that forced doctors to crack open his chest to save him - a fully fit Hayden ran like the wind at his Pro Day workout, covering the standard 40-yard dash in just 4.4 seconds.
Hayden is now being tabbed as a potential late first round draft pick. Wherever he gets chosen this weekend, this guy is the Cinderella story of the 2013 NFL Draft.
Will Ziggy be the Ansah?
When he started playing American football in 2010, Ezekiel 'Ziggy' Ansah was so confused that he needed help putting on his helmet and shoulder pads. When kitted up, Ansah had no idea where to line up or what to do. Now this exciting but raw talent from Ghana stands on the verge of being a top 10 selection out of Brigham Young University.
Ansah is a physically imposing defensive end capable of growing into a dominant NFL player. Yet it is going to take a team to gamble on his potential on Thursday night because he has very limited American football experience.
The six-foot-five, 271-pound phenom did not even become a full-time starter until a month into his final season at BYU and he has just 4½ career sacks to his name. Where he gets selected on Thursday is going to be fascinating because he certainly doesn't have the numbers to merit being the kind of high selection that I expect him to be.
Do-it-all Lane
This upcoming NFL Draft is a good one for offensive tackles and I expect three elite quarterback protectors to be chosen in the first seven picks. Among them will be Lane Johnson, out of Oklahoma.
The six-foot-six, 303-pound beast blew scouts away at February's NFL Combine as he ran faster than nine running backs in Indianapolis and also proved to be as explosive and athletic as many wide receivers and quarterbacks in attendance.
Johnson is a freakishly athletic offensive tackle who has also played the game from the quarterback, tight end and defensive end positions. He also plays with a nasty streak that his NFL coaches are going to love and he is a sure-fire top 10 pick.
Geno leads the quarterbacks
This quarterback class of 2013 is not a patch on the group that came out of college this time last year, featuring Andrew Luck (Indianapolis Colts), Robert Griffin III (Washington Redskins), Russell Wilson (Seattle Seahawks) and Ryan Tannehill (Miami Dolphins).
Tannehill was impressive for Miami but was a clear fourth among the quarterbacks who came out in 2012. By way of comparison, if he were coming out of college this year, Tannehill would be the consensus first overall pick.
Geno Smith, of West Virginia, is the only quarterback being given a first round grade by NFL scouts, although the value of the position could see teams reach for Matt Barkley (USC), Ryan Nassib (Syracuse) or E.J. Manuel (Florida State) towards the end of the opening day.
Every quarterback in this class has some flaws to his game but I see Smith being grabbed - almost out of desperation - somewhere in the top 10 with his most likely destinations being the Cleveland Browns, Buffalo Bills or New York Jets.
With quarterback being the most vital position in today's pass-happy NFL, it is always interesting to see how the tactical scramble for passers unfolds in each NFL Draft and this year will be no different.
Flying the flag for Germany
This NFL Draft is not all about the Brits. Flying the flag for Germany will be Florida State's Bjoern Werner, who is a strong possibility for the first round after recording 13 quarterback sacks at one of America's most prominent programmes in 2012.
The native of Berlin played junior football for the Berlin Adler before heading to the United States as a teenager to pursue his NFL dream via Florida State and Salisbury High School in Connecticut.
On the eve of completing his incredible journey from amateur American football in Berlin to the NFL, the six-foot-three, 266-pound Werner said: "It's really good to see so many of us from places other than the United States. I want to show people we can play the sport. And if we can do it, others can, too. It's kind of like the NBA going to Europe to get players. I hope we are just the first wave."