One to remember
Neil Reynolds picks six stand-out moments from an unforgettable Super Bowl XLVII in New Orleans.
Last Updated: 05/02/13 9:45am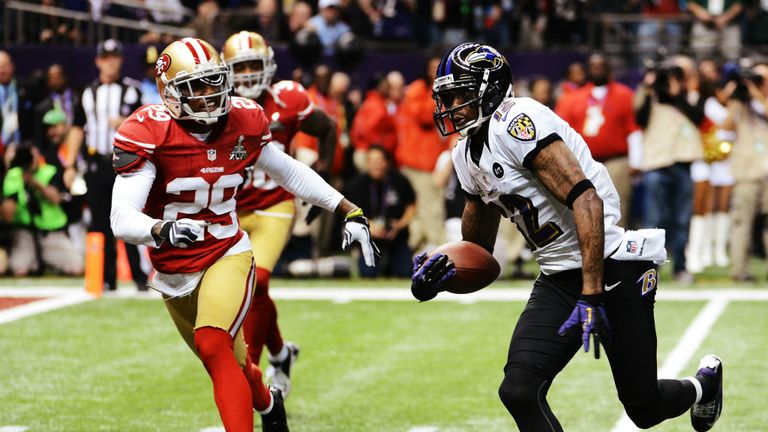 What an incredible Super Bowl!
I'm pretty sure we will look back on this game for many years to come as the title showdown that had everything - including a 34-minute power cut that wiped out half of the Superdome and left viewers around the world staring at blank television screens.
It almost proved to be a significant turning point in the game. When the lights went out, the Baltimore Ravens were leading 28-6 and were in firm control having just stretched their lead on Jacoby Jones' 108-yard kick-off return.
But the San Francisco 49ers came storming back and held the momentum for much of the second half. In the end, the Ravens came to life just long enough after the power cut to register a famous 34-31 victory.
Here are some - it would be impossible to list all - of the memorable moments and storylines from the Blackout Bowl.
Who turned off the lights?
It would be hard to start with anything other than the power cut that made this one of the most surreal Super Bowls I have ever watched as a fan or covered professionally.
Shortly after Jones' long touchdown run, the lights on our side of the stadium just shut down and we lost all pictures on our monitors, all contact with our production trucks outside the stadium and were sat in a semi-darkness wondering what was going to happen next.
At one point, we were informed it would be at least 15 minutes before power was restored to our side of the stadium. So I went outside our booth and had a very surreal chat with BBC television presenter Mark Chapman about the absurdity of the situation.
Had San Francisco completed their dramatic comeback, the conspiracy theorists would have had a field day, especially as the power was somehow lost on their side of the field and their side of the stadium. I'm just saying!
Flacco shines as MVP
For the second year in a row, the Super Bowl has been won by a quarterback who genuinely believes he is one of the best in the business and has received criticism for that confidence.
Last year it was Eli Manning and this time around it was Joe Flacco, of the Ravens.
Actually, Flacco doesn't think he's one of the best in the game - he has that belief that he is the very best. I don't believe that but he's the Super Bowl champion as I write this column and I'm happy to leave it at that.
Flacco made a collection of big-time throws and blew me away with his accuracy as he threw for 287 yards and three touchdowns. Those numbers moved his playoff totals to 11 touchdowns and no interceptions in wins over Indianapolis, Denver, New England and San Francisco.
That's Joe Montana-like production from Flacco and he was deserving of the game's Most Valuable Player award.
The other guy was pretty good
In the opening half of Super Bowl 47, I thought that Colin Kaepernick looked like a second-year quarterback making just his 10th NFL start for the 49ers. There were times when he was off target with throws and he appeared indecisive at times. While he wowed occasionally with a bullet strike, I thought the game was proving too big for him.
But he was truly sensational after the break and he too was extremely accurate with the football. Kaepernick ended up throwing for 302 yards and one touchdown. He also dazzled with his running skills, scoring on a 15-yard run.
With Kaepernick firmly entrenched as San Francisco's starter, I think we'll see former number one Alex Smith move to a new team this off-season and I also think we'll see the 49ers return as genuine Super Bowl contenders in 2013.
Lewis bows out in style
Ray Lewis capped his incredible career by winning a Super Bowl against opponents who were school children when he first started playing in the NFL in 1996.
Lewis played 17 seasons in the NFL. When he kicked off his NFL career, Kaepernick was just eight years old. 49ers tight end Vernon Davis used to go to Ravens games in Baltimore and San Francisco linebacker Patrick Willis played video games as Ray Lewis when growing up.
Lewis is a sure-fire Hall of Famer and arguably the greatest defender in league history. But he did not have the greatest of games on Sunday night. His decreasing range was exposed by the power and speed of Frank Gore and the explosiveness of tight end Vernon Davis.
But he goes out as a champion and was clearly the emotional driving force of this team throughout the playoffs. Love him or hate him, Ray Lewis is on top of the world this morning. He won't care what the statistics say - he is a Super Bowl champion for the second time.
Keeping up with the Jones
Jacoby Jones must have been a tiny bit upset when he saw the shiny, red car delivered to Flacco for being the MVP of this Super Bowl. I think Flacco deserved the award for his overall play but Jones staked a strong case with a couple of spectacular efforts.
Jones has always possessed game-breaking speed - he scored on three kick return touchdowns during the regular season - and was always a nice ace in the pack for the Ravens.
His 56-yard touchdown catch was a thing of beauty. He blew past Chris Culliver - who had a bad day after a shocking week in New Orleans where he made anti-gay comments to the media - caught the pass from Flacco and fell down. But before he was touched, Jones bounced back up, faked Culliver out of his shoes and made it into the end zone for a touchdown.
The second score was breath-taking from an athletic point of view. The clock to start the second half began ticking as soon as Jones fielded the ball eight yards deep in his own end zone. He then proceeded to race through the 49ers special teams and into the opposite end zone 108 yards downfield.
The time elapsed? 11 seconds. That's pretty special with all that American football kit on!
49ers stumble with game on the line
It was supposed to be this way, right? The high-powered Kaepernick-led attack knocking on the door for the game-deciding touchdown while Ray Lewis and his buddies defended for all their life.
The Ravens showed their usual stubborn resistance, but I thought the 49ers let themselves down with some questionable play-calling from the Baltimore five-yard line, throwing three consecutive passes that fell incomplete, even though Frank Gore was one of the hottest players in the game at that time and Kaepernick has always proven to be a threat on the ground.
49ers head coach Jim Harbaugh is convinced his team should have been awarded a pass interference penalty on the final, all-important fourth down throw that fell incomplete in the end zone. Harbaugh insisted Jimmy Smith had been mugged by wide receiver Michael Crabtree and a flag should have been thrown.
I disagree. First, there was contact on the play and, by the letter of the law, it could have been called. But I want players to decide games, not officials. Therefore, I am glad the official kept his flag in his pocket. Second, I'm not sure how catchable that ball was - I think Crabtree would have had a hard time hauling it in anyway.