Neil Reynolds looks ahead to San Francisco's Super Bowl clash with Baltimore
Sky Sports pundit Neil Reynolds looks ahead to the Super Bowl, in which the 49ers face the Ravens.
Last Updated: 29/01/13 7:57am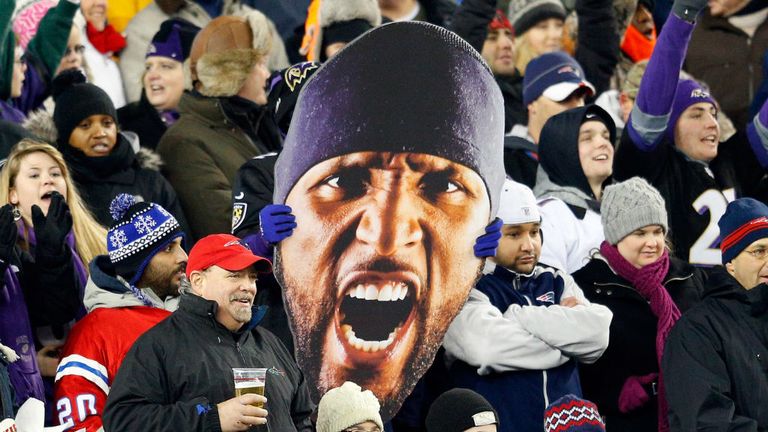 Although the NFL's Pro Bowl all-star game was played in Hawaii last night - the NFC beat the AFC by a 62-35 scoreline - the attention of the American football world has already turned to New Orleans and Super Bowl 47.
The 2012 NFL campaign has been a thrill-a-minute and all that remains is 60 minutes of action - the Baltimore Ravens against the San Francisco 49ers. As we build up to the big game from the Superdome, here are six storylines to keep an eye on as this week and the actual contest itself unfolds.
Brothers at arms
There are going to be a lot of Harbaugh mentions at the Super Bowl so I'm going to get some out of the way now - John Harbaugh will take his Baltimore Ravens into battle against Jim Harbaugh's 49ers. Parents Jack and Jackie Harbaugh will watch on proudly, as will sister Joanie.
So, John will try to beat Jim and Jim will try to beat John. Jack will be proud of both his boys and Jackie will try to stay neutral. And Joanie will do her best to enjoy the game. Whatever happens, it should be a memorable week for Jim, John, Jack, Jackie and Joanie. Confused yet?
On a serious note, both head coaches have made tough decisions along the way and have been rewarded for their courage. Jim Harbaugh made the bold move away from productive quarterback Alex Smith to the inexperienced but exciting Colin Kaepernick. John, who has more head coaching experience but never played quarterback in the NFL like his younger brother, fired his offensive play-caller Cam Cameron with just three weeks of the regular season remaining, handing more power to former Indianapolis Colts head coach Jim Caldwell.
Both head coaches deserve to be in this big game and they are sure to get plenty of attention. It is rare in the extreme for brothers to face off like this in such a massive clash.
Super Bowl inexperience
I'm not about to turn into the second coming of Joe Namath, but I will make this steadfast Super Bowl guarantee - players and coaches from both the Ravens and 49ers will be subjected to some ridiculous questions this week.
There is no getting away from the circus that is Super Bowl week and with more than 4,000 journalists from around the world descending on New Orleans, there is bound to be the odd stupid question or two thrown in the direction of the players and coaches.
The team that deals with the distractions the best and keeps it all about the game might fare the best on Super Bowl Sunday. And both these teams are going to have very little experience dealing with the fanfare surrounding the biggest game of their lives.
The Ravens have just four of their 53-man playing staff with Super Bowl experience and it is the same for the 49ers. Baltimore have not played in a Super Bowl in 12 years and it has been 18 seasons since San Francisco last lifted the Vince Lombardi Trophy.
It is not going to be the deciding factor in the game, but it is going to be a key part of how well each team builds up to the kick-off on Sunday night.
A young star on the rise
Given how well he has played and how poised he has looked during the playoffs and in big games during the regular season, it's hard to imagine that San Francisco 49ers second year quarterback Colin Kaepernick will be making just his 10th career start in the Superdome on Sunday.
Kaepernick is a special talent and represents the modern breed of young NFL quarterbacks who can beat opponents with their arms and their legs.
During the playoff run to the Super Bowl, Kaepernick destroyed the Green Bay Packers with an NFL record 181-yard rushing day, scoring two touchdowns along the way. In the NFC Championship Game, the Atlanta Falcons decided to take that away from the 49ers and Kaepernick was not the slightest bit fussed - he simply stood in the pocket and beat Atlanta the conventional way, firing accurate strikes downfield.
In short, this kid can do it all and is destined to be a superstar. A Super Bowl win on Sunday night will certainly speed up his progress to the top of the NFL quarterback ranks.
Can Flacco clinch a big pay day?
Aside from the obvious Super Bowl ring, Baltimore Ravens quarterback Joe Flacco will also have plenty to play for on Sunday. He is set to become a free agent during the 2013 off-season and might just have secured himself a massive deal with his outstanding playoff form.
Flacco has all the tools to be an elite quarterback in the NFL. He has a cannon for an arm and can deliver the football with stunning accuracy. But there have been times when inconsistency has crept into his game and he has had his share of critics during his career.
In the playoffs, Flacco has been superb, out-performing Andrew Luck, Peyton Manning and Tom Brady on the way to the Super Bowl. He has thrown eight touchdowns and no interceptions and one more big performance could set him up for life.
Either way, the Ravens are not about to let this guy hit free agency - he has certainly shown enough for the team to know he is their long-term answer at the game's most important position.
Physical defences
It is interesting how the NFL has become a more attack-minded league in recent seasons and how more and more offenses are enjoying success during the regular season.
But here in this Super Bowl are two physical defences, proving that playing well on that side of the ball remains a vital ingredient in terms of championship success.
The Ravens did not play that well statistically during the regular season but they did have a lot of injuries during the course of the year. Now healthy, they are playing their best defensive football during the playoffs and have proven to be too physical for the Indianapolis Colts, Denver Broncos and New England Patriots.
The 49ers are equally tough and they are a talented, well-drilled unit. Here is something to look out for in the Super Bowl and something that could make life extremely tough for the Ravens - these 49ers, led by All-Pro linebackers Patrick Willis and Navorro Bowman, rarely miss tackles and they don't give up much yardage after the catch.
This promises to be one of the most physical Super Bowls in recent years.
Ray's last ride
Veteran linebacker and future Hall of Famer Ray Lewis will bow it in fitting style on Sunday night, playing the last game of his 17-year NFL career in the Super Bowl.
And before anyone questions whether the 37-year-old defender is just along for the ride with his younger team-mates, think again. Lewis leads all NFL players with 44 tackles during the playoffs and is just one stop short of the all-time post-season record set by Dan Morgan, of the Carolina Panthers, during the 2003 season.
Lewis remains the heart and soul of the Ravens and I cannot wait to see him dance his way out of the tunnel at the Superdome. And we can be sure that number 52 will leave it all on the field following this weekend's clash with the 49ers. He will be leading from the front and will go out playing as he has always done - with a rare combination of aggression, passion and intelligence.
And when he's done, he will be done. As Ray told me when I interviewed him over the summer: "When my window closes, you will never have to worry about Ray Lewis making a comeback. I went too hard and took my family and kids through too much, sacrificing things for my NFL career."
It will be an emotional end to an exhilarating career on Sunday, regardless of the result in what should be a fascinating Super Bowl.