Final flight
Neil Reynolds says the Super Bowl will be a fitting finale to the glittering career of Ravens' Ray Lewis.
Last Updated: 21/01/13 2:12pm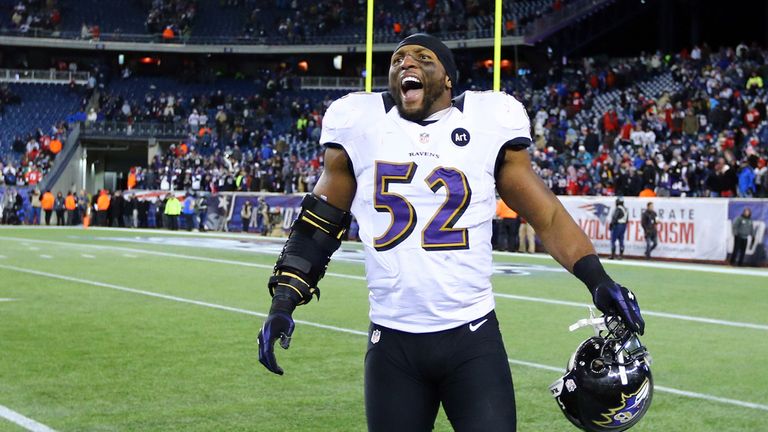 There really will be an abundance of storylines for us to dig into when the Baltimore Ravens take on the San Francisco 49ers in Super Bowl 47 in New Orleans on Sunday February 3.
For the first time since 1997, both road teams won the championship games on Sunday night to advance to the NFL title game.
And it promises to be a real family affair in New Orleans as brothers will go against each other as head coaches for the first time in Super Bowl history as John Harbaugh (Ravens) takes on younger sibling Jim (49ers) for all the marbles.
Here is what caught my eye during the live coverage of the championship games on Sky Sports on Sunday night...
A fitting finale
Regardless of how the result turns out in New Orleans on the first weekend in February, it is fitting that future Hall of Fame linebacker Ray Lewis ends his glittering career with the Baltimore Ravens by playing in a Super Bowl.
Lewis has been a rock on the field during the playoffs and his inspirational leadership has the Ravens, particularly on defence, playing like they are 10-feet tall. I have to admit that Lewis wears me out watching him in pre-game warm-ups and during his post-match celebrations.
You literally see the joy flood out of him after each playoff victory. And he and the entire Ravens team are proving that defence does still matter in today's offense-filled NFL. Both teams are in the Super Bowl off the back of some very impressive defensive displays this weekend.
How special is it going to be to see Lewis dance his way onto the field one more time at the Super Bowl?
Flacco earns himself a big contract
While this playoff run has nothing to do with money for Baltimore Ravens quarterback Joe Flacco, he is going to get paid big bucks in the off-season when he becomes a free agent.
Flacco is on the kind of run that we saw Aaron Rodgers enjoy for the Green Bay Packers in 2010 and Eli Manning for the New York Giants in 2011. He has now beaten Andrew Luck, Peyton Manning and Tom Brady in the playoffs and, for the most part, he has played flawlessly.
The Ravens did benefit from the injury to Patriots cornerback Aqib Talib in the AFC title game but they took full advantage and Flacco was on the money time and again with accurate passes. He has now thrown eight touchdowns and no interceptions on the way to his first Super Bowl appearance.
I never had any doubt the Ravens would keep Flacco - there are not enough good quarterbacks to go around in the NFL - but I did wonder how much they would be willing to pay their sometimes-inconsistent passer. I now think they have to pay Flacco like he is one of the top quarterbacks in the game.
49ers show mental toughness
In qualifying for their first Super Bowl in 18 years, the San Francisco 49ers showed the kind of mental toughness that any true champion must possess.
The 49ers walked into a buzz-saw in the opening minutes of the NFC Championship Game and found themselves down 17-0 to a red-hot Atlanta Falcons team. But they didn't panic, they never forced the issue by taking unneccessary risks - they simply worked their way back into the game one play at a time.
Defensively, San Francisco couldn't get close to Falcons quarterback Matt Ryan in the first half and they trailed 24-14 at the break. But, after the intermission, the 49ers turned up the heat, tackled well, created turnovers and played much tougher football.
What also impressed me was the mental make-up of second-year quarterback Colin Kaepernick, who was making just his ninth NFL start on Sunday night. Down by 17 on the road to the number one seed, he didn't even blink. He played with the maturity of a five-year veteran and will get his reward on February 3 when he plays for a Super Bowl ring.
Falcons fold under pressure
The San Francisco 49ers showed plenty of mental toughness in the NFC Championship Game. The Falcons did not and they will have a long seven months to think about how they blew a three-score lead at home when they were less than 45 minutes from the Super Bowl.
The Falcons have been here before, of course. They have endured tame playoff exits under head coach Mike Smith in previous seasons and blew a 20-point lead against Seattle in the Divisional Round of this year's playoffs.
This game encapsulated Ryan's entire season at quarterback. There were times when he looked like a true league Most Valuable Player and was simply unstoppable - and then there were moments when the game got too big for him and he made simple, yet inexcusable, mistakes.
Ryan threw an interception (I know his receiver slipped but Ryan was still staring him down too much) and lost a fumble in the second half and, while San Francisco did not score points off those turnovers, those were costly wastes of possessions from a Falcons point of view.
Any loss in a Championship Game is painful but the Falcons will have to live with their defeat knowing they led by 17 and were well on their way to New Orleans before their wheels came off and the 49ers mounted their comeback.
Kaepernick wins from the pocket
As much as we get excited about the dual-threat quarterbacks who can run and pass from the backfield this season, it remains a fact that recent Super Bowls have been won by pocket passers who can rip teams apart with accurate downfield throws - Eli Manning (2011), Aaron Rodgers (2010), Drew Brees (2009) and Ben Roethlisberger (2008).
With the Falcons restricting his running options on Sunday, 49ers quarterback Colin Kaepernick showed that he is perfectly content to tear defenses apart from the pocket.
The second-year passer impressed me with his arm strength, the tightness of his spiral and the velocity with which the ball leaves his hand. But he can also deliver touch passes into the arms of his receivers and he delivers the ball with stunning accuracy. There was one throw in the second half where receiver Michael Crabtree had zero separation from the defensive back yet Kaepernick was able to get the ball into the tightest of windows for the completion.
If the Ravens decide to eliminate the rushing threat of Kaepernick in the Super Bowl, don't think that means game over for the 49ers. This young and rising star can do just as much damage the conventional way because he is the complete package.
End of the road for another legend
We've already talked about how Ray Lewis gets the chance to ride off into the sunset in true Hollywood fashion with a Super Bowl ring in his back pocket. But it won't be quite the same as another future Hall of Famer journeys into retirement in this off-season.
Falcons tight end Tony Gonzalez has been at the top of his game for 16 years and he plans to bow out following Sunday's loss. It is not the ideal way to go out but not everyone can do what John Elway, Jerome Bettis and Michael Strahan did and go out a champion.
For most, they go out with a regular season game or a playoff loss. That should not detract from what has been a dynamic and breath-taking career for Gonzalez. Personally, I think he is good enough to play for another two or three years at a very high level.
But I also understand that is quite a grind for a veteran player and he may call time on his career sooner rather than later. When he does, we'll remember Tony Gonzalez as a great one.