The Kaep fits
Neil Reynolds blogs on the mobile Colin Kaepernick, Baltimore's resolve, and why Tom Brady really is great.
Last Updated: 14/01/13 4:47pm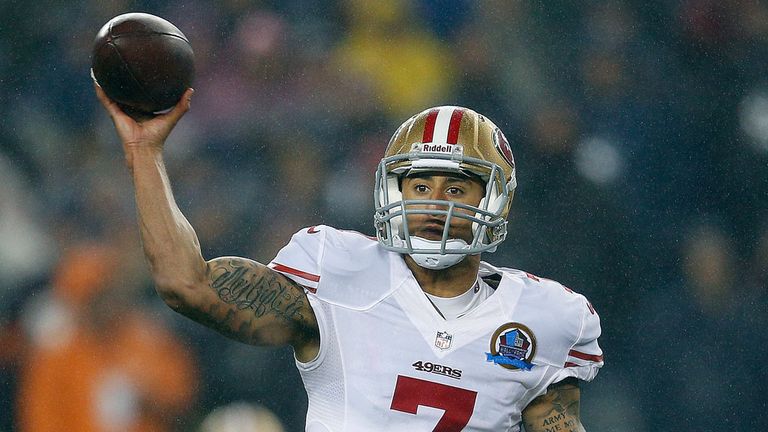 The opening set of NFL play-off contests may have been a little bit dull and relatively low-scoring, but that was not the case in round two as we were treated to the highest-scoring four-game weekend in NFL history (276 points).
We witnessed the fourth-longest game in league history as the Baltimore Ravens saw off the Denver Broncos 38-35 in double overtime and a real thriller in the Georgia Dome as the Atlanta Falcons provided late drama to see off the plucky Seattle Seahawks by a 30-28 scoreline.
The San Francisco 49ers pulled away in the second half to record a 45-31 victory over the Green Bay Packers and the most routine win of the weekend came at Foxboro, where the New England Patriots were 41-28 victors over the Houston Texans.
Here is what caught my eye during the course of 14 hours of live bottom-numbing television in the Sky Sports studios on Saturday and Sunday...
Colin is 'it'
Ever since the 49ers made the bold and somewhat controversial decision to replace long-time starting quarterback Alex Smith with Colin Kaepernick in Week 11, I have heard it consistently said that the second-year passer is in the game because he has "the it factor."
For those among you who were wondering what the "it factor" is, the answer was clear on Saturday as Kaepernick tore the Green Bay Packers apart at the seams.
The belief in San Francisco is that while there is not a huge amount between the two quarterbacks in terms of their passing, Kaepernick can simply make more plays with his legs that are beyond Smith. Kaepernick proved that on Saturday as he rushed for 181 yards and two touchdowns on 16 carries.
That was the best effort by any quarterback in any game in NFL history, but far from just hurting the Packers with his mobility, Kaepernick turned in the complete performance, shredding the Green Bay secondary with an array of accurate passes. He ended the day having thrown for 263 yards and two touchdowns and now leads a confident 49ers team into the NFC Championship Game.
Ravens show mental toughness
On a weekend filled with breath-taking plays from the best American football players on the planet, I think was most impressed by the mental toughness of the Baltimore Ravens.
Time and again they had to overcome adversity against a dominant Denver Broncos team that had won 11 games in a row by at least seven points and was rightly the number one seed in the AFC. That is not easy to do in a hostile environment where the opposing fans are making a lot of noise and trying to put you off wherever possible.
The Ravens gave up two potentially demoralising special teams touchdowns as Denver's Trindon Holliday scored on a 90-yard punt return and a 104-yard kickoff return early in each half. But they never refused to buckle and Joe Flacco (pictured) took advantage of some poor play in the Denver secondary to throw for 331 yards and three touchdowns.
The Ravens were a tad too conservative in the second half and overtime, for my liking, but their defence kept Peyton Manning in check and they had one last desperation shot when trailing 35-28 late in the fourth quarter.
The stage was set for Flacco to shine in a statement situation against a legend of the game. And he pulled it off with a 70-yard game-tying strike to Jacoby Jones with 31 seconds remaining. Baltimore then went on to win with a Justin Tucker field goal from 47 yards in the second period of overtime, which was just another example of the mental toughness exuded by this resilient team.
Lewis leading to the end
The curtain may be coming down on the greatest defensive career in NFL history, but Baltimore Ravens linebacker Ray Lewis is most certainly not going quietly into the night.
Even though the 37-year-old is in his 17th NFL season, he overcame the very real physical problems associated with playing at high altitude on Saturday evening to lead the Ravens' defensive effort with 17 tackles.
It was inspiring to see one of the best in NFL history lead from the front in what could have been his last game, and Lewis was not just making token tackles five or six yards downfield. He was making impact tackles near the line of scrimmage that had an effect on the outcome of this game. And he was not alone in performing well on the defensive side.
The Ravens are coming good on defence now and have seen a nice mix developing between veterans such as Haloti Ngata, Lewis, Terrell Suggs and Ed Reed, and fresh-faced, exciting young talent in Dannell Ellerbe and Corey Graham.
Given the way he and his defensive team-mates are playing right now, don't rule out a Ray Lewis Super Bowl finale in New Orleans. Now that really would be a fairytale finish to an amazing season.
Falcons end play-off jinx
It took everything they had and some late-game heroics from quarterback Matt Ryan and kicker Matt Bryant, but the Atlanta Falcons finally won a play-off game under head coach Mike Smith.
The Falcons must have been feeling the pressure when Marshawn Lynch put the Seahawks up by a point with 31 seconds left to play. But Ryan didn't flinch in the spotlight and completed two big passes to Harry Douglas and Tony Gonzalez to set up the winning field goal from 49 yards out.
Atlanta have been questioned all season long and there will still be those who worry about the hot-and-cold form of Ryan, but we have to pay them credit for digging out a win when they had lost all momentum in the contest.
That was a pretty special comeback. As for the Seahawks, they have a bright future but will regret wasting a couple of scoring opportunities in the first half. Seattle's wastefulness came back to haunt them in a close game.
Tom takes place in NFL history
Tom Brady was in majestic form as the Patriots tore the Houston Texans apart. The man they call 'Tom Terrific' looked every inch the superstar as he threw for 344 yards and three touchdowns to advance to the AFC Championship Game.
And now we really must talk about Brady being one of the greatest quarterbacks in NFL history, especially when you consider that extra weight should be given to success when it matters the most - in the play-offs.
With that victory on Sunday night, Brady surpassed the great Joe Montana and now has the most post-season wins in NFL history with 17. He has played in five Super Bowls (winning three) and stands just 60 minutes from a sixth appearance in the big game.
Whichever way you slice and dice those facts, there is no getting away from the fact we are witnessing true greatness whenever we watch Brady play.
British fans send a message
If the NFL fans in the United Kingdom can fill Wembley Stadium twice in the space of a month next season they will send a very strong message to the league's power brokers in New York about the popularity of the game on these shores. It is certainly no mean feat to pack more than 84,000 fans into the national stadium two times in four weeks.
Well, the NFL are very close to doing just that - with eight months to spare. The September 29 meeting between the Minnesota Vikings and Pittsburgh Steelers is already sold out. And the NFL UK office is reporting they are on pace to have sold out the Jacksonville Jaguars-San Francisco 49ers October 27 clash by the time Super Bowl 47 is played in New Orleans early next month.
That is incredible. And those brisk ticket sales will prove to New York what we are all seeing locally on the ground here in the UK - the sport of American football continues to grow at an impressive rate.
Given that continued growth to date, it is not hard to imagine more regular season games being played in future seasons. And the prospect of a London franchise remains a very real one, making for exciting times for your average NFL fan in the UK.