Superbowl would be fitting finale for Baltimore legend Ray Lewis, says Neil Reynolds
It would be the stuff of legend if Ray Lewis bows out at the Super Bowl, says Neil Reynolds.
By Neil Reynolds
Last Updated: 08/01/13 5:29pm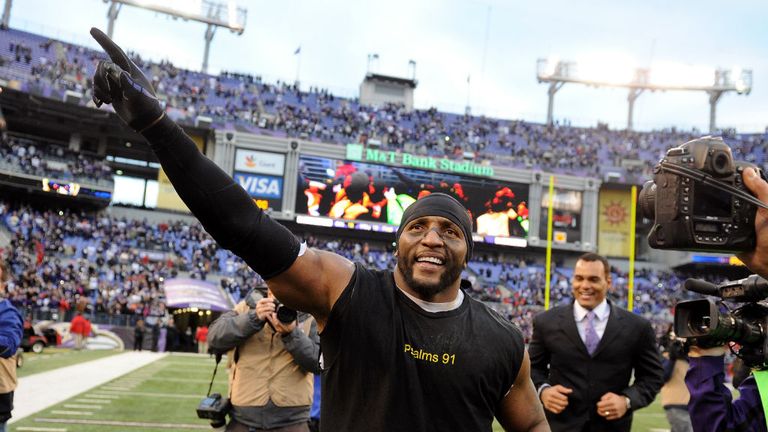 But we were rewarded for spending 14 hours locked in a Sky Sports studio as the final game of the weekend turned out to be a fascinating affair as the Seattle Seahawks overcame an early 14-0 deficit to see off the Washington Redskins.
Here are a few things that caught my eye in the first round of play-off action.
It's all about 52!
We spent a great deal of time talking about Baltimore Ravens legend Ray Lewis on Sunday night but I make no apology for that - the all-time great linebacker was playing the final home game of his career having announced he will retire at the end of his team's Super Bowl run.
I was captivated - from the moment he danced his way out of the tunnel, to his victory lap of honour after a 24-9 win over the Indianapolis Colts and his team-leading 13 tackles in between. Lewis may have lost a step but his instincts and passion remain intact and it was hard to believe he only played six regular season games after suffering a potentially career-threatening torn triceps.
Baltimore's defence has been much maligned this season but they turned in one of their best performances of the year, limiting the high-scoring and dangerous Colts to just three field goals. The return from injury of Lewis and linebacker Terrell Suggs, defensive lineman Haloti Ngata and safety Bernard Pollard has certainly given that unit a timely boost.
Lewis' illustrious career continues for one more week with a visit to the AFC-leading Denver Broncos. If they win that, a trip to New England or Houston awaits. And then the Super Bowl in New Orleans. If the Ravens make it that far, that really would be the stuff of fairy tales.
Bengals fail to advance
In this very column this time last year I wrote that the Cincinnati Bengals would be regular visitors to the NFL playoffs. Well, they did make it for a second year in a row but have they really grown as a team?
For the second year in succession, the Bengals were knocked out in Houston. But whereas last year's 31-10 loss was particularly one-sided, they will look back and wonder if the Texans were there for the taking this weekend. Houston eventually won a low-scoring battle by a 19-13 scoreline but the Bengals failed to show up for large portions of this contest.
The Bengals clearly have a championship-calibre defence but their attack was left wanting far too often on Saturday night. Andy Dalton blew hot and cold at quarterback, star wide receiver A.J. Green was controlled far too easily for too much of the game and tight end Jermaine Gresham developed a serious case of the dropsies that hurt his team in the biggest contest of their year.
Cincinnati can feel proud about a return to the playoffs this season, but there is no question improvements need to be made before they can be considered a serious Super Bowl contender in the future.
Painful to watch
I am well aware that NFL players are proud athletes who feel invincible at times - but there are occasions when they have to be protected from themselves. That was the case with Washington Redskins rookie quarterback Robert Griffin III on Sunday night.
RGIII was clearly not healthy enough to have played, particularly in the second half of a 24-14 loss to Seattle, and Redskins head coach Mike Shanahan failed in his duty of care towards his star player.
Griffin has been carrying a serious knee injury for a few weeks now and I honestly believe that if he had been playing on a 2-14 team, he would have been shut down immediately. Now I can only hope the Redskins haven't done any permanent damage to their star man by having him fight through the pain barrier time and time again in a bid to reach the Super Bowl.
In the end, RGIII's injury was the undoing of the Redskins and they should have turned to back-up quarterback Kirk Cousins in the second half. The final straw saw RGIII's knee buckle horribly as he lost a fumble near his own goal-line. The entire stadium held its collective breath as "the franchise" lay in a crumpled heap on the floor.
It made for uncomfortable viewing and I felt the young passer should never have been put in that situation, regardless of whether it was a do-or-die playoff game. And by sticking with his rookie signal-caller for too long, Shanahan could have risked a potential long-term injury to RGIII and also hurt the other 52 men on the roster in terms of their chances of winning that game.
AP held in check
You can run all over us once, you can run all over us twice... but you're not going to run all over us for a third time this season.
That was the mantra adopted by the Green Bay Packers on Saturday night as they prepared to face NFL rushing champion Adrian Peterson, who had ripped them for 409 yards in the previous two meetings this season.
The Packers came in with the perfect game plan, limiting Peterson to runs up the middle and not allowing him to bounce outside and rip off his trademark long runs. With the Vikings also more one-dimensional than ever due to the inexperienced Joe Webb subbing for injured quarterback Christian Ponder, this was never a contest.
Green Bay won 24-10 and now head west to take on the San Francisco 49ers. As for the Vikings, they can feel very proud of their season and I cannot wait to see Peterson in action at Wembley Stadium in September. He has enjoyed a season for the ages and doesn't appear set to slow down any time soon.
Foster makes Texans tick
I thought Arian Foster had a fantastic game for the Houston Texans and he was the driving force behind his team's win on Saturday evening.
The Pro Bowl running back displayed outstanding vision, made some tremendous cuts and was a real workhorse, carrying 32 times for 140 yards and one touchdown and adding 8 catches for 34 yards.
For the Texans to have any shot at a Super Bowl appearance, they need to continue building their offense around Foster because they can do so much with him and because of him, with quarterback Matt Schaub particularly useful when passing downfield after faking a hand-off to his star runner.
And then there were eight...
Just eight teams remain on the road to this year's Super Bowl, which will be played in New Orleans on Sunday February 3.
The 'quarter-final' line-up is as follows with Baltimore visiting Denver and Houston travelling to New England in the AFC. The NFC sees Green Bay visit San Francisco and Atlanta host Seattle.
In the AFC, I have not seen enough to suggest that Baltimore and Houston can prevent an AFC title showdown between legendary quarterbacks Tom Brady (New England) and Peyton Manning (Denver). But the NFC is wide open and you could make a Super Bowl case for all four of the remaining teams. With that in mind, until I am strongly convinced otherwise, I will stick with my preseason Super Bowl prediction of New England against Green Bay.