Cardinal sins
Arizona are in abysmal form, says Neil Reynolds, but there are positive signs for Cleveland and the Giants.
Last Updated: 10/12/12 3:19pm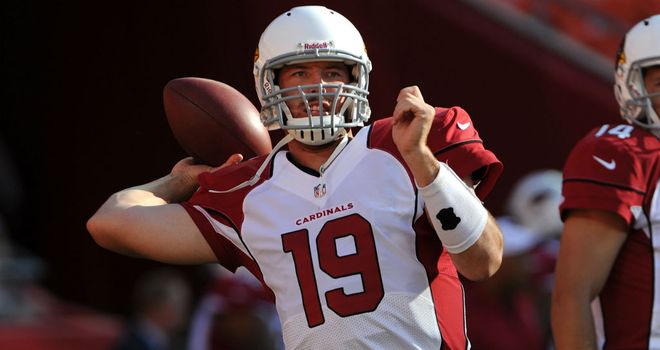 We geared part of our show on Sky Sports towards newer viewers last night and there was a point during the broadcast when I described American football as the ultimate team sport.
I still believe that to be the case, but I have to admit there were some pretty special individual performances on Sunday night that helped some teams in their bid to reach the playoffs in January.
Here is what caught my eye in NFL Week 14...
An all-time great
Tickets for the two NFL International Series games taking place at Wembley Stadium next September and October are on sale now and I think we'll be seeing one of the league's all-time greats in action in the form of Minnesota Vikings running back Adrian Peterson.
With Christian Ponder struggling at quarterback, Peterson is single-handedly leading the playoff charge for the 7-6 Vikings. He rushed for 154 yards and two touchdowns on 31 carries during a 21-14 victory over the Chicago Bears, emphatically proving that the franchise running back is not dead yet in this pass-happy era.
Peterson now leads the league with an even 1,600 rushing yards and 10 touchdowns and his outstanding effort has come off the back of a devastating knee injury suffered last Christmas Eve that put his career in doubt. No wonder Vikings fans have dubbed this guy 'Purple Jesus.'
There is obviously no such thing as a one-man team in the NFL, but the Vikings come pretty close. Peterson is that special and I cannot wait to see him in action at Wembley Stadium against the Pittsburgh Steelers on September 29, 2013.
Redskins rookies rise up
The Washington Redskins emerged as 31-28 overtime winners against the Baltimore Ravens with outstanding performances from not one, but two rookie quarterbacks.
Robert Griffin III threw for 246 yards and one touchdown before being knocked out of the game late in the fourth quarter with a scary-looking knee injury that will have Redskins fans nervously monitoring his progress in the coming days.
But fellow rookie Kirk Cousins (pictured) came off the bench and handled himself wonderfully in the pressure-cooker atmosphere at FedEx Field.
Trailing by eight, Cousins threw a touchdown strike to wide receiver Pierre Garcon with just 29 seconds remaining and then ran in the two-point conversion himself to send the game into overtime. Following a big punt return by another rookie in Richard Crawford, the Redskins won for the fourth week in a row on Kai Forbath's 34-yard field goal.
I think the Redskins need RGIII to complete their push towards the playoffs, but they have to be happy with the way Cousins came off the bench and didn't miss a beat on Sunday evening. Mike Shanahan doesn't like quite so stupid now for drafting a second rookie passer in the fourth round in April, does he?
Giants win big
The pressure was on the New York Giants by the time their game with the New Orleans Saints kicked off on Sunday night. The Redskins and Dallas Cowboys had won to improve their records to 7-6. A loss for New York and we would see a three-way tie atop the NFC East with three games remaining.
But the Giants won big against the Saints, running out 52-27 winners courtesy of four Eli Manning touchdown passes and a club record 327 all-purpose yards from rookie running back David Wilson.
I was especially pleased to see the exciting, game-breaking Wilson shine against the sloppy, error-prone Saints who continue to hurt themselves with offensive turnovers, poor tackling on defence and half-hearted effort on special teams.
Wilson started the year in Tom Coughlin's dog-house after a Week 1 fumble against the Dallas Cowboys. We saw him in tears on the bench that night and his opportunities have been limited this year, in part because the Giants don't trust him in pass protection.
But Wilson showed his value on Sunday, exploding for one big play after another against the Saints, scoring on a 96-yard kickoff return and runs covering six and 52 yards. If they now feel they can trust him, the Giants have to keep feeding Wilson the ball - he could be quite a useful fresh-legged weapon as they head towards the playoffs.
Browns offer hope for future
The Cleveland Browns have long been a laughing stock in the NFL but that might stop in the coming years because they are building a good group of young players and will head into 2013 with high hopes.
The Browns were 30-7 winners over the Kansas City Chiefs on Sunday evening and have now won three games in a row. They were also very competitive in recent losses to the Baltimore Ravens and Dallas Cowboys and have won five of their last eight contests.
Brandon Weeden still has some way to go before he can be a reliable, every-game quarterback but he has the physical tools to get there. Trent Richardson can be a beastly running back and some young receiving talent is emerging in Josh Gordon and Travis Benjamin.
With a stout defence already in place, the Browns are a team on the rise. I'm still not sure if their strong finish will be enough to save head coach Pat Shurmur's job, but he has this club heading in the right direction.
Cardinals embarrass themselves... again!
As I walked into the Sky Sports studios on the evening of Thursday October 4, I was preparing to defend the Arizona Cardinals, who had been dubbed one of the poorest 4-0 teams in living memory.
I never really felt the urge to leap to their defence, however, as they struggled for much of a 17-3 loss to the St. Louis Rams. And I'm glad I didn't bother because the Cardinals have been a total embarrassment ever since that night in Week 5.
They reached a new low on Sunday night as they were hammered 58-0 by the Seattle Seahawks. So, finally, the resilient defence has realised there is no point putting up a fight when the rotating trio of incompetent passers - John Skelton, Ryan Lindley and Kevin Kolb - are stinking it up every weekend.
The poor play from the quarterback position and the offensive line has held the Cardinals back this season but the general mismanaging of that group of passers - coupled with nine consecutive losses - is going to cost head coach Ken Whisenhunt his job.
Carolina clip the Falcons' wings
The Atlanta Falcons remain on course to be the number one seed in the NFC playoffs but there are still many out there who doubt they have what it takes to go all the way to the Super Bowl in New Orleans in February.
Those who worry for the Falcons would have considered themselves justified on Sunday night as Atlanta fell to a 30-20 defeat at the hands of the Carolina Panthers that was not as close as the final scoreline might suggest.
The Panthers - led by in-form quarterback Cam Newton (pictured) - dominated throughout and produced some big plays against a Falcons defence that had played so well the week before against the New Orleans Saints.
But I worry more about the patchy form of the Falcons offence. When I look at the NFC, I think I would still take the San Francisco 49ers, Green Bay Packers and, very possibly, the New York Giants in a playoff game over the Falcons.