Neil Reynolds says horrific actions of Jovan Belcher put NFL in perspective this weekend
Neil Reynolds says the shocking story of Jovan Belcher helps to put sport into perspective.
Last Updated: 03/12/12 1:02pm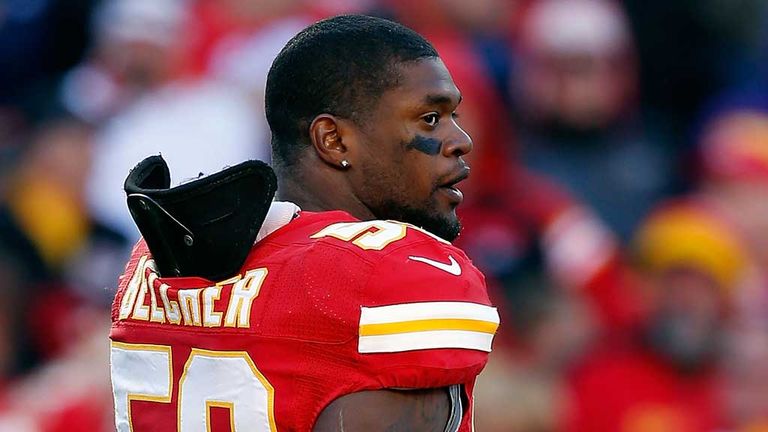 It was the kind of far-fetched and horrific story normally reserved for Hollywood script writers. Sadly and tragically, this was real life melting down before our very eyes, putting into perspective the American football that was eventually played out over the weekend.
Belcher was reportedly involved in an argument with his girlfriend Kassandra Perkins at their Kansas City home on Saturday morning; he shot the mother of his three-month-old daughter several times in front of his own mother before driving to the Chiefs' Arrowhead Stadium.
The 25-year-old defender was met in the car park by general manager Scott Pioli and head coach Romeo Crennel. According to police, he then thanked both men before shooting himself in the head right in front of them.
Sadly, I'm sure those final images of Belcher taking his own life right before their very eyes will haunt Pioli and Crennel.
We don't know all the ins-and-outs of this story yet and more details could surface in the coming weeks, but many Chiefs players expressed surprise and shock at one of their supposed model citizens going off the rails in such devastating fashion. Belcher reportedly led a quiet life away from the gridiron and had never been in any form of trouble.
Until this past weekend.
The Chiefs chose not to publicly remember or honour Belcher before Sunday's game against the Carolina Panthers and that was the right decision.
We don't know what made Belcher act the way he did on Saturday and it is, of course, terribly sad that he had some form of breakdown that led to these drastic actions.
Belcher is the more famous party in this murder-suicide so has probably been receiving more media attention as a result - and there has certainly been an outpouring of sympathy towards him on Twitter and other forms of social media.
Don't get me wrong, I also feel sympathy towards Belcher, to some degree, and this whole story is achingly, painfully sad.
He leaves behind an orphan child, a devastated and shocked team and two men who will remain affected by his actions for the rest of their lives in Pioli and Crennel.
After the shocking news of Saturday, the NFL did adopt a 'show-must-go-on' approach and here are a few things that caught my eye over the remainder of an emotional weekend.
Rookies play like veterans
Good quarterbacks can play well and make pretty throws when a game is being played out in relatively normal circumstances. The great ones regularly make big plays when the stakes are at their highest, dragging their teams to victory in the midst of pressure-packed situations.
I'm not willing to label Russell Wilson, of the Seattle Seahawks, or Andrew Luck, of the Indianapolis Colts, as great just yet but the rookie passers really showed some poise and class in leading their respective teams to late victories on Sunday.
They grew up before our very eyes and did not look like they were playing their first seasons at the game's highest level.
Wilson trotted onto the gridiron at Soldier Field with the Chicago crowd creating a very hostile environment indeed. The Seahawks trailed by four points and were camped at their own three-yard line. It's fair to say the odds were stacked against the rookie passer.
But he drove Seattle down the field in 12 plays, capping the 97-yard march with a 14-yard touchdown pass to wide receiver Golden Tate with 24 seconds remaining.
When the Bears improbably sent the game into overtime, Wilson didn't even blink. He tore apart the tired Chicago defence while leading the Seahawks on a 12-play, 80-yard game-winning drive that was capped by a 13-yard touchdown pass to wide receiver Sidney Rice.
In his last two drives against a tough Chicago defence, Wilson completed nine of 12 passes for 118 yards and two touchdowns. He completed his final seven passes of the game and added five runs for 47 yards.
I guess he handled that pressure pretty well.
It was the same for Luck, who threw for 391 yards and four touchdowns in a miraculous 35-33 victory over the Detroit Lions.
Detroit led 33-21 with 4:02 remaining when Luck embarked on his final two drives of the game. Over the final moments of the contest, Luck completed seven of 16 attempts for 112 yards and two touchdowns. He added three runs for 33 yards. Two of his incompletions were spikes to stop the clock and his winning touchdown pass to wide receiver Donnie Avery came on fourth down as time ran out.
That is another impressive example of a young player dealing with pressure and the 8-4 Colts are now very much on their way to the playoffs. They are the Cinderella story of this 2012 season and their quarterback is going to be very good for a very long time.
Batch gets it done
Sticking with quarterbacks, I'll finish up this week with a nod to Charlie Batch, who led the Pittsburgh Steelers to a massive 23-20 win on the road against the Baltimore Ravens.
The Steelers have played some calamitous football without injured star quarterback Ben Roethlisberger. But they got more than enough good play out of their 38-year-old third-string passer in Batch on Sunday night.
Batch completed 25 of 36 attempts for 276 yards and one touchdown. Playing against the Ravens in Baltimore is always a tough proposition but Batch, while not being spectacular by any means, was good enough to bring home the bacon.
And that was vital for the mistake-riddled Steelers. They had to find a way to get a win with Roethlisberger sidelined with rib and shoulder injuries and they got the job done. Now, they will feel good about kicking on from here and securing a playoff spot in the AFC.
Playoff picture clears
It was a busy weekend for playoff scenarios in the NFL. In the AFC, the New England Patriots clinched the East Division, the Denver Broncos were crowned champions of the AFC West and the Houston Texans booked a post-season berth but not the division.
In the NFC, the Atlanta Falcons have improved to 11-1 and have secured the NFC South crown. Now they will try to maintain momentum and book home-field advantage throughout the NFC playoffs.