Patriot games
Neil Reynolds was blown away by the Patriots defence and feels for 49ers quarterback Alex Smith.
Last Updated: 26/11/12 12:43pm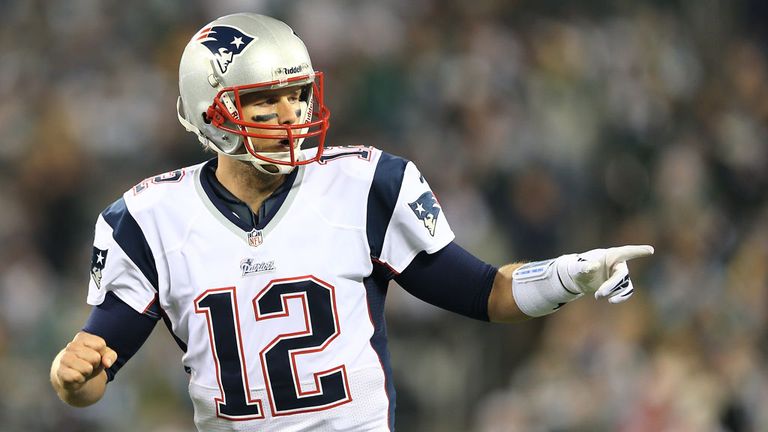 It was a big Thanksgiving weekend in the United States but the last few days have been about much more than turkey and stuffing - the NFL is reaching the business end of the 2012 season and Week 12 saw several teams begin to make definitive moves.
The New England Patriots, Houston Texans and Atlanta Falcons continued on their march towards the playoffs, while contenders such as the Pittsburgh Steelers and Green Bay Packers were found wanting.
Here are some of the things that caught my eye during 18 ½ hours of live NFL coverage on Sky Sports on Thursday and Sunday evening.
Missing Big Ben
You never want to see a player rushed back from injury before he is fully healed, particularly when the physical setback is as dangerous as the one suffered by Pittsburgh Steelers quarterback Ben Roethlisberger two weeks ago (shoulder and rib injuries that turned potentially life-threatening).
But the Steelers must be sorely tempted to force their star man back into the line-up for next Sunday's big clash against the Baltimore Ravens. The Steelers couldn't get out of their own way in Week 12 as they fell to a 20-14 defeat at the hands of the lowly Cleveland Browns. They now have a record of six wins and five losses and need to gather some momentum to forge a way into the playoffs.
Stand-in quarterback Charlie Batch, who is normally Pittsburgh's third-string quarterback, was awful in subbing for the injured Roethlisberger and Byron Leftwich. Batch threw three interceptions and the Steelers turned the ball over a total of eight times, with every single one of their backs fumbling the ball to Cleveland.
You can't win that way in the NFL. The Steelers were rolling with a healthy Roethlisberger and their back-to-back losses are further evidence of why the quarterback position is the most important in today's NFL.
Super in the Superdome
The San Francisco 49ers looked very impressive in their 31-21 win over the New Orleans Saints on Sunday night and, on that form, they could find themselves back in the Superdome the first week of February playing for an NFL title.
I feel tremendously sorry for 49ers quarterback Alex Smith, who has been outstanding over the past year and a half yet has lost his job to back-up Colin Kaepernick after missing last week's win over Chicago with a concussion. Kaepernick is exciting but Smith should be fuming for the way he has been shabbily treated by head coach Jim Harbaugh.
But I'm not sure it really matters who plays quarterback for the 49ers if they continue to dominate on defense like they did against the Saints. This is a smothering, aggressive unit that made life very difficult for New Orleans quarterback Drew Brees. They were well worth their two defensive touchdowns (Ahmad Brooks and Donte Whitner) and certainly have the aggression and technical skills to take San Francisco all the way.
Travel sick Seahawks
Given their somewhat remote positioning by NFL standards right up in the corner of America in the Pacific North-West, the Seattle Seahawks have a very distinct advantage when they play at home and problems when travelling to play on the road.
That is evident in their record this season. The Seahawks have been dominant on home soil, winning a perfect five out of five. But away from home it has been a different story and it is that inability to win on the road that holds this team back from being a true contender.
Seattle had to make the long trip to Miami on Sunday and fell 24-21 to a Dolphins team that had lost three in a row. I felt this was a game the Seahawks were capable of taking, even with the long travel taken into account. By losing it, they have fallen back into a crowded wild card race in the NFC and I don't have much faith in them doing anything away from the Land of Starbucks.
Patriots are rolling
The New England Patriots produced an offensive explosion at Wembley Stadium at the end of October, recording a 45-7 thrashing of the St. Louis Rams. They've kept that offensive production rolling since then, scoring 37 against Buffalo, 59 against Indianapolis and 49 in New York on Thanksgiving Day against the Jets.
The Patriots are on a roll with five victories in a row and they look very capable of making a return to the Super Bowl with a record of eight wins and three losses on the season.
Quarterback Tom Brady remains a class act and he gets the best out of his supporting cast, even though star tight end Rob Gronkowski was missing this weekend through injury. But the story of New England's resurgence might be the improved play of the defense and special teams.
The Patriots are landing some big body blows, forcing fumbles and creating turnovers to hand Brady even more scoring opportunities. That is a formula that could yet see New England make their shaky start nothing more than a distant memory as they forge a path to New Orleans and Super Bowl 47.
Henne on his way to Wembley?
The Jacksonville Jaguars pushed the Houston Texans very hard last week before losing to the AFC leaders in overtime. This week, the Wembley-bound Jags went one better and recorded just their second win of the season, overcoming the Tennessee Titans by a 24-19 scoreline.
Back-up quarterback Chad Henne threw a career-high four touchdown passes against Houston and followed that up with 261 passing yards and two scores to see off the Titans. Importantly, Henne is forming a very useful partnership with rookie wide receiver Justin Blackmon, who had been somewhat dormant when Blaine Gabbert was under center.
Given the way Henne has come in with the hot hand, you have to wonder about Gabbert's long-term future in Jacksonville, particularly as he will be spending the rest of this season on injured reserve with arm and shoulder injuries.
The Jaguars have given Gabbert a decent look - he has started 24 games since entering the league last year - but he has failed them time and again, completing just 53 per cent of his passes and taking 62 sacks. With results being all-important in the NFL, a hot finish from Henne could seal his position as the starting quarterback in 2013.
Bengals back in the race
The Cincinnati Bengals are back in the AFC playoff picture with a record of six wins and five losses following their 34-10 demolition of the Oakland Raiders on Sunday. The Bengals have now won three in a row after making a poor start to the year.
Quarterback Andy Dalton is the key to Cincinnati's success, in my mind. He was throwing too many interceptions in the season's first eight games but has now gone three successive contests without tossing up a pick. That is vital to these Bengals, who are probably not good enough to overcome a lot of turnovers to win.
Dalton is also benefiting from a very useful receiving trio in the form of wide receivers A.J. Green and Mohammed Sanu, and tight end Jermaine Gresham.
As for the Raiders, they have conceded 42, 55, 38 and 34 points in their last four games which have all, not surprisingly, been losses. It's hard to believe that this team is being led by a defensive-minded head coach in Dennis Allen for the first time since the days of John Madden in the 1970s.