No problem, Houston
Neil Reynolds hails the Texans for digging deep and watched Atlanta's Matt Ryan have a meltdown!
Last Updated: 20/11/12 9:59am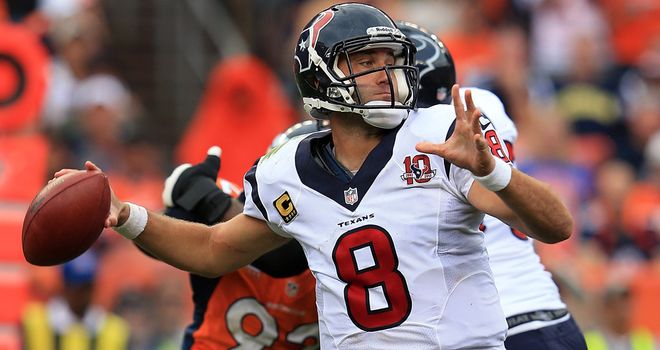 Week 11 in the NFL provided some outstanding games and some crazy finishes as the Houston Texans, Dallas Cowboys and Tampa Bay Buccaneers won in overtime, while the likes of New England and New Orleans put forth big victories to maintain their respective playoff charges.
Here are some of the big stories that caught my eye as Sunday's action unfolded across the United States.
Texans survive a scare
I wouldn't normally say this after an 8-1 powerhouse narrowly hung on for a victory over a 1-8 team, but I think the Houston Texans showed me they are the best team in the NFL on Sunday night as they overcame a spirited Jacksonville Jaguars by a 43-37 scoreline in overtime.
I have seen the Texans win with strong defence and an efficient running game during the course of this season. And I have seen plenty of occasions where quarterback Matt Schaub has performed admirably without ever stealing the headlines.
But I always had this nagging doubt about whether the Texans could score enough points in a shootout if their defence failed to show up one week. Schaub emphatically answered that question on Sunday, throwing for 527 yards and five touchdowns. Wide receiver Andre Johnson has not been nearly as effective this season but exploded with 14 catches for 273 yards and a touchdown.
The Texans have now proven they can win any way possible and they are the complete team. As for Jacksonville, tickets go on sale for their 2013 game at Wembley Stadium this Thursday and if this is the kind of Jaguars we are going to see in London next season, put me down for a couple.
Led by stand-in quarterback Chad Henne (354 passing yards and four touchdowns) and rookie wide receiver Justin Blackmon (seven catches for 236 yards and one touchdown) the Jags turned in their most explosive display of the season, offering hope for the future.
Here come the Patriots
The rest of the NFL hoped against all hope that the New England Patriots were more fallible this season when they opened the year with three wins and three losses.
But those three losses were by a combined four points and the Patriots are rolling again now, winning for the fourth game in a row on Sunday night, this time by a mammoth 59-24 scoreline over the Andrew Luck-led Indianapolis Colts.
Tom Brady showed the young pup that he is still the master with a 300-yard, three-touchdown display, but the story of this complete display was the defence and special teams.
The Patriots scored on a 68-yard punt return by Julian Edelman, a 69-yard interception return by Aqib Talib and an 87-yard interception return by Alfonzo Dennard.
New England were dominant on Sunday and the rest of the NFL would have taken notice. This is still a team very capable of winning this year's Super Bowl.
Eagles give up
I'm not going to sugar-coat this and I don't say this lightly because NFL players are a proud, aggressive and competitive bunch who would often run over their own grandmothers in order to win each weekend - but the Philadelphia Eagles have given up!
The first Monday after the end of each regular season is dubbed Black Monday around the NFL because it is the day under-fire head coaches hide in their offices, refuse to answer phone calls and generally try to avoid or at least delay getting the sack.
Even though he has served 14 years in Philadelphia and deserves to see out the year, I'm beginning to wonder if Andy Reid will make it to Black Monday. There is certainly nothing worse than seeing a team quit on the field and the Eagles appear to be doing that now as losers of six successive games.
Time and again during Sunday's 31-6 concession at the hands of the Washington Redskins, the Eagles appeared to playing at half speed. They allowed Aldrick Robinson to get so wide open that it was impossible not to score and their tackling efforts on touchdowns scored by Santana Moss and Logan Paulsen were just pitiful.
Philadelphia cannot blame it all on starting a rookie quarterback in Nick Foles on Sunday, either. Foles did struggle but he is only one man. This was a total team failure and the Redskins also started a rookie passer in Robert Griffin III. He couldn't have provided a starker contrast as he completed 14 of 15 passes for 200 yards and four touchdowns, while adding 85 yards on the ground.
The Eagles are falling fast and Reid, who looks burnt out, is running out of time.
Matty Ice has a meltdown
Atlanta Falcons quarterback Matt Ryan is often dubbed 'Matty Ice' for his calm and cool nature in pressure situations. He obviously forgot about that nickname as he suffered a complete meltdown against the Arizona Cardinals on Sunday evening.
Ryan threw five interceptions but, crucially, the Falcons dug deep and came away with a 23-19 win that improved their record to nine wins and one loss on the season.
But the Falcons have to realise that a better team, or even anything remotely resembling a half-decent team would have beaten them in Week 11. The Cardinals bumbled their way through the game with rookie quarterback Ryan Lindley struggling after he replaced the benched John Skelton.
The Falcons are still in pole position in the NFC playoff race, but it is performances like this one that make many pundits - myself included - wonder if they are heading for another early playoff exit. There is certainly no way Ryan can play like that in the post-season and expect to advance to the next round of the playoffs.
Saints Brees back into playoff race
It should be noted that Sunday's 38-17 victory came against the lowly and hugely disappointing Oakland Raiders, but the fact remains that the New Orleans Saints are back in the NFC playoff race with a record of five wins and five losses.
That is truly incredible given that New Orleans were a team in disarray at the start of the year, losing four consecutive contests to open a season in which they are being forced to cope without suspended head coach Sean Payton.
The star of the show remains quarterback Drew Brees, who threw another three touchdown strikes on Sunday.
Minnesota (6-4), Seattle (6-4) and Tampa Bay (6-4) are all ahead of New Orleans in the race for the final wild card spot in the NFC. But not one of those teams has a quarterback who can take over games the way Brees can. The Saints may yet provide a thrilling finish to the regular season.
Manning in the groove
It is a sign of how far Peyton Manning has come in his return to the NFL that a three-touchdown display during a 30-23 defeat of the San Diego Chargers has become the norm rather than a headline-making surprise.
Manning is in a groove now and has the receivers around him playing at a high level. Add in improved performances from a defence led by dynamic pass-rusher Von Miller and you can see why Denver are going to be a tough out come playoff time.
And make no mistake, the Broncos are stampeding to the playoffs with their 7-3 record and with breathing room in the AFC West, they can concentrate on improving their conference standing in a bid to book a first round bye.
Meanwhile, Manning looks set to continue on an MVP pace and all seems right with the NFL world with Peyton back on top of the heap.