Neil Reynolds reviews Week 7 of the NFL
Neil Reynolds reflects on a NFL round which proved the race to the playoffs is anything but done.
Last Updated: 22/10/12 2:25pm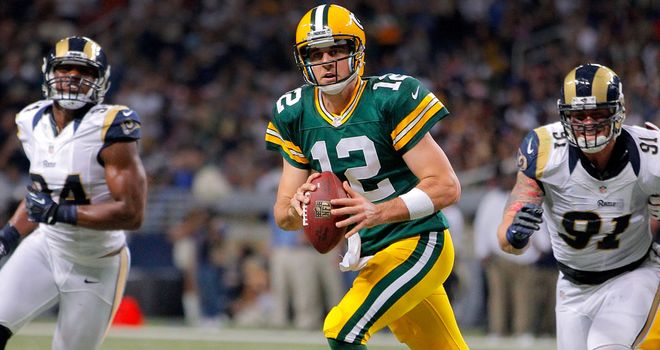 Aaron Rodgers led the Green Bay Packers to victory over the Wembley-bound St. Louis Rams, Drew Brees won a shootout for his New Orleans Saints against an equally potent Josh Freeman, of the Tampa Bay Buccaneers, and Eli Manning showed one more time that he is truly the man for the big fourth quarter stage as he led the New York Giants to a dramatic late win over the Washington Redskins.
The way the footballs were filling the sky on Sunday evening reminded me that the NFL is very much a passing league.
Vikings win the old-fashioned way
Having built up the quarterbacks trying to turn the NFL into basketball on grass, I want to start with a win that was built on physicality, strong defence and a stout running game as the Minnesota Vikings ran out 21-14 winners over the Arizona Cardinals.
Vikings second-year quarterback Christian Ponder threw for just 58 yards, one touchdown and two interceptions yet his team still won to improve to a surprising 5-2 on the season.
And the reason for that victory was a return to full fitness and form of star running back Adrian Peterson, who has been working his way back into shape after tearing knee ligaments last Christmas Eve. Peterson was running hard and leaving defenders trailing in his wake again as he rushed for 153 yards and one touchdown.
Minnesota's cause was also helped by a defence that recorded seven sacks. The Cardinals continue to be hampered by a terrible offensive line and have now lost three in a row after a 4-0 start.
Rodgers in the groove
In my mind, Aaron Rodgers has been the best quarterback in the NFL for the past two or three years. Any talk of his demise this season was very premature as the Packers opened the season with three wins and three losses.
A quarterback can be seriously hampered by a lack of protection and I think that was the case with Rodgers, who would have had one more win to his name this term had the replacement officials not completely messed up the end of a Monday Night Football loss in Seattle.
Rodgers looked very efficient against a tough Rams defence on Sunday evening, throwing for 342 yards and three touchdowns. With Greg Jennings continuing to rest a nagging groin injury, the Packers would have been pleased to see Jordy Nelson (eight catches for 122 yards and one touchdown) and Randall Cobb (two touchdowns) take the lead in the passing game.
Saint Drew keeps his team alive
The New Orleans Saints possess very little running game, a shaky offensive line and one of the worst defensive units in American football. Those factors contributed to the head coach-less Saints opening the year with four straight losses.
But the form of one man - quarterback Drew Brees - gives them a chance to win every single weekend, no matter how much the supporting cast struggles. Brees has now led the Saints to back-to-back victories and remains one of the NFL's truly elite passers.
Against Tampa Bay on Sunday night, Brees hit on 27 of 37 passes for 377 yards and four touchdowns. But even with such an outstanding display from their quarterback, the Saints were hanging on at the end and eventually squeaked out a 35-28 victory.
Patriots head to London with a win
The St. Louis Rams arrive in London on Tuesday, while the New England Patriots get into town on Friday morning. While there is no guarantee that Pats head coach Bill Belichick will be in a good mood, his team did get a vital overtime win against the New York Jets on Sunday, eking out a 29-26 win.
Any win - particularly a hard-fought effort against a division foe - should be applauded but I think it's clear this Patriots team is flawed like so many other clubs around the NFL. It's hard to build the perfect NFL team and that's why we are enjoying such a wide open race to the playoffs.
Quarterback Tom Brady always gives New England a chance to win but their defensive backfield is a mess and allows way too many big plays. Perhaps most worryingly, the Patriots appear to have lost their killer instinct. They allowed Seattle to record a come-from-behind win last week and almost blew a game they were in total control of against the Jets.
The Patriots head to London with a winning record at 4-3 but they still have many areas of their team to address as we approach the midway mark of the 2012 campaign.
Texans bounce back
I know form can be a week to week thing in the NFL but I think we have to assume the Houston Texans are the class of the AFC at the moment following their 43-13 demolition of the Baltimore Ravens.
The Texans were coming off an embarrassing home loss to Green Bay the previous week but clearly won the battle of 5-1 AFC leaders in emphatic fashion. Sure, the Ravens are in the process of being decimated by injuries, but this was a good, old-fashioned beat-down and the Texans re-discovered their pride in front of their own fans.
Houston ran the ball, they threw efficiently when they needed to and they found the pass-rush from several players, rather than relying solely on premier defensive end J.J. Watt. That made it a very long night for Baltimore quarterback Joe Flacco, who continues to play well at home and not so impressively on the road.
Cam he fix it?
The 2011 Carolina Panthers were exciting to watch as they lit up the NFL behind the passing and running of rookie quarterback Cam Newton. The 2012 Panthers - led by the very same quarterback - have been one of the major disappointments of this campaign.
Newton looks a shadow of the player who burst onto the scene and took the NFL by storm a year ago. And his entire team is out of sorts. Carolina lost 19-14 at home to the Dallas Cowboys on Sunday and have now lost four in a row to drop to 1-5. That's not good enough for a team many picked to be a playoff dark-horse.
Worryingly, it appears as if Newton is not working as hard in his second season and is believing his own hype. There have been whispers coming out of the Panthers locker room about his lack of work ethic and he was even publicly called out by respected team leader and Pro Bowl wide receiver Steve Smith, who has never been one to mince his words.
The Panthers are in a slump and it doesn't matter how hard the other 52 guys on the roster pull in the coming weeks. With the quarterback position being so vital, it's up to Newton to lead from the front - and there is not much evidence to suggest he has the stomach to do that at the moment.