Not just Luck-y
Rookie quarterback Andrew Luck thrived in the spotlight against Green Bay, says Neil Reynolds.
Last Updated: 08/10/12 1:24pm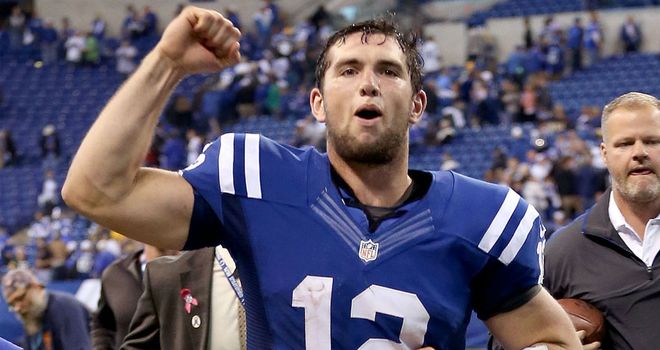 Week 5 in the NFL saw the usual array of close games and exciting finishes, but there were also some rather telling blowouts that revealed some worrying flaws in certain teams.
The Pittsburgh Steelers, Atlanta Falcons and Indianapolis Colts grabbed the early game headlines by sneaking tight victories on Sunday, while the Chicago Bears and San Francisco 49ers absolutely hammered the Jacksonville Jaguars and Buffalo Bills respectively.
Here are some of the things that caught my eye on Sunday night as I watched the action unfold in the Sky Sports studios.
Luck leads comeback
Trailing 21-3 at home to the Green Bay Packers, it appeared as if the task of winning an emotional game for their head coach Chuck Pagano (he is in hospital battling leukaemia) appeared to be beyond the Indianapolis Colts.
But someone forgot to tell rookie quarterback Andrew Luck that was the case. In just his fourth NFL game, the boy, who grew up in London, turned into a man. Rather than shy away from a pressure situation, Luck relished the challenge and thrived in the spotlight.
He stared down one of the greatest quarterbacks in the game in Aaron Rodgers and ended up out-playing the reigning NFL MVP. Luck threw for 362 yards and fired the game-winning touchdown to Reggie Wayne inside the final minute and the Colts were improbable 30-27 victors.
The Colts - who have already matched their 2011 total of two wins - are in good hands with Luck at the helm. As for the Packers, they drop to a disappointing 2-3 on the year and need to fix a dismal defence.
Falcons dig deep
For many years the Atlanta Falcons have been a flaky team - they have been loaded with talent but only seemed to perform well at home during the regular season. Not anymore. This 2012 model has a resiliency about them and the Falcons are 5-0 for the first time in team history.
Atlanta had to dig deep to defeat Washington by a 24-17 scoreline on Sunday and the closeness of that result will worry Falcons head coach Mike Smith, particularly as the Redskins lost starting quarterback Robert Griffin III to a concussion early in the second half.
They may let teams stick around too often, but the Falcons clearly have an explosive offense capable of winning any game. Quarterback Matt Ryan threw for 345 yards and another two touchdowns on Sunday and is clearly in the form of his life. And his receiving trio of tight end Tony Gonzalez and wideouts Julio Jones and Roddy White is as good as any in the league. They combined for 27 catches for 285 yards and two touchdowns on Sunday evening.
Bears poised for NFC North take-over
The Chicago Bears are turning in dominant defensive displays on a weekly basis and rolled to a 41-3 victory over the Jacksonville Jaguars on Sunday. That improved Chicago to 4-1 with very winnable games against Detroit, Carolina and Tennessee up next.
For the second week in a row, linebacker Lance Briggs and cornerback Charles Tillman each returned interceptions for touchdowns. And quarterback Jay Cutler did more than enough when presented with his opportunity, throwing for 292 yards and two touchdowns.
Due to Cutler's constant sulking when things go wrong, the Bears are a good story for journalists when they are in turmoil. That's why so much was made of their Week 2 defeat to the Green Bay Packers, which featured Cutler shoving his own offensive lineman on the sidelines.
But that little spat - coupled with ongoing concerns about the state of the offensive line - overshadowed the fact that this is a talented team. And it could be a team about to seize control of their division in the next month.
49ers look Super... the Bills don't!
The San Francisco 49ers have certainly bounced back well from a surprise Week 3 loss to the Minnesota Vikings. In their last two outings against the New York Jets and Buffalo Bills, the Niners have outscored the opposition 79-3 and are now 4-1 on the year.
On Sunday night, quarterback Alex Smith was simply outstanding in leading a 45-3 demolition of the Bills. Smith has now shown on several occasions that he can lead this team with big-time throws when required to do so. He threw for 303 yards and three touchdowns in arguably the most one-sided game of the season to date.
The Bills have to be worried about their defence after investing a huge chunk of money on that side of the ball in the off-season. Last week, they gave up 580 yards and 52 points to the New England Patriots and on Sunday it was a case of 621 yards and 45 points being shipped against San Francisco.
That's the kind of lack of production that could get defensive coordinator Dave Wannstedt sacked!
Patriots rush to victory
There were moments when Tom Brady delivered an absolute masterclass in how to be an NFL quarterback on Sunday night as the New England Patriots won a big game against the Denver Broncos by a 31-21 scoreline.
Brady threw for 223 yards and one touchdown but what was more impressive was how the Patriots really committed to the run for the second week in a row. A week after rushing for 247 yards against the Buffalo Bills, New England ran the football 54 times for 251 yards and three scores.
Stevan Ridley had his second big game in as many weeks and if New England can now pound teams with the ground attack, they can return to the Super Bowl as the AFC representative. They are more balanced than most teams in the league right now and the improved rushing attack will allow Brady to be even more explosive off play action passes.
Weeden sinks to a new low
Cleveland Browns passer Brandon Weeden came into Sunday's game against the New York Giants as the lowest-rated quarterback in the NFL. He left red-faced and defeated after another gaff to rank alongside Week 1, when he got lost under a giant American flag during the pre-game national anthems.
Weeden and the Browns had already blown an early 14-0 lead by the time he completely forgot the rules of being an NFL quarterback.
The rookie passer had a throw batted up into the air by a Giants defensive lineman. Weeden then caught the ball before it hit the ground, rolled to his right and fired a touchdown pass to tight end Jordan Cameron. While that may sound impressive, the more astute among you will have recognised that the play featured two forward passes. You are only allowed one on each play!
Surely a starting quarterback in the NFL would have figured that out. Maybe that's why Weeden has yet to win a game in the league and he is the main man on a club that has now lost 11 in a row dating back to last season.