Left cold by icing
Neil Reynolds says Joe Philbin and Bill Belichick got it wrong in week three of this amazing NFL season.
Last Updated: 24/09/12 7:12pm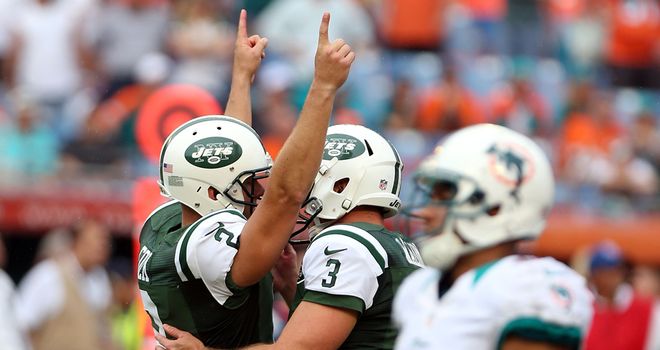 I don't want to sound like a broken record here, folks, but the 2012 NFL season is shaping up to be one of the wildest sporting rollercoaster rides in living memory.
It seems as if every week brings nail-biting finishes, outstanding individual performances, dramatic upsets and more than a hint of controversy. I honestly think a movie script depicting what happens in the NFL each week would be laughed out of Hollywood in seconds for being too far-fetched and unrealistic.
Yet everything that unfolded on Sunday night as I watched on from the Sky Sports studios was real - entertainingly, enthrallingly and downright shockingly real. The San Francisco 49ers were the class of the league after two weeks yet got easily handled by Minnesota, Kansas City consigned the head coach-less New Orleans Saints to an 0-3 start and the Arizona Cardinals showed they are for real with a stunning and dominating display against the previously unbeaten Philadelphia Eagles.
There could easily have been 106 things that caught my eye in NFL Week Three, but here are six of the best...
Icing leaves me cold
I made my points crystal clear on this subject in the Sky Sports studios on Sunday night - icing the kicker is a pointless waste of time and, more often than not, it comes back to haunt the head coach attempting to get inside the head of his opponent.
The Miami Dolphins were the latest victim of trying to be too clever for their own good as Nick Folk, of the New York Jets, lined up to kick a game-winning 33-yard field goal in overtime with the score tied at 20-20.
A split second before Folk kicked the ball, Miami head coach Joe Philbin called a time out in an attempt to psyche out the Jets kicker. But it backfired big-time. Unaware of the time-out call on the sidelines, the players on the field carried on regardless and Folk's kick was blocked by Miami defensive lineman Randy Starks. But that play was negated by Philbin's time-out. On the second attempt, Folk knocked it through and the Jets won.
Philbin will have some explaining to do in Miami. For me, I have never understood the notion of giving a kicker longer to prepare. I would rather he felt a little rushed and unsure if I was going to call a time out or not. But what do I know? I'm not an NFL head coach. But I know I don't like what Philbin did on Sunday!
Saints spinning out of control
The New Orleans Saints were THE story of the off-season after the NFL found them guilty of paying their players to deliberately injure members of the opposing teams. But 'bountygate' is soon going to be overtaken by we-can't-tackle-gate or we're-really-not-very-good-gate!
I knew the Saints were in trouble after two weeks but I did not see any way they could lose at home to a Kansas City Chiefs squad that was blown out by the Atlanta Falcons and Buffalo Bills in their first two games of the year.
And that's why you'll never catch me gambling a single penny on the NFL! The games are just too hard to call. The Chiefs trailed 24-6 in the third quarter and, for once, everything appeared ready to go to plan in the NFL. But the Saints had another defensive meltdown, the Chiefs scored 21 unanswered points and won in overtime by a 27-24 scoreline courtesy of Ryan Succup's 31-yard field goal.
I know much will be made of the Saints being without head coach Sean Payton, and rightly so because this team does appear to be devoid of leadership in tough times. But more worrying for me would be the Saints defence which has been a complete shambles. On Sunday, they allowed Jamaal Charles to rush for 233 yards. I'm not sure what difference Payton would make on that side of the ball. The Saints are in trouble and probably one more loss away from being dead and buried. That's bad news because next up is a visit to Lambeau Field to take on the Green Bay Packers.
Vikings Ponder a brighter future
The Minnesota Vikings put forward a great effort on both sides of the ball to inflict a 24-13 defeat on the 49ers on Sunday evening. The defence pressured San Francisco quarterback Alex Smith into his first interception in a club record 249 attempts (dating back to Week 12 of the 2011 season), but it was the performances of a pair of second-year players that caught my eye.
Christian Ponder continues to grow into a fine quarterback. He threw for two scores, ran for another and, perhaps most importantly, he didn't turn the ball over against arguably the best defence in the NFL. And tight end Kyle Rudolph is developing into a game-breaking target. He caught two touchdowns, including a spectacular one-handed grab.
Lacking Lions fall short
In the most spectacular game of the weekend, the Detroit Lions left Nashville licking their wounds after losing 44-41 to the previously winless Tennessee Titans in overtime.
The Lions rallied wonderfully with two touchdowns in the final 18 seconds of regulation, including a 46-yard Hail Mary strike from backup quarterback Shaun Hill to wide receiver Titus Young on the final play of the game. But they couldn't get it done in overtime as Jim Schwartz called for his offense to attempt to draw the Titans off-side rather than kick a tying field goal. But the Lions center snapped the ball, Hill was stuffed for no gain and it was game over.
But the late drama should not divert our attention from the one fact that is most likely going to be what ruins Detroit's season - they cannot stop anyone with one of the worst defences in the NFL. In order to win games this year, it appears the Lions are going to need to be in shootouts every single week. And as Sunday proved, those kind of high-scoring, exciting games don't always go your way.
Belichick crosses a line
Bill Belichick was angry at the replacement officials after Sunday's 31-30 loss to the Baltimore Ravens, particularly as it was hard to tell if Justin Tucker's game-winning kick actually made it through the uprights or not (for the record, I definitely think the field goal was good).
Belichick was also peeved about the general running of a game that featured 24 penalties. But that's no excuse for roughly grabbing an official by the arm as he attempts to run off the field. The veteran coach doesn't think he will get fined for his outburst, but I think he is wrong.
The NFL is worried about coaches intimidating their replacement officials and about players starting to take liberties on the field of play with lots of post-tackle pushing and shoving. If there is any opportunity to crack down on a high-profile coach, they will do so. Belichick will be made an example of and rightly so - he will get fined heavily for his indiscretion on Sunday night.
Cardinals taking flight
Don't look now but the Arizona Cardinals are one of three remaining unbeaten teams in the NFL (the others are Houston and Atlanta) following their 27-6 demolition of the Philadelphia Eagles. Kevin Kolb enjoyed a solid display at quarterback by throwing two touchdown passes against his old team but the story has to be the Arizona defence.
Fast, aggressive and capable of taking over any game, the Cardinals defence gave Michael Vick absolute fits and the Eagles suffered another three turnovers, giving them 12 on the season. On this current form, the Cardinals are heading to the playoffs and are well on their way to being one of the biggest stories of this 2012 campaign.