Raising Arizona
The Cardinals defence and Reggie Bush caught Neil Reynolds eye after week two of the 2012 NFL season.
Last Updated: 17/09/12 12:46pm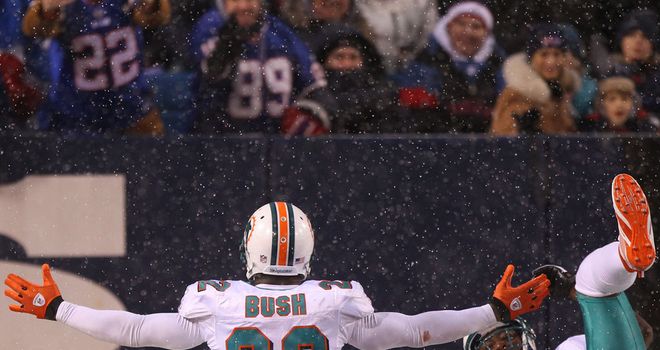 As we sat through seven thrilling hours of NFL coverage on Sky Sports last night, I turned to former Green Bay Packers offensive lineman Mark Tauscher midway through our second contest and said: "I wouldn't want to have to make a living predicting the outcome of NFL games."
Now, don't get me wrong, I like a good prediction as much as the next pundit and I do have a go each weekend, but Week two in the NFL proved that the only thing we can expect every Sunday is the unexpected.
This past week was no different. The New England Patriots lost a home opener for the first time since 2001, the New York Giants needed 510 passing yards from Eli Manning to see off the Tampa Bay Buccaneers and the talented and dangerous New Orleans Saints - led by $100 million quarterback Drew Brees - fell to 0-2 with a loss to the Carolina Panthers.
Here are a few things that caught my eye in Week two...
Arizona who?
They won't be saying that for much longer because the Cardinals have proven they are a team to be reckoned with this season, defeating the Patriots 20-18 on the road. Granted, they needed New England's Stephen Gostkowski to miss a very simple 42-yard field goal as time expired following a Ryan Williams fumble, but to lose in the dying stages after such a stellar display would have been harsh in the extreme.
The Cardinals may have found it hard to settle on their starting quarterback in recent seasons, but they are 2-0 in 2012 and have now won nine of their past 11 games dating back to last year. They don't get a lot of attention but that makes the Cardinals one of the hottest, in-form teams in the NFL.
Kevin Kolb did enough under center this weekend, but the real story of this team is the young, fast and aggressive defence that made life very difficult for Tom Brady and the Patriots on Sunday night. If this unit can slow down Brady, they will fancy their chances with any offense in the coming weeks.
Rookie passers bounce back
It was a pretty rough introduction to life in the NFL for Andrew Luck (Indianapolis Colts), Russell Wilson (Seattle Seahawks), Ryan Tannehill (Miami Dolphins) and Brandon Weeden (Cleveland Browns) last week.
But that group of young passers bounced back very strongly in Week 2. Impressively, there was not an interception thrown by any member of this young quartet. Luck, Tannehill and Wilson grabbed their first NFL victories and although Weeden was on the losing side for the Browns, he flashed potential by throwing for 322 yards and two scores. It was certainly a step up on the 5.1 quarterback rating he posted last week after getting lost under the American flag during pre-game warm-ups!
The fifth member of the rookie quarterback brigade - Washington's Robert Griffin III - was very impressive during a dazzling display against the St. Louis Rams, throwing for one touchdown and rushing for two more. But RGIII ended up on the wrong end of a 31-28 scoreline. I'll have more on that later.
Eli helps Giants dig deep
In the second half of Sunday's game with the Buccaneers, the defending Super Bowl champion New York Giants were in trouble - they trailed 27-13 and were staring down a second consecutive home defeat to kick-start the defence of their title.
But then Eli Manning lit it up and proved that while he will make mistakes from time to time (he threw three interceptions on Sunday), there are few quarterbacks in the league you would rather call on to deliver a victory in a do-or-die situation. Manning made one big time throw after another as he racked up a club record 510 yards and three touchdowns. He made full use of the dynamic receiving duo of Victor Cruz (11 catches for 179 yards and one touchdown) and Hakeem Nicks (10 catches for 199 yards and one touchdown).
The Buccaneers epitomise the unpredictable nature of the NFL. They powered their way to a Week 1 victory against Carolina on the back of a stingy, swarming and aggressive defence. Seven days later they give up 604 total yards in a 41-34 loss. Will the real Bucs please stand up?
Reggie runs riot
This time last year we were laughing as the aforementioned Manning confidently claimed he was an elite quarterback. We all shut up in February when he led the Giants to a second Super Bowl crown in five seasons under his leadership.
This summer, we had a good old laugh at Miami Dolphins running back Reggie Bush, who boldly predicted he was going to win the NFL rushing title in 2012. It was a brave statement from Bush given that he only recorded his first career 1,000-yard season last term but we might all be choking on our giggles come the end of the year.
Bush rushed for 172 yards and two touchdowns as the Dolphins ran all over the Oakland Raiders en route to a 35-13 win. Bush displayed his usual game-breaking speed when he scored on a 65-yard scamper. But more impressive was his tackle-breaking 23-yard run. I never thought I would be writing this a few seasons ago but Bush now appears to be the complete running back and he currently ranks second in the NFL with 241 rushing yards.
Texans grind it out
I don't have an agent to help me out with contracts and any work-related business but if I did, I would want whoever looks after Houston Texans quarterback Matt Schaub. The ninth-year passer signed a contract extension worth $62 million on the eve of the season yet every time I looked on my monitor on Sunday night, Schaub was handing the ball to one of his running backs.
That is a bit harsh and I am being tongue-in-cheek when I say that because Schaub is a very competent quarterback as proven by his 26 completions from 35 attempts for 195 yards on Sunday.
But there is no doubt this is a quarterback able to get by with more than a little help from his friends. Schaub probably could win a game on his own for the Texans, but we seldom get to find that out. The Texans boast the best rushing duo in the game in Arian Foster and Ben Tate and that pairing combined for 184 yards and three touchdowns on Sunday. Add in one of the best defences in the NFL and it's easy to see why Schaub can play relative pressure-free football in Houston.
Morgan blows it
Trailing the St. Louis Rams by three with 1.18 remaining, Redskins quarterback Robert Griffin III was displaying veteran poise in a pressure-packed environment. It's a shame the same cannot be said for fifth year wide receiver Josh Morgan.
First, Morgan only managed to pick up seven yards on third down when he needed eight to keep the drive alive. But worse than that, Morgan then got into a little shoving match with Rams cornerback Cortland Finnegan. The result was Morgan succumbing to the red mist and throwing the football at Finnegan, who remains the premier wind-up merchant in the NFL.
The flags flew - and rightly so this time from a crew of replacement officials who had a nightmare in St. Louis in Week 2 - and the Redskins were marched back 15 yards. Bill Cundiff went from preparing for a 46-yard field goal to kicking a 62-yarder that was wide, short, no good and every other bad description possible, handing victory to the Rams. I'd keep a low profile this week if I were Morgan. Dumb, dumb, dumb!