The big questions
Who'll win the Super Bowl? Which rookies will shine? How will Tebow do? Neil Reynolds has answers...
Last Updated: 05/09/12 2:55pm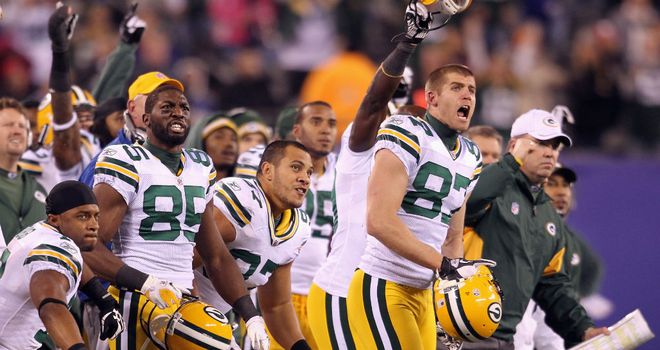 The craziest, most controversial, headline-filled off-season in NFL history is over and it's time for the action on the field to begin.
The seven months since the New York Giants lifted the Vince Lombardi Trophy have been far from dull. Here's a selection:
The New Orleans Saints were found to be operating a bounty system in which their defensive players were rewarded for deliberately hurting the opposition, leading to an unprecedented year-long ban from the game for head coach Sean Payton and star linebacker Jonathan Vilma.
All-time great quarterback Peyton Manning joined the Denver Broncos as the most sought-after free agent in many a year, 2011 phenomenon Tim Tebow was ousted from Denver and joined the New York Jets, and the NFL community was rocked by the suicide of former San Diego Chargers linebacker Junior Seau.
If ever proof was needed that the NFL never sleeps, it came in emphatic fashion during this past spring and summer. Now, with the 32 teams chomping at the bit to get started, let's look at the most pressing questions with regard to the NFL's 93rd season.
Can the New York Giants repeat as Super Bowl champions?
They have three of the main components in place - a very good head coach in Tom Coughlin, an elite quarterback who thrives in big games in Eli Manning and a fierce pass rush led by Jason Pierre-Paul and Justin Tuck. Of course, the Giants got hot at the right time last season and there is no guarantee of a repeat this time around. They have the potential, but it depends which Giants team shows up - the one which won just nine games in the regular season or the unit that stormed through the playoffs in absolute top form.
What about last year's Super Bowl runners-up, the New England Patriots?
The Patriots have added even more offensive firepower to their ranks following the free agency signing of wide receiver Brandon Lloyd, and that should make superstar quarterback Tom Brady even more potent in 2012. New England also added defensive muscle to a unit that was not good at all in 2011, drafting defensive end Chandler Jones and linebacker Dont'a Hightower. There are concerns though, most pressing being the fact that the offensive line has looked shaky all summer. But with Brady at quarterback, the Patriots remain the team to beat in the AFC.
Will a new NFL superstar emerge in 2012?
Andrew Luck has been hailed as a once-in-a-generation quarterback and I think the first overall pick in the 2012 NFL Draft has the chance to be really special for the Indianapolis Colts. He is the real deal and is as good as advertised. I met him over the summer and watched him train in Indiana. It was impressive. He is impressive. Luck acts and plays like he has been in the NFL for five years. He doesn't have too much talent around him in Indianapolis at the moment, but he will be special for a long time. And he will turn the Colts into winners again.
Any other rookies we should be looking out for?
Robert Griffin III is some way behind Luck in terms of quarterback development but he should be exciting to watch as he leads the Washington Redskins and comes to terms with the speed and complexity of the NFL. Luck and Griffin are among five rookie quarterbacks starting in the NFL this season - the most since 1950. Cleveland Browns running back Trent Richardson is also worth keeping an eye on, although his effectiveness may be reduced playing for a pretty bad team.
Will Peyton Manning return to vintage form?
No one really knows given that Manning has undergone four career-threatening neck operations and last threw a meaningful pass in the NFL towards the end of the 2010 season. But the hope is that he can find a way to come back and play at something close to his previous level. He was sorely missed in the NFL in 2011. Manning may never get full strength back in his throwing arm, but if he can find a way to do just enough - as he has hinted at during the preseason - that should be enough to make the Broncos a playoff team.
Will Tebow-Mania strike in New York?
And what of the man forced out of Denver by Manning's arrival? Tebow is a below-average quarterback with poor mechanics. But even I have to admit there is something magical about the way he plays, especially late in games. He just finds ways to win and he gets the job done. And that could lead to a clamour for him to play in New York, making life difficult for incumbent starter Mark Sanchez. If Sanchez struggles against tough defenses on New York's schedule in the first four or five weeks of the season, Tebow might get his shot. Until then, expect to see the hugely popular and impressively athletic Tebow in some speciality packages in New York.
Which coaches are on the hot seat?
Philadelphia's Andy Reid will be expected to post a vast improvement on his record of eight wins and eight losses from 2011. That's not just media speculation, either. Owner Jeffrey Lurie has made it publicly known that a repeat performance is simply unacceptable. Reid may have coached in Philadelphia for 14 years but that longevity will count for nothing if he cannot mount a decent Super Bowl challenge this year. Others who need to enjoy success in 2012 include Dallas' Jason Garrett, Leslie Frazier of the Minnesota Vikings, and a couple of wise, older veterans in Mike Shanahan (Washington Redskins) and Norv Turner (San Diego Chargers).
How will the Bounty scandal affect the New Orleans Saints?
This scandal is going to go one of two ways - it is either going to rip the Saints apart and leave them directionless without their head coach on the sidelines for the entire season, or they're going to adopt an "us against the world" attitude and stick it to all their critics. Personally, I think Sean Payton is a very good head coach - but I am convinced this Saints team can win without him. In my mind, players win games and the Saints remain loaded with talent, particularly at quarterback where the record-setting Drew Brees will aim to prove his worth after inking a new deal worth a cool $100 million in the off-season. The Saints are going to have the eyes of the American football world on them and I think they can handle that and remain a contender to play the Super Bowl in their own stadium in February.
Who is the best player in the NFL today?
For me, they don't come much better than Green Bay Packers quarterback Aaron Rodgers. He was simply awesome in 2011 and I see no reason why his play should drop off at all this time around. Confident, calm under pressure and blessed with a strong and accurate arm, Rodgers can seemingly do it all. So long as he lines up under center, the Packers have to be considered Super Bowl contenders. Defensively, New York Jets cornerback Darrelle Revis, San Francisco 49ers defensive end Justin Smith and Dallas Cowboys outside linebacker DeMarcus Ware are class acts who can take over games. There are many more, believe me... the NFL is loaded with talented athletes who can perform breathtaking acts each and every weekend.
Who will win the Super Bowl?
I'm going for the Green Bay Packers and New England Patriots to meet in the Super Bowl in New Orleans on February 3 and if you had to push me for a winner, I'd probably go with the Pack in a high-scoring affair. That said, the NFC is extremely competitive and Green Bay will be hard pushed to emerge from a group that features the 49ers, Saints, Giants and Eagles. And that's without even considering potential dark horses such as the Chicago Bears, Carolina Panthers, Detroit Lions and Atlanta Falcons. In the AFC, I see the Baltimore Ravens and Houston Texans as the main threats to New England, although Denver have to merit consideration if Peyton turns out to be the Peyton of old and the Cincinnati Bengals appear to be a team on the rise. So that is basically a long-winded way of saying this season - like so many others before it - is wide open and should go right down to the wire (last year's Super Bowl ended on a Hail Mary pass into the end zone on the final play of the game).
It should be an exciting year full of dramatic twists and turns and I'll be back every Monday to look at the weekend's action. Enjoy the opening round of games... the NFL is back !