A Legend in London
Neil Reynolds spends time with NFL legend Ray Lewis as he makes a surprise visit to the London Warriors.
By Neil Reynolds
Last Updated: 14/07/12 10:03am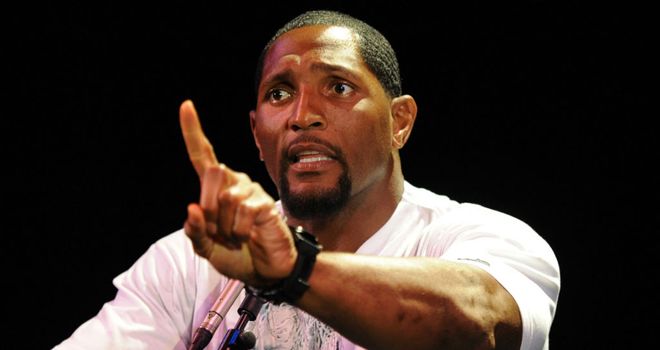 Baltimore Ravens superstar linebacker Ray Lewis has insisted there is no place he would rather be than London, even though his own NFL pre-season training kicks off in less than a fortnight.
Lewis, one of American football's all-time greats, has been in the capital this week working with British amateur team, the London Warriors.
Formed in 2005, the Warriors - who are based in Croydon - feature a number of young players on their roster who have been taken out of a gang culture and persuaded that American football is a good reason for staying out of trouble.
The Warriors' work with at-risk youths appealed to Lewis, who carries out considerable charity work with young people in the United States through his Ray Lewis Foundation.
"They wrote me a long letter telling me how impactful it would be if I could share some time with them and speak with them," explained the 13-time NFL all-star. "They told me they didn't have the money and I said that for something like that, I'm not looking for money. I told my team 'I want to go to London. I want to go talk to the Warriors.'
"I was keen to speak to the Warriors and share my message and my story with them. The London Warriors story resonated with me for a number of reasons but mostly because of where the kids come from - most of the kids come from neighbourhoods like I came from. Most of these young men are either going through or have been going through the same things I went through. They just need some form of motivation and, for me, that was the reason I came over here."
Surprise
Lewis was unveiled as a surprise guest ahead of Tuesday night's training session in Croydon, sparking a raucous reaction from Warriors players and coaches. He also spent Wednesday evening with the squad before attending an NFL fan rally and worked with youth team players on Thursday evening.
Warriors defensive back and television presenter Vernon Kay was behind the plan to bring a true NFL legend to London and admitted the surprise visit would have a huge impact on the British American Football Association National Leagues club.
"Ray Lewis is an icon and an idol to our players" Kay stressed. "He is a great motivational speaker and he speaks from the heart. With his background, Ray is a true reflection of the London Warriors and what we are and he is the perfect sportsman to come and visit our team.
"I'm pinching myself. I cannot believe Ray Lewis is training with the London Warriors on our terrible 3G pitch in south London. This is a massive thing for our club and it is not an exaggeration to say this visit from Ray is going to change lives. The guy is a legend. The impact of Ray being here was clear to see from the very beginning - I have never practised so hard in my life and the same goes for a lot of the guys on our team."
Warriors head coach Tony Allen added: "We're really excited to have Ray Lewis come and visit our team. This is huge for our programme because he is such an inspiration to so many of our players."
Lewis told the Warriors players how he grew up father-less in some of Miami's less-desirable neighbourhoods and would often have to go without food as his mother, Sunseria, struggled to make ends meet. Yet he managed to overcome a tough start in life to reach the very top of his profession as one of America's leading sportsmen, thereby becoming a source of inspiration for millions. He welcomes being a role model.
"Everybody knows I am an open book," Lewis admitted. "It doesn't matter what time of day it is, somebody is going to call me up and ask me something and I am okay with that. I realise that some people live through me and if they do that, I have an obligation to give back.
Childhood
"The question I would always ask is 'What separates you from anybody else?' I didn't want to stay in the environment I grew up in. I relate to the stories of the lives the Warriors players are living and I realised this could be a great opportunity to really spread some life into these people."
Even though he is entering his 17th NFL season and already owns a Super Bowl ring, the 37-year-old Hall of Famer shows no signs of slowing down and will be the undisputed leader of the Baltimore Ravens again this season.
"I love playing in the NFL, absolutely love it," Lewis stressed. "The NFL is a brotherhood so when I eventually retire, I won't be walking away from a team or a game - I will be walking away from a brotherhood.
"I still love the competition. The NFL isn't as technical as you think it is - there is a one on one battle on every play. Each man has to win that battle and that's how simple the game is. For me, I'm like 'Okay, what person has to deal with me today?' I don't know if they're willing to sacrifice what I'm willing to sacrifice. At the end of the day, the beauty of my job is to tell another man 'You ain't gonna whoop me!' That's it. Either he's going to feed his kids or I'm going to feed mine."
With the Warriors undefeated in Britain's elite Premier League and on course for an appearance in the league's championship game - BritBowl XXVI - at Sheffield's Don Valley Stadium on Sunday August 26, Lewis plans to keep in touch with his new-found American football friends in London.
"I'm definitely going to keep up with all the Warriors news going forward and find out their results from now on" Lewis concluded. "I have to - I'm connected with those guys now."