Secret success story
Neil Reynolds discovers why American football is one of the fastest-growing sports in British universities.
Last Updated: 19/04/12 2:49pm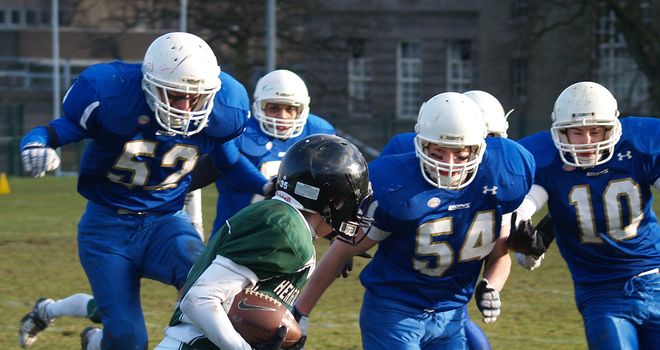 While next week's NFL Draft in New York will make instant millionaires of some of America's leading college football players, the United Kingdom will celebrate its own American football success story in the more humble setting of Leeds this weekend.
The NFL Draft may draw media attention from around the world - Sky Sports News will be on hand to cover the annual selection process throughout next week - but it will be a slightly lower-key affair as the British Universities American Football League (BUAFL) season draws to a close at John Charles Stadium on Saturday evening.
Local newspaper reporters will be few and far between and there will not be a television camera in sight. But there will be more than 2,000 gridiron-loving students packed in to watch the Birmingham Lions take on the Hertfordshire Hurricanes in a battle of undefeated teams.
And the title showdown will culminate another hugely successful season in what is among the fastest-growing sports in British universities.
The BUAFL currently has 68 teams spread all across the UK and features more than 4,000 players and coaches. Within the next 12 months, the BUAFL will add three more universities and will unveil a women's five-on-five league, taking the sport of American football to even more students.
British American Football Association Director for Student Football Andy Fuller said: "Our league continues to go from strength to strength and our aim is to grow the game and to get even more universities playing American football. We are very proud to be the fastest-growing university sport in the UK and we have a very bright future."
The NFL and broadcasters such as Sky Sports have played a huge role in the growth of American football in British universities. Since the NFL started playing regular season games in London in 2007, BUAFL participation numbers have increased by 50 per cent and are continuing to rise.
"The NFL is the driver," Fuller admitted. "We have a large number of students who watch NFL games on Sky Sports and that sparks their interest. That leads to people looking to start a team or to join a team already in existence on a campus.
"It's no great surprise that there is a correlation between the NFL regular season games being played in the UK, the outstanding coverage on Sky Sports and that growth in our student sport."
Rising
For those on the ground, the rising popularity of student American football in the UK is obvious.
Hertfordshire Hurricanes head coach Jim Messenger, who works in sports development for the Essex County Sports Partnership and 2012 Legacy Team when not coaching American football in his spare time, said: "The rise in popularity of the BUAFL has been awesome and I'm surprised every year by the number of new people we get into the league.
"It's been phenomenal and we're the fastest-growing part of the sport in this country right now. I think the BUAFL has a very bright future."
Birmingham Lions head coach Wayne Hill, who works as an assistant head teacher in the Midlands, added: "I have seen a great deal of evidence of new students being attracted to the sport of American football. We had a huge recruitment drive this year and have carried a squad of around 90 players, which is great."