Among the Eli-te
Neil Reynolds makes his Super Bowl Pick Six as Eli Manning secured his place among the greats.
By in Indianapolis
Last Updated: 06/02/12 2:50pm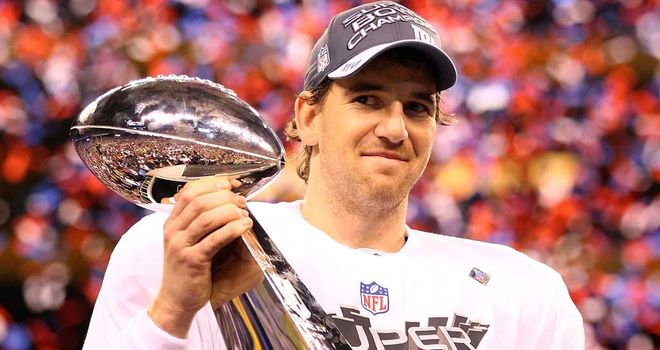 The 2011 NFL season was spectacular from start to finish. The campaign was full of dramatic twists, turns and many, many examples of athletic excellence. It was an on-the-edge-of-your-seat soap opera from start to finish.
And Super Bowl XLVI was no different as the NFL title game went down to the very last play before the New York Giants could celebrate their famous, breathtaking 21-17 victory over the New England Patriots.
Here's what stood out for me in one of the most memorable Super Bowls in league history.
Eli is elite
Eli Manning kicked off the 2011 NFL season by telling the world he should be considered one of the elite quarterbacks in the NFL. Some quietly sniggered, others openly slammed Eli in the media for making such an outlandish statement.
Who's laughing now?
Eli Manning showed time and again on Sunday night that there is no stage too big for him. He was the worthy MVP of the game, hitting on 30 of 40 passes for 296 yards and one touchdown. Aside from the numbers, it was the way Eli threw the football in the most pressure-packed of situations that blew me away in this Super Bowl. He could not have been more accurate and more in control on New York's game-winning 88-yard drive in the dying moments of the game.
In short, he was and is elite... and he has two Super Bowl rings to back up that fact now.
Still Tom Terrific
Patriots fans don't need to worry about the quarterback under center for their team, despite this loss. Tom Brady delivered plenty of examples why he is not only one of the best of his generation, he is one of the very best of all time.
Brady was under increased pressure as this game went on but showed some incredible form either side of half-time when he hit on a Super Bowl record 16 passes in a row. Just before Madonna did her thing at the half, Brady was outstanding in leading New England on a 96 yard touchdown drive.
He might have been slightly off with a pass or two in the fourth quarter but, for the most part, Brady was very good in this game. Even in the final seconds of the game he managed to convert a fourth-and-16 play and get a Hail Mary pass into the end zone for a chance to win. Brady was like a prize-fighter who is hard to knock out. He was very good on Sunday - but Eli was just that little bit better.
A tale of two catches
The Giants got a miracle catch out of wide receiver David Tyree - his last catch in the NFL - when they beat New England in this game four years ago and they needed another one from Mario Manningham on Sunday night.
Trailing by two and staring down the barrel of the gun, Manning delivered an inch-perfect pass down the left sideline, dropping the ball on a sixpence from close to half the field away. That pass, in itself, was special and only a handful of players in the game can perform like that when the stakes are at their absolute highest.
But it needed to be caught and Manningham reeled in one of the greatest receptions in Super Bowl history. It was that good. Manning called it a "big time play" and head coach Tom Coughlin added that it was "a remarkable thing.'
But just moments earlier it was New England's Wes Welker who had the chance to be the hero. With four minutes remaining, he had a shot at catching a big pass down the left sideline that might have seen the Patriots run out the clock. Brady's pass was a little bit off but the NFL's leader in receptions this season had a shot.
And he couldn't quite come up with the goods, proving once again that there is a fine line between winning and losing in the NFL.
To score or not to score, that was the question
Giants running back Ahmad Bradshaw scored one of the weirdest and ugliest-looking Super Bowl-winning touchdowns in NFL history. And that's because his head was filled with doubt, confusion and a lot of on-the-spot arithmetic.
First of all, let's be totally clear here - the Patriots let him score. Bill Belichick knew the Giants were going to score at least a field goal (which would leave much less time on the clock if New York ran off a couple more plays) and he wanted the ball back as soon as he could get his hands on it.
By allowing Bradshaw into the end zone, Belichick gave Brady the football with 57 seconds and one time out remaining. I totally understand what Belichick was trying to do - my only argument would be why did you let them score on second down from the six.
If you let them score from the seven, you only gain roughly seven seconds on the clock, but at least you go into your final drive with two time outs instead of one.
Patriots heading our way
As I write this column on Monday morning in Indianapolis, tickets for the International Series game at Wembley Stadium have just gone on sale.
The St. Louis Rams will take on the New England Patriots on Sunday October 28 and I for one cannot wait to see Tom Brady in action again. He lost this one, but we're talking one of the all-time greats here, folks.
But I am just as excited to see if Jeff Fisher can produce a quick turnaround for the Rams. Sam Bradford is a promising young passer who just needs more weapons around him. If the Rams can make some good moves in the off-season, I expect them to be vastly improved in 2012.
Coughlin silences critics
With two weeks of the regular season remaining, Tom Coughlin's Giants had seven wins and seven losses. They were teetering on the edge of playoff elimination and talk show hosts were jabbering on about Coughlin's message getting old and how the 65-year-old should be put out to pasture.
As my Sky Sports colleague Cecil Martin likes to say in the studio... silence critics! Coughlin never stopped believing in his plan, kept pushing his players to get over the finish line and continued to preach the fundamentals that make him one of the best leaders in the business.
Much was made of Coughlin being a tyrant early in his head coaching career, but he has mellowed over the years and I have to admit, I would quite like to play for him if I were in the NFL. And with this win, Coughlin now has to be considered a Hall of Fame player.
That's not bad going for a guy who might have been out of a job at Christmas had it not been for New York's dramatic end to a remarkable season.