Access all areas
Reporters are never short of a star name to talk to in the build-up to the Super Bowl, says Neil Reynolds.
Last Updated: 02/02/12 12:15pm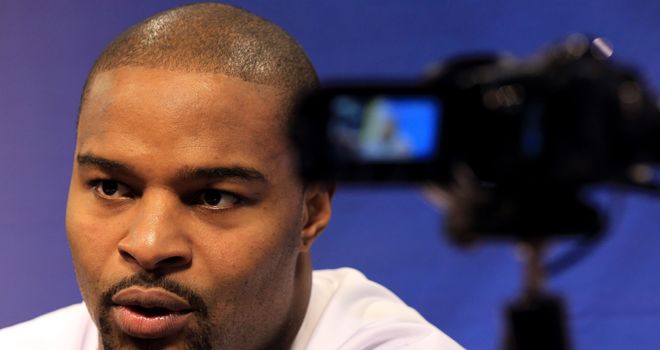 The biggest annual sporting event in the world will take place at the Lucas Oil Stadium in Indianapolis on Sunday night as the New England Patriots clash with the New York Giants in Super Bowl XLVI.
Sky Sports is now fully represented in the United States after Kevin Cadle and I arrived yesterday, joining former Philadelphia Eagles fullback Cecil Martin, who has been doing sterling work ahead of the game for a few days now.
The three of us will present the game live on Sky Sports HD1 from 10.30pm on Sunday.
But first, we need to survive the madness and organised chaos that is the build-up to the NFL title showdown.
Atmosphere
Our first day in Indianapolis is spent picking up our credentials, firing off our most intelligent questions at a media session with the New York Giants, shooting links for the Super Bowl Preview Show around the city and doing a live cross to Sky Sports News from the stadium situated downtown.
So we're in for a busy few days out here but the atmosphere is building as the game approaches and hundreds of thousands of fans are packing into the city, even if they cannot all get a ticket for the game.
Many just want to soak up the special Super Bowl atmosphere that has taken over Indianapolis in the same way it does every host city at this time of year.
The Super Bowl remains an absolute show-stopper and the epitome of Americana and sporting over-indulgence.
There will be the usual outlandish displays of pageantry and showmanship with the likes of Madonna, Lenny Kravitz and Kelly Clarkson lined up to entertain the crowd of 68,000 and global television audience of more than one billion.
This is the first Super Bowl I have covered as a member of the Sky Sports team and this is not a one-day deal.
It's several action-packed days of interviews, press conferences, sound-bites, shuttle buses, live crosses to Sky Sports News, huddling from the cold-but-not-freezing Indianapolis weather and research ahead of the game itself.
Participants
When you cover the Super Bowl, the first thing you notice is how much access you get to the participants in the big game. By the time Sunday's game kicks off, more than 4,000 journalists from around the world will have had more than 13 hours of access to the Patriots and Giants players and coaches.
When the Patriots arrived in Indianapolis on Sunday, head coach Bill Belichick met with the media but he was not alone. Six New England players - including star quarterback Tom Brady - held press conferences to talk about the week ahead and the big game. That kind of access is not limited to one day. Far from it, in fact.
We get access to Belichick every day up until his final press conference of the week on Friday and it's the same with Giants head coach Tom Coughlin. And up until Thursday, the Giants and Patriots will put up six players per day at their respective team hotels.
It's hard to imagine getting that kind of access to Sir Alex Ferguson and Kenny Dalglish ahead of a big game in the Premier League or an FA Cup Final.
And the NFL doesn't mess around when it comes to making sure the players fulfil their media obligations. New York Giants British-born defensive end Osi Umenyiora was fined $20,000 on Wednesday for getting his schedule mixed up and failing to meet with reporters from around the world.
Ouch! I don't care how much these superstar athletes are making, somebody taking 20 grand out of your pocket has to hurt!
Exclamation point
Super Bowl week is also a great time to do some NFL player spotting. While the New England Patriots and New York Giants are locked away and focusing on the big game, every other big-name player in the league appears to be in Indianapolis and enjoying the exclamation point on what has been another sensational NFL season.
We've been charting this remarkable NFL campaign every step of the way on Sky Sports and I think we're in for an absolute classic to cap the season as there is very little to choose between the Patriots and in-form Giants.
Both teams are led by star quarterbacks in Brady (Patriots) and Eli Manning (Giants) and both are worthy finalists who will do justice to the fact they are gracing the grandest of sporting stages. It has all the makings of an absolute classic.
I'll check back in tomorrow with some more news and views from Indianapolis and will even venture a prediction on what is shaping up to be one of the most evenly-matched Super Bowls of all time.