Right in the mix
Moments of sloppiness, skill and star potential all make the cut in Neil Reynolds' latest Pick Six.
Last Updated: 23/01/12 2:45pm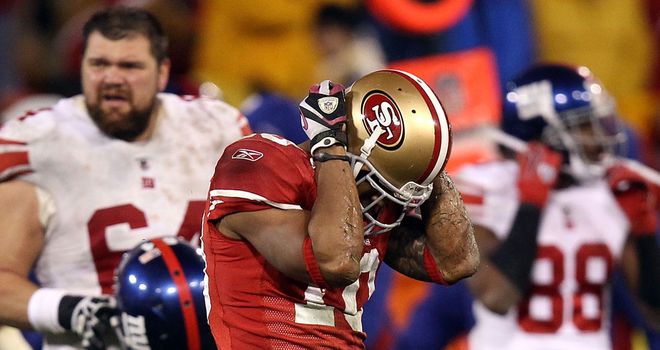 After 17 thrilling weeks of the 2011 NFL regular season and some truly remarkable playoff games shown exclusively live on Sky Sports, we now know the line-up for Super Bowl 46 and it has the potential to be a classic as the New England Patriots will take on the New York Giants on Sunday February 5.
This is a re-match of Super Bowl 42 when the Giants dramatically stopped the Patriots from securing only the second perfect season in NFL history.
There are plenty of other juicy storylines but that's the headline as New England and New York head to Indianapolis after hard-fought Championship Game victories over the Baltimore Ravens and San Francisco 49ers respectively.
Special teams is a third of the game
With us pundits spending so much time talking about offense and defence, coaches around the NFL are always keen to point out that special teams is a third of the game. The aforementioned coaches were wearing "I told you so" smiles on Sunday night.
After a long and arduous season which began in the sweltering heat of training camp back in July, it was special teams errors that stopped the Ravens and 49ers dead in their tracks when it appeared they were still very much alive in the race to reach the Super Bowl.
With just 11 seconds remaining in a game where the Ravens had given the Patriots all they could handle, Billy Cundiff hooked a relatively easy 32-yard field goal wide left. Game over. Patriots ran out 23-20 winners. In San Francisco, Kyle Williams stood in for the injured Ted Ginn Jr. and looked indecisive on kick returns for most of the night. He let one punt hit him on the leg to set up Eli Manning's 17-yard touchdown strike to Mario Manningham and in overtime - with nothing between the two teams - he fumbled at his own 24-yard line.
With a short field, the Giants drove to Lawrence Tynes' 31-yard field goal. Game over. Giants won 20-17 in overtime. It's amazing how fine the line can be between winning and losing in the NFL. A season's hard work and success, and a shot at Super Bowl glory, can be undone with a moment of sloppiness.
Wembley-bound Brady a true legend
Mark Sunday October 28 in your diaries because it will be an opportunity to see one of the NFL's true legends in action for a second time at Wembley Stadium. And by the time New England Patriots quarterback Tom Brady takes on the St. Louis Rams he might well have a fourth Super Bowl ring to his name.
Brady has achieved a lot during his glorious career and he matched Joe Montana's career record of 16 playoff wins on Sunday. He has won three Super Bowls and will play in his fifth NFL title game in Indianapolis. But he doesn't appear content or ready to rest on his laurels, to me.
On a crucial fourth and goal play on Sunday night, I genuinely thought Brady risked having his back broken as he leapt over the line of scrimmage before pulling off a scorpion shape in mid-air thanks to a brutal hit from Ravens linebacker Ray Lewis.
But Tom Terrific scored the match-winning touchdown, jumped up, spiked the football in celebration and jogged to the sidelines. While New England fans held their collective breath, Brady was already planning the next move in leading his team to victory.
It was only one play in a game filled with drama, but it screamed from the rooftops as to why the Patriots have been so good for so long. They could have 20 Super Bowl trophies in their display cabinet but they would still be chasing glory like it was their first time. That is the mark of a true champion.
Eli can match Brady
I genuinely like San Francisco 49ers quarterback Alex Smith and he has enjoyed a fantastic season in California, meaning he is the undisputed starter for Jim Harbaugh's men in 2012. But, judging by his form on Sunday night, I think he would have struggled to keep pace with Brady if the forthcoming Super Bowl became a high-scoring affair.
San Francisco would have needed a complete defensive effort to slow Brady. But I do genuinely think Eli Manning and the New York Giants are more than capable of going toe-to-toe with the Patriots in a free-scoring contest.
Manning has been on fire throughout the 2011 campaign but has never been better than during the playoffs. Eli has the accuracy and arm strength to make every throw in the book. He is poised under pressure and it is clear that no stage is too big for him.
But what impressed me the most on Sunday night was Eli's toughness. He took a pounding at the hands of the 49ers defense and kept on jumping right back up. There was one great shot late in the game where Eli looked like he had just emerged from a 30-minute cycle in a tumble drier. Dishevelled doesn't even begin to describe his appearance. Yet it didn't deter him for one second and he kept going after San Francisco's dominant defense.
As much as we talk about Peyton Manning and his glittering career, Eli can double the amount of Super Bowl wins of his elder brother in a couple of weeks' time. And he'll be trying to do just that in the house that Peyton built - Lucas Oil Stadium.
Flacco silences critics
Baltimore Ravens quarterback Joe Flacco went into Sunday's AFC Championship Game with a lot of criticism ringing in his ears. But he delivered the goods for his team, even though Baltimore fell to a heartbreaking loss in Gillette Stadium.
Flacco hit on 22 of 36 passes for 306 yards and two touchdowns. And he delivered what should have been an inch-perfect, game-winning touchdown strike to wide receiver Lee Evans with just 22 seconds remaining. The only problem is that somebody forgot to tell Evans how important that career-defining catch would be for him, the Ravens and Flacco.
Evans failed to finish the job and allowed Sterling Moore to knock the ball out of his grasp in the end zone. Cundiff then endured his 'laces out' moment and the Ravens were packing their bags in preparation for the long off-season that lies before them.
But at least Baltimore head into the spring and summer knowing that when given the freedom to do so, Flacco is capable of leading his team up and down the field with some high level play. Now he just needs to find a way to do it consistently like the true greats in the NFL.
49ers will be back
I'm not going to spend too long on the heartbroken San Francisco 49ers today but I will just say that I think they will be back as serious playoff and Super Bowl contenders in 2012.
Alex Smith needs to continue to grow at quarterback and he needs more weapons at wide receiver. Michael Crabtree did not step up during the playoffs. He dropped too many passes against New Orleans and was held to one catch for three yards against the Giants.
But there are weapons on that side of the ball with Vernon Davis and Frank Gore. Defensively, the 49ers are dominant and they are well coached by Jim Harbaugh. This club has a bright future.
Rams to the UK
In an unprecedented move, the NFL has opted to bring the St. Louis Rams back for home games in each of the next three seasons through 2014. And before I get drowned out by the collective groans of fans wondering why the league is bothering with a team that went 2-14 in 2011, can I just point out that the Rams might actually be pretty decent next term.
Jeff Fisher has taken over as head coach and has a proven track record of success in the NFL, Sam Bradford still has a world of potential at the quarterback position and Steven Jackson remains a bulldozing running back.
The problem with the 2011 Rams was that they were absolutely decimated by injuries. They placed an unheard-of 11 defensive backs on the injured reserve list, star wide receiver Danny Amendola went down with a season-ending knee injury on opening day and Bradford himself was in and out of the starting line-up with a bad ankle.
St. Louis were one game away from making the playoffs in 2010 and entered 2011 as favourites in their division. As we have seen time and again in the NFL, quick turnarounds are very possible, especially among teams who have quality coaching and a franchise quarterback - and I think the Rams have both.
You can be among the first to grab tickets to the International Series contest between the Rams and Patriots in October as club tickets go on sale at 10am on Tuesday January 24. Tickets can be bought via the Ticketmaster website.