Brady strikes back
Alex Smith, a masterclass from Tom Brady and the fall of the Packers make Neil Reynolds' Pick Six.
Last Updated: 16/01/12 2:15pm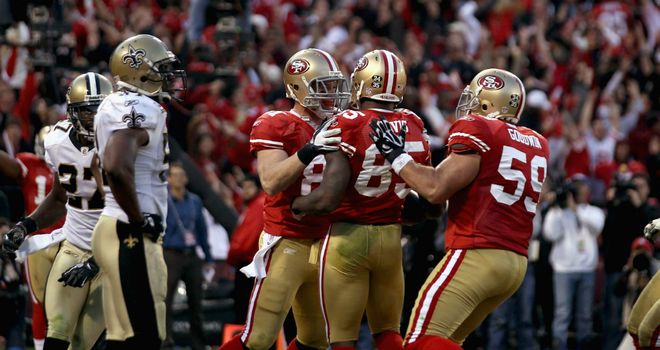 That's another surprising, spectacular and hard-hitting weekend of NFL action in the history books and just four teams remain on the road to Super Bowl 46 in Indianapolis.
The San Francisco 49ers and New York Giants are the last two teams standing in the National Football Conference after springing upsets against the high-powered New Orleans Saints and Green Bay Packers respectively. The AFC Championship Game will feature the top two seeds in the American Conference when the New England Patriots host the Baltimore Ravens.
In what was probably the best weekend of the year for American football action from the United States, here's what caught my eye while covering the Divisional Playoffs from the Sky Sports studios.
The talented Mr Smith
I've got a lot of time for San Francisco 49ers quarterback Alex Smith because, off the field, he is one of the nicest, brightest and most down-to-earth guys you are ever likely to meet in the NFL. But there's no getting away from the fact he has had a pretty rough go of it since entering the league as the first overall pick in the 2005 Draft.
Until 2011, that is. Smith has flourished under the tutelage of first-year head coach Jim Harbaugh, who played quarterback for 14 years in the NFL. Where former head coach Mike Singletary got off on shouting and spraying Smith's face with angry spit, Harbaugh has put an arm around his passer and insisted he has complete faith in him.
That approach has worked wonders and Smith stepped to the fore on Saturday night, delivering two vital touchdowns for the 49ers in the fourth quarter of their thrilling 36-32 defeat of the Saints. He has so often been labelled as a game manager and nothing more, but Smith took his team to within 60 minutes of the Super Bowl at the weekend and so much of that success was down to him at the end of the contest. His game-winning 14-yard touchdown strike to tight end Vernon Davis with nine seconds remaining was the stuff of legends and that's a big statement when you think of some of the greats who have played in San Francisco over the years.
The 49ers can play defence as well!
At first glance, you would think the 49ers' defence failed to show up on Saturday evening as they shipped 32 points to the Saints. But that would be very wrong indeed. This is a dominant unit and certainly one of the best units in the entire league.
San Francisco consistently made big plays on the defensive side of the ball and I love watching the likes of defensive end Justin Smith and linebackers Patrick Willis, Navorro Bowman and Aldon Smith. But I didn't expect the 49ers to be as good in the secondary. Donte Whitner was a human wrecking ball back there and Carlos Rogers showed once again that he is a ball-hawk who comes up with timely interceptions.
It's a sign of how potent the New Orleans attack is that San Francisco produced one of the better defensive displays of the season but still conceded more than 30 points. The 49ers do have the look of a complete team now but they can still back up the age-old phrase that defence wins championships in the NFL.
Brady delivers a quarterback masterclass
In the week leading up to the AFC clash between the New England Patriots and Denver Broncos, Tom Brady consistently heard two things. First, he heard all about Tim Tebow and how this quarterback was the undisputed story of the 2011 season. Second, he kept being reminded that the Patriots had lost their last two home playoff games and could not afford a third mistake in front of their own fans.
So that made for an angry Tom Brady on Saturday night and he ripped the Broncos apart, throwing for 363 yards and a playoff record six touchdowns in a 45-10 thrashing. That stellar showing put an end to Tebowmania - for this year.
The Patriots are hard to knock out of their offensive stride because Brady gets the ball out of his hand so quickly and his receivers and tight ends can make a lot of yards after the catch. Brady showed Tebow the gold standard for quarterback play in the NFL and is now within 60 minutes of playing in his fifth Super Bowl. When you consider that, it's hard to imagine that Brady was playing second fiddle to Tebow in the build-up to this game.
The Packers fall
I'll get to the New York Giants in a moment because they deserve huge amounts of credit for their 37-20 win at Lambeau Field, but first I want to focus on a Green Bay Packers team that looked a shadow of the group that went 15-1 during the regular season.
Quarterback Aaron Rodgers was off on many of his throws (he only completed 26 of 46 attempts) and he was not helped by a set of receivers and running backs who consistently dropped balls thrown in their direction.
The Packers lost three fumbles, they rarely generated a pass-rush in order to slow down in-form Giants quarterback Eli Manning and they generally looked flat, out of sorts and rusty.
That will lead to questions about Green Bay resting Rodgers in Week 17, but I think it had little impact on this game, to be honest. Sure, the Packers were out of sorts. But that can happen when you are facing a very good team and you are trying to force good things to happen. And make no mistake, this is a very tough and battle-hardened Giants team who are worthy NFC Championship Game finalists.
As for the Packers, their fall shows how unpredictable and exciting the NFL can be. We spent most of this season talking about how they have a shot at perfection yet they aren't even among the final four teams left in the race to the Super Bowl.
Elite Eli shines again
Did you know that you cannot spell the word 'elite' without the letters E, L and I? Eli Manning said on the eve of the 2011 campaign that he felt he was among the very best quarterbacks in the NFL. Even though he already had one Super Bowl ring to his name, some scoffed at that suggestion.
I think that statement has to be taken seriously now. Eli threw for a club record 4,933 yards during the regular season and is, once again, in the kind of form that is more than good enough to carry a team to a Super Bowl win.
In the pressure-cooker atmosphere of Lambeau Field in January, Manning looked as cool as a cucumber as he threw for 330 yards and three touchdowns. He shredded the Packers' secondary and the Giants did most their attacking through the air before the running game finally sprang to life in the fourth period.
Manning has three top-notch wide receivers in Hakeem Nicks, Victor Cruz and Mario Manningham and he has an unshakeable confidence which the great ones need to have at this stage of a season. That might end up being enough for Manning to secure his second Super Bowl crown. Then we really would have to consider him an elite player in the NFL.
Ravens take on a familiar look
For all the time we spend talking about how Joe Flacco needs to continue to develop at quarterback and how great Ray Rice is at running back, this fact remains unchanged for seemingly years - the Baltimore Ravens win with defence and get by with just enough offense.
The Ravens were 20-13 winners against the Houston Texans but they'd better find a way to wake their stagnant offense between now and next weekend. The Ravens gained just 227 yards of total offense and picked up just 11 first downs. They couldn't muster a scoring drive of more than 45 yards and, at one stage, they went seven consecutive possessions without scoring a single point.
The Texans defence is good, but those numbers are poor whichever way you slice and dice them. New England score points for fun and there's no way Flacco and company can keep pace with the Brady-led Patriots.
And that means the Ravens need to win with a defence led by Terrell Suggs, Haloti Ngata and ageing yet proud veterans in Ray Lewis and Ed Reed. The 49ers and Giants have already shown in the NFC playoffs what can be done with outstanding defence - but they were also led by fine passing from Smith and Manning. At some point on Sunday night, Flacco is going to have to make some plays in the biggest game of his life.