Strong Brees
Tim Tebow, Houston's rearguard and New Orleans' in-form quarterback make Neil Reynolds' Pick Six.
Last Updated: 09/01/12 3:00pm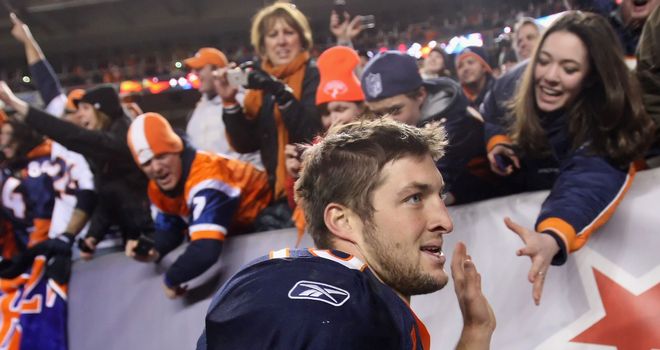 It was an interesting opening to the NFL playoffs, even if we didn't see every single game deliver a dramatic finish and set the pulse racing.
There were wins for the Houston Texans, New Orleans Saints and New York Giants, but where else could we start but in Denver, where Tim Tebow rediscovered the magic for the hometown Broncos in the most spectacular fashion?
Tebow time
I would like to think I have a fairly good handle on what goes on in the NFL each weekend but I have to admit that I cannot figure out Tim Tebow. Every time I think he's going to be good, he's bad; and every time it looks like he might stink, he lights it up.
Since entering the fray as starting quarterback for the Denver Broncos in Week Seven, Tebow has become the biggest story and the biggest enigma of the 2011 NFL season. When he first stepped into the starting line-up, he looked like he might go so far as to ask one of his coaches if there was a certain end of the football that he needed to hold.
Then Tebow won six in a row and showed tremendous fighting spirit and will to win, albeit leaning heavily on a strong running game and inspired defence. Then he lost three in a row and played like a fan who had just won a competition to be a quarterback in the NFL. So I didn't hold out much hope against a tough Pittsburgh Steelers defense on Sunday night.
So you can count me as surprised that Tebow threw 316 yards and two touchdowns, including a stunning 80-yard strike to Demaryious Thomas that won the game for Denver in overtime by a 29-23 scoreline. Tebow was not perfect but he made some very nice throws on Sunday and there won't be many suggestions the Broncos won this one with their running backs and defense.
Saints Brees into the next round
There used to be an old saying in the NFL that offense sells tickets but defence wins championships. Having watched the New Orleans Saints dismantle the Detroit Lions on Saturday night, I'd say offense is just as capable of securing a Super Bowl win, if not more so.
Most recent Super Bowl winners have been guided by an elite quarterback and that means the Saints are in very good shape heading into the NFL's final eight because there is no-one playing better than Drew Brees right now.
There were some decent chunks of time on Saturday where the Lions defence played pretty well. Yet the Saints still racked up an NFL playoff record 626 yards of offense en route to a 45-28 victory. And Brees - who threw for a league record 5,476 yards during the regular season - was in sublime form, throwing for 466 yards and three touchdowns.
The Saints face a much tougher defence next Saturday as they take on the San Francisco 49ers but it's hard to picture Brees being slowed down too much.
Falcons flop in the Big Apple
I thought the Atlanta Falcons-New York Giants game was going to be tough to predict. But it turns out the Falcons forgot to show up for the biggest game of their season, losing by a 24-2 scoreline.
Atlanta couldn't get anything going on offense, while head coach Mike Smith appeared overwhelmed by the magnitude of the occasion and made some rather strange calls throughout the night. There were several times where he rolled the dice and opted to go for it on fourth-and-one rather than kick field goals or punt the ball away to the Giants.
I don't have an issue with that necessarily, although I do think Smith compounded his own error by going for subsequent fourth-and-one plays to make up for failing on the first one. What confused me is why, when you have one of the biggest power backs in the NFL in Michael Turner in the backfield, you would attempt two quarterback sneaks with Matt Ryan and one fullback dive with Jason Snelling?
Turner was visibly frustrated at not having his number called but he was not alone - I'm pretty sure Falcons fans around the world shared his pain on Sunday night, particularly as their supposed high-powered attack could not score a single point (Atlanta's two points came on a safety when their defence was on the field).
Defence powers the Texans
Having just said that teams don't need to rely on their defences so much in the modern-day NFL, the Houston Texans are clearly one of the exceptions to that rule. With a rookie quarterback under centre in T.J. Yates, Houston need to adopt a certain formula to win.
They need to run the football well, avoid turnovers and smother opponents with their second-ranked defensive unit. They did all of that and more on Saturday night during a 31-10 AFC Wildcard win over the Cincinnati Bengals.
Yates did enough at quarterback and was helped by a fit-again Andre Johnson at wide receiver, while Arian Foster rushed for 153 yards and two touchdowns. But it was the defence that took over this game, sparked by a spectacular 29-yard interception return by J.J. Watt.
There were plenty of defenders who produced for the Texans, making life very difficult for Bengals' rookie passer Andy Dalton. Brooks Reed and Connor Barwin provided constant pressure in the backfield and defensive backs Jonathan Joseph and Danieal Manning (both new additions for the Texans in 2011) made timely interceptions.
I still have my doubts about how far the Texans can go in these playoffs with such an inexperienced quarterback under centre but they won't be an easy out providing their running game and defence remains strong.
Giants turn back the clock
In thrashing the Atlanta Falcons on Sunday, the New York Giants looked a lot like the team that won the Super Bowl at the end of the 2007 season.
Defensively, they pressured Falcons quarterback Matt Ryan with a defensive line stocked with talent such as Jason Pierre-Paul, Justin Tuck, Osi Umenyiora and Chris Canty. They also held the Falcons to a season-low 247 yards of total offense and restricted Michael Turner to just 41 yards on the ground.
On offense, New York ran the ball surprisingly well after a slow start and looked nothing like the team that ranked dead last in the NFL in that department. Brandon Jacobs and Ahmad Bradshaw combined to rush for 155 yards but this remains a team who will primarily attack through the air and it helps that Eli Manning is in the form of his life.
Manning got really hot in 2007 when the Giants went on their Super Bowl run and he was good this past weekend, throwing for 277 yards and three touchdowns. With 15 wins and one loss to their name this season, the Green Bay Packers have every right to be confident, but I doubt they're thrilled to see the New York Giants heading to Lambeau Field.
We'll be back!
The Cincinnati Bengals and Detroit Lions may have fallen at the first hurdle in the NFL playoffs but I expect them to be regular contenders in years to come.
Both teams have very good young quarterbacks in Andy Dalton (Bengals) and Matthew Stafford (Lions) and both have playmaking wide receivers who could dominate for the next decade in A.J. Green (Bengals) and Calvin Johnson (Lions).
While both clubs will accept they have holes to fill - the Bengals need obvious help in the defensive secondary and the Lions have no running game at this time due to injuries - they have the most vital piece of the puzzle in place at the quarterback position and they are young and boast bright futures.
That's Neil's take but what stood out for you on Wildcard weekend? Let us know using the feedback form below...