Saints go marching
New Orleans set for the Super Bowl? Luck's in for the Colts? Neil Reynolds makes his Pick Six.
Last Updated: 09/01/12 1:46pm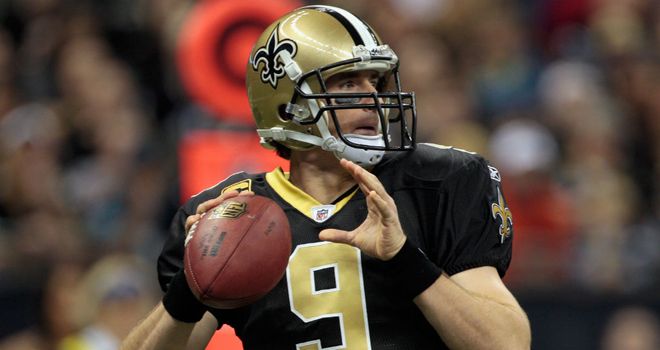 The NFL regular season wound up on Sunday night and the 12 teams left standing will now begin preparations for the playoffs that kick off on Saturday January 7.
It was the usual tale of twists, turns and surprises in Week 17. Here's what caught my eye...
Saints have a Super look
The New Orleans Saints may only be the third seed in the NFC playoffs and they are being forced to play on wild card weekend, but they have the look of a genuine Super Bowl contender.
Drew Brees is on fire at the quarterback position and threw another five touchdown passes in Sunday's 45-17 demolition of the Carolina Panthers. The Saints have won eight in a row and, in my opinion, represent the biggest challenge to the Green Bay Packers in the NFC.
Reversing into the playoffs
With momentum being so important in American football, there are worries surrounding the playoff hopes of the Denver Broncos, Houston Texans and Cincinnati Bengals. All three clubs have reached the post-season off a worrying run of form.
The Broncos have lost three straight en route to clinching the AFC West Division, Houston have also lost three straight after securing the AFC South and Cincinnati have won just two of their last five. While they may enjoy brief, fleeting success early in the playoffs, I cannot see any of these three challenging the more established New England Patriots, Baltimore Ravens and Pittsburgh Steelers further down the road to the Super Bowl.
Flynn shines
Matt Flynn has often been talked about in league circles as someone who could start around the NFL for other teams. But we rarely get to see him in action as he backs up Aaron Rodgers for the Green Bay Packers.
We got a good look at Flynn on Sunday as he led the Packers to a 45-41 victory over the Detroit Lions. Flynn - who becomes a free agent after this season - earned himself a fat new contract with another team after throwing for 480 yards and a club record six touchdowns.
For now, the Packers know their offense is in good hands if anything happens to Rodgers.
Colts are on the clock
The Indianapolis Colts have secured the first pick in the 2012 NFL Draft after their 19-13 loss to the Jacksonville Jaguars. And that leaves Indy with a bit of a problem to deal with.
In March, they have to pay injured superstar quarterback Peyton Manning his $28 million contract. Then they have to decide if Stanford's Andrew Luck is their new man under center. This is going to be the talk of the off-season. If they can get away with it, I can see the Colts taking Luck because he is too good to pass up and trying to keep Manning to mentor their young signal-caller.
This is a story that is going to run and run.
Legends bow out?
Sunday's meeting between the Miami Dolphins and New York Jets saw two legends of the modern-day NFL potentially bow out. Miami's Jason Taylor is definitely retiring and will go down as one of the best pass-rushers of his generation. And New York running back LaDainian Tomlinson said that was the final game of his career.
I can speak from personal experience when I say both men are a credit to the NFL, great guys and true professionals. They will be sorely missed as players but they will leave an even bigger void when it comes to being role models and showing youngsters how they should act in team sports.
Jets wide receiver Santonio Holmes could certainly learn a valuable lesson from LT because he was benched late in Sunday's 19-17 loss to Miami after clearly showing he was only out for himself - again!
Sanchez flops again
One of the most startling aspects of Miami's win on Sunday was the continued poor form of Jets quarterback Mark Sanchez. The third-year passer simply hasn't progressed enough in his three years in the NFL and now finds himself under considerable pressure.
Sanchez threw three interceptions during the defeat and continues to make poor plays when he is given more to think about when it comes to unlocking a defense. Until he does a better job of reading defenses, Sanchez is going to struggle and the unforgiving New York media and fans are going to be eyeing a veteran replacement.