Stars of the future
Neil Reynolds looks at the rising stars in the NFL who deserve to be household names in 2012!
Last Updated: 26/12/11 9:36am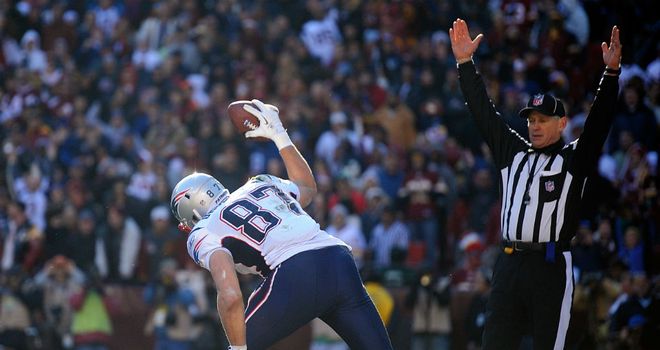 They often say that the NFL is a young man's game. I'm sure the likes of Baltimore Ravens linebacker Ray Lewis (16th season) and Tampa Bay Buccaneers cornerback Ronde Barber (15th season) would disagree, but there is no doubt a new generation of NFL stars are emerging and beginning to take centre stage.
In my final Pick Six column of 2011, I want to step away from the stories of this past weekend for just one week and focus on some stars of the future.
These six stars are either rookies or in their second year in the NFL and I'm pretty sure they're going to shine in the league for the next decade and beyond. They may only just be finding their way in the NFL but they will be household names soon enough.
Cam Newton: Quarterback, Carolina Panthers
Newton entered the 2011 campaign with high expectations given that he was the first overall pick in the NFL Draft. And he has certainly held up his end of the bargain with some exciting performances for the Carolina Panthers.
Newton has a lively arm, impressive accuracy and the ability to make plays with his legs, setting a single season rushing record for quarterbacks. He has not only woken up Carolina's stagnant offense, he has lit a fire under the entire franchise and has probably helped to sell a few thousand season tickets in the process.
There have been some bumps in the road for Newton but, for the most part, he has adapted to life in the NFL quicker than many of us would have anticipated. With more experience under his belt, he is only going to get better and better in future years and will be a genuine superstar.
Von Miller: Outside Linebacker, Denver Broncos
Much has been made of Tim Tebow and his emergence at quarterback for the Denver Broncos, but a great deal more should have been made of the impact Von Miller has made on the defensive side of the ball.
Chosen with the second overall pick in the 2011 NFL Draft, Miller has been an absolute beast and almost impossible to contain on Sundays. He has the explosive speed to get past most offensive tackles in the game and as he has proven on more than one occasion, Miller also has the strength to simply push the big guy in front of him all the way into the backfield.
Miller has been favourably compared to the great Lawrence Taylor, which is a sure-fire indication that he must be doing something right in the early stages of what should be a glittering NFL career.
A.J. Green: Wide Receiver, Cincinnati Bengals
Tall, strong and fast enough to give defensive back's fits, A.J. Green has bucked the age-old trend that rookie wide receivers cannot immediately adapt to life in the NFL. He has already become the focal point of the Cincinnati passing attack by forming a very nice partnership with rookie quarterback Andy Dalton.
What makes me believe that Green is going to dominate for a decade is his work ethic. By all accounts, he does not have the type of diva attitude that accompanies so many NFL wide receivers and he is totally committed to getting better every day.
That's a good attitude to have and that hard-working approach to the game is one that served the likes of Jerry Rice and Peyton Manning so well during their careers. Green also has a nose for the end zone and tremendous leaping ability which means quarterbacks can throw it up to him even when he is completely covered.
Jimmy Graham: Tight End, New Orleans Saints
The old guard of tight ends such as Dallas Clark, Jeremy Shockey and Jason Witten have been overtaken by an exciting, talented and explosive group of youngsters, led by Jimmy Graham.
Graham is a matchup nightmare and is already well past 1,000 receiving yards this year with one regular season game still to be played. He may be 6-foot-6 and 260 pounds but Graham runs like a wide receiver and is capable of making spectacular catches. In short, he is very hard to cover.
A former basketball player at the University of Miami, Graham is a natural ball plucker and with Drew Brees firing lots of passes to him each and every season, he is going to be a star in the NFL for a long time to come.
Rob Gronkowski: Tight End, New England Patriots
Rob Gronkowski is another matchup problem for defenses and has been a menace ever since entering the NFL in 2010.
At 6-foot-6 and 265 pounds, Gronk is too big to cover with a speedy, fleet-footed cornerback. He just out-muscles smaller defensive backs when the ball is in the air. But if you cover him with a strong safety or a bigger linebacker, he will use what is very close to wide receiver's speed to ease into a higher gear and get himself wide open.
It is fair to say that men as big as Rob Gronkowski should not be as fast and as athletic as he is. He is almost as big as most offensive linemen in the league yet is the focal point of one of the most prolific passing attacks in the NFL. In this record-setting campaign, Gronkowski has shown that his name will be called many more times in the next 10 years.
Patrick Peterson: Cornerback/Kick Returner, Arizona Cardinals
Although he is still adapting to the cornerback position in the NFL, Patrick Peterson has rare athletic skills that have been put to very good use on special teams. And it is in this area that he could become a genuine superstar of the league.
Peterson has tied an NFL single season record with four punt return touchdowns this year and could end up being a challenger to Devin Hester as the greatest return man in the game's history. He has certainly gotten off to the right kind of start.
Peterson has been a massive performer for the Cardinals this season. He provided the winning points on punt returns in games against Carolina and St. Louis and set up the decisive field goal with another long runback in overtime against Cleveland in Week 15. He has been compared to the legendary Deion Sanders and is the same kind of explosive athlete you find yourself compelled to watch in every game.
Honourable mentions...
Atlanta Falcons wide receiver Julio Jones, Cincinnati Bengals quarterback Andy Dalton, Dallas Cowboys running back DeMarco Murray, San Francisco 49ers outside linebacker Aldon Smith and Denver Broncos quarterback Tim Tebow.