Could it be magic?
Packers perfection, Tebow's Christmas miracle and historic Houston make Neil Reynolds' Pick Six.
Last Updated: 12/12/11 3:26pm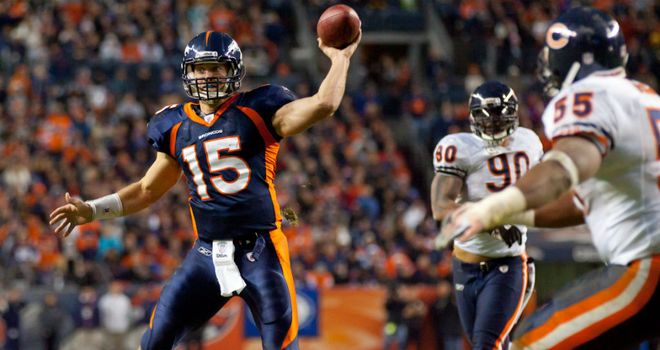 Week 14 in the NFL marked another one of those Sundays in the Sky Sports studios where we're never quite sure which television monitor to watch as some thrilling games went down to the wire.
In the early contests, the Tennessee Titans and Minnesota Vikings threatened come-from-behind heroics against the New Orleans Saints and Detroit Lions respectively only to see back-up quarterbacks Jake Locker and Joe Webb sacked on the final play of each game while they were inside their opponent's 10-yard line.
And in the late games, Tim Tebow continued Denver's remarkable winning run, courtesy of a pair of Matt Prater field goals covering 59 and 51 yards at the end of regulation and in overtime against the Chicago Bears.
The action was fast, furious and exciting. And here's what caught my eye this weekend.
A Christmas miracle
When Tim Tebow led the Denver Broncos to victory over the New York Jets on November 17, NFL Network commentator Mike Mayock said "there's something magical about this kid." I thought that was taking things a bit too far but I'm starting to come around to that way of thinking.
The stars are aligned, all the bounces are going their way and the Broncos are now sitting pretty on top of the AFC West with an 8-5 record. Since Tebow replaced Kyle Orton under center, the Broncos have won seven of their last eight games.
Tebowtime is soon going to be right up there with Greenwich Mean Time at this rate. He was poor for three quarters against the Chicago Bears and trailed 10-0. But then he woke up and proved that all he does is win football games. He threw a touchdown pass and guided Denver into position for two long field goals by the outstanding Prater.
He was helped by his defensive teammates and some bone-headed play by Bears running back Marion Barber (stepped out of bounds on a run late in regulation and fumbled in overtime) but we have to admit there is something special about Tebow. Magical? Maybe.
Texans make history
With injuries piling up at an alarming rate in recent weeks, we've been waiting for the wheels to fall off the Houston Texans' bandwagon. And they've kept on rolling behind unheralded rookie quarterback T.J. Yates.
Their latest victory - a 20-19 thriller against the Cincinnati Bengals - came in exciting fashion and also proved the Texans have the guts for a tough fight. The Bengals led by nine late in the game but Yates led Houston to 10 points, with the winning touchdown coming on a six-yard pass to wide receiver Kevin Walter with just two seconds remaining.
That is production in the most pressure-packed of situations as that late strike delivered the AFC South title for the Texans and sent Gary Kubiak's men to the playoffs for the first time in franchise history.
Of course, we in the media keep saying they'll do nothing when they get there because they don't have a good enough quarterback. It sure looked like they had more than enough at that position on Sunday night and Houston deservedly own the best record in the AFC right now.
It's Skelton time!
He may not be grabbing as many media headlines as Tim Tebow, but all John Skelton does is win! He came off the bench on Sunday night to lead the Arizona Cardinals to an impressive 21-19 victory over the NFC West champion San Francisco 49ers.
Skelton threw three touchdown passes to Early Doucet, the always-excellent Larry Fitzgerald and Andre Roberts and, all of a sudden, the Cardinals are mounting a late playoff run having won five of their last six to improve to 6-7. That's still two games out of the wild card spots with three to play but at least the Cardinals have made themselves relevant for the first time in a while.
As for the 49ers, if they could turn short field goals into touchdowns (David Akers made field goals covering 46, 22, 27 and 22 yards) they would be world beaters. That is one area of concern for Jim Harbaugh as his team heads towards the playoffs.
Falcons take flight
The Atlanta Falcons went into a must-win game against the Carolina Panthers on Sunday night and found themselves struggling and trailing by a 23-7 scoreline. That raised all the usual questions about Mike Smith's men failing on the road in recent seasons.
Quarterback Matt Ryan is often tabbed as a very good home player and an average one in games outside the Georgia Dome. But he responded when his Falcons needed him most on Sunday night, throwing second half touchdown strikes to Jacquizz Rodgers (31 yards) and Julio Jones (17 and 75 yards). He ended the game with 320 yards and four touchdowns through the air and the Falcons remained in one of the two NFC Wild Card spots with an 8-5 record.
The Panthers, once again, showed that they are exciting to watch behind rookie quarterback Cam Newton. But they also proved emphatically that they need to invest heavily in their defense before they can be considered a contender in 2012.
Pressure mounting on Morris
We were chatting in the studios about the Tampa Bay Buccaneers and the pressure mounting on head coach Raheem Morris. Heading into last night's visit to face the Jacksonville Jaguars, I said this was close to a must-win game for the embattled boss who had not seen his team win a game since the week before they headed to Wembley in mid-October.
In the midst of such a long losing streak, the last thing Morris needed was for his team to be embarrassed and look as if they have quit on the season. And it didn't look like it was going to turn out that way as the Bucs jumped out to a 14-0 lead.
Then they found a new and embarrassing low on this most miserable of seasons. Preston Parker fumbled a punt that was returned for a Jaguars touchdown, mistake-prone quarterback Josh Freeman fumbled for a Jacksonville touchdown and the Bucs conceded 41 unanswered points as they were blown out 41-14.
Most embarrassing for the Buccaneers was the fact they made the normally toothless Jags look like an offensive juggernaut in the Packers and Saints mould. I like Raheem Morris a lot, but he might want to switch his phone off today, shut his office door and hope his bosses don't come knocking.
Packers roll on
Here's a scary thought for the rest of the NFL - I didn't think the Green Bay Packers were anywhere close to their best on Sunday night yet they still rolled to a 46-16 victory over the Oakland Raiders, who are going in the wrong direction at the wrong time of year.
This was football perfection from a perfect team. The Packers didn't need to get out of second gear yet they still dominated from start to finish. The only sour note was losing star wide receiver Greg Jennings to what looked like a serious knee injury.
Aaron Rodgers was able to sit out the final quarter after throwing for 281 yards and two touchdowns and with games against the Kansas City Chiefs, Chicago Bears and Detroit Lions to come, it's hard to see these Packers being knocked off before the end of the regular season.