Chicago's Matt finish
Matt Forte's injury woe, Tim Tebow's form and DeSean Jackson's egotism make Neil Reynolds' Pick Six.
Last Updated: 06/12/11 12:43pm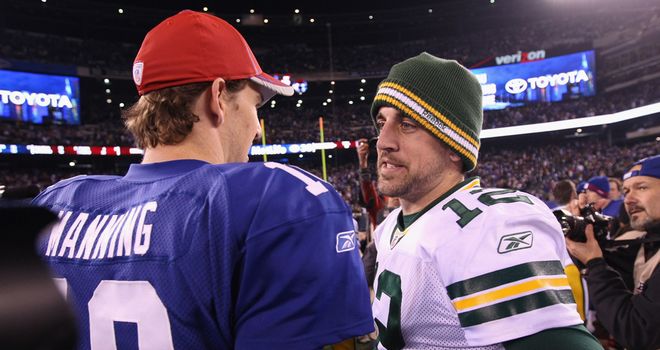 We are now into the final month of the NFL regular season and Week 13 threw up some classic encounters, headline-making performances and some worrying injuries.
Here is what caught my eye over the weekend.
Packers win a classic
Lost in their current four-game losing streak is the fact that the New York Giants are a pretty good football team and they pushed the undefeated Green Bay Packers all the way before falling to a 38-35 loss on Sunday in one of the best contests of the year.
Mason Crosby kicked the game-winning 31-yard field goal as time expired to help the Packers to 12-0 on the season but it was quarterback Aaron Rodgers who was the undoubted star of the show, throwing for 369 yards and four touchdowns.
Credit should also go to Eli Manning for leading a spirited Giants attack, but I was struck by Rodgers' coolness under pressure. He hit 10 different receivers on the night, rolled with every punch thrown at him by an aggressive New York defense and then calmly went about his business of keeping the Packers perfect.
After the Giants had tied the game with 58 seconds remaining, the TV cameras found Rodgers on the sidelines. There was not a hint of panic. There was not a sign that something bad had just happened to his team. He strolled down the sideline like he was taking a walk in the park and simply put his helmet on. Time to go to work. He then rattled off quick completions to Jermichael Finley, Jordy Nelson and Greg Jennings and, just like that, the Giants were done and the Packers were celebrating another win.
Tebow turning into an NFL quarterback
I've been one of the last to jump onto the Tim Tebow bandwagon, preferring to watch grumpily from the side of the tracks as everyone on board has a jolly good time. I'm now thinking about asking if they have a seat for me in the back row - one where I can be on board, enjoy the party but also jump off easily if I want to!
It's hard to doubt Tebow's credentials as a starting quarterback now after Sunday's 35-32 victory over the Minnesota Vikings moved him to 6-1 as a starter this season and placed the 7-5 Broncos on top of the AFC West Division.
Tebow looked like a proper NFL quarterback. He only rushed four times in the game, he put some lovely touch passes downfield and he hit on 10 of 15 passes for 202 yards and two touchdowns. His passer rating of 149.3 was not far off perfection. If this guy is figuring out how to throw the football, the Broncos really might be onto something.
And Tebow is not going to rest on his laurels. He continues to work hard to refine his footwork and throwing motion - that's the kind of guy he is, a very hard worker. He is far from the finished product, but he is 6-1 while being a work in progress. That's pretty scary.
Forte goes down
Things went from bad to worse for the Chicago Bears during Sunday night's 10-3 loss at home to the Kansas City Chiefs as star running back Matt Forte suffered torn knee ligaments after being hit in the right leg by linebacker Derrick Johnson.
Forte could be done for the season and his injury highlights how vital the health of your team is at this stage of the year. A couple of weeks back we were talking about the Bears as the red-hot, in-form team in the NFL following their win over the San Diego Chargers that improved them to 7-3.
But in back-to-back weeks, the Bears have needed to deal with the loss of quarterback Jay Cutler (thumb surgery) and Forte, who went into Sunday's game with 1,475 yards from scrimmage as one of the most dynamic players in the NFL.
It's hard to see Chicago saving their season from here, especially if quarterback Caleb Hanie keeps throwing the football to the other team. Hanie says he doesn't want to just manage the game but it might not be a bad idea. He threw another three interceptions on Sunday, giving him six in his first two NFL starts, which have both been losses.
Saving Tony Sparano
The Miami Dolphins are not only playing their way out of the chance to grab a decent young quarterback in the first round of the 2012 NFL Draft, they might also be doing the seemingly impossible and saving head coach Tony Sparano from getting the sack.
Miami were a middle-of-the-road team last season and Sparano would have been given the boot had Jim Harbaugh been tempted to South Florida instead of California. So I thought he was done and gone when the Dolphins opened this season with an 0-7 record. But they have now won four of their last five outings with the most recent success being Sunday's 34-14 shellacking of the Oakland Raiders.
Given how Matt Moore is playing, Miami may not need a new quarterback, although I do still think they will target one who can be groomed to start in the future. Reggie Bush and Daniel Thomas are forming a nice one-two punch at running back and the defense is stout and making plays after a shaky start. This is a team not a million miles away from the playoff picture in 2012.
Miami can only play the spoiler role from here on out but given how hard this team is playing for Sparano, I think we can assume that is a task they will relish.
Icing the kicker
I've never liked it when a head coach tries to ice the kicker on the opposing team. I don't see the point of it. I've always felt it would be tougher for me as a kicker if I lined up to attempt the kick and actually had to go ahead and try the field goal without interruption while half wondering if a time out was about to be called.
Well, Dallas Cowboys head coach Jason Garrett went one step further on Sunday night as he iced his own kicker at the end of the game against the Arizona Cardinals. With the scores tied at 13 apiece, the Cowboys stopped the clock with a spike and lined up for a 48-yard field goal try with eight seconds remaining. Garrett then called the time out and Bailey slotted his free practice attempt through the uprights.
Of course, he missed the one that mattered just moments later and the Cardinals won in overtime courtesy of a 52-yard pass from Kevin Kolb to LaRod Stephens-Howling. To be honest, the Cowboys have been riding their luck at times and it is tough to win every close game you play in the NFL. They are still very much alive in the race for the NFC East, but they will feel they let an opportunity slip through their fingers at the weekend.
DeSean flying solo
I want to end by going back to Thursday Night Football on Sky Sports and the disappointing showing put forth by the Philadelphia Eagles as 'The Dream Team' fell to a 31-14 defeat at the hands of the Seattle Seahawks.
There were many things not to like in that Eagles performance but the most disgusting was the obvious disinterested, me-first attitude of disgruntled wide receiver DeSean Jackson. He is clearly not playing hard right now and it's obvious to me why Andy Reid benched him twice in the past month.
There was one passing play in which Jackson didn't even bother turning around to look at his quarterback, even though Vince Young was eyeing him all the way downfield. I don't claim to have complete knowledge of an NFL playbook, but I do know that the receiver has to look at his quarterback at some point on a passing play!
Immediately after that play, Young tried to talk to Jackson only to be completely ignored by his receiver. The NFL Network then reported that Jackson had not spoken to his team-mates all night. I know Jackson is upset at Philadelphia management for not paying him handsomely, but don't take it out on the guys you're supposed to go to battle with every weekend. What a selfish player!