Let the Flacco fly!
The Ravens' woes, Philly's nightmare and Mike Smith's fourth-down gaffe make Neil Reynolds' Pick Six.
Last Updated: 14/11/11 1:36pm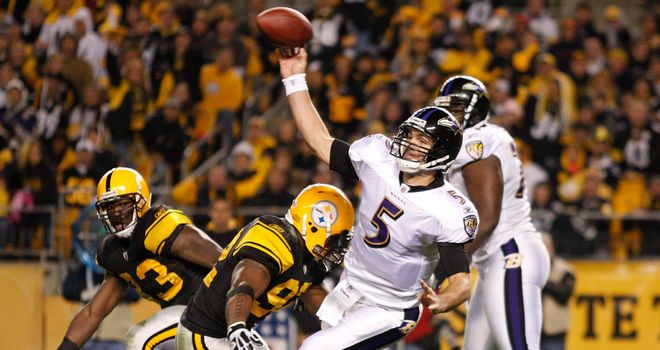 The 2011 NFL season has seen some surprising teams move into play-off contention and Week 10 offered a chance for us to find out more about the San Francisco 49ers, Detroit Lions, Buffalo Bills and Cincinnati Bengals.
It was a mixed bag of results for those clubs on another wild weekend in the United States. The 49ers showed they might be the second best team in the NFC with a 27-20 victory over the New York Giants, while Detroit and Buffalo were big losers at Chicago and Dallas respectively.
The Cincinnati Bengals might have lost 24-17 to the Pittsburgh Steelers on Sunday night but they put up a very good fight and showed they at least deserve their tag as play-off contenders this season.
This is what else we learned in Week 10...
Ravens disappoint again
Just when we're ready to crown John Harbaugh's men as the cream of the AFC they go and let us down with what must rank as one of the most disappointing losses of the day.
In Week 1, the Ravens beat hated rivals the Pittsburgh Steelers but negated the effects of that win seven days later with a loss to the Tennessee Titans. In Week 9, Baltimore completed the double over Pittsburgh but immediately dropped back to 6-3 alongside the Steelers with a 22-17 defeat at the hands of the lowly Seattle Seahawks.
We only caught glimpses of this game during a busy night on Sky Sports but it is clear to me that the Ravens are a much more effective team on offense when quarterback Joe Flacco is given more freedom in which to operate. It's time for Cam Cameron to open up the offensive playbook.
The dream is officially a nightmare
One more negative and then I'll get onto some of the positive and more impressive performances of Week 10. With their season on the line, how in the world can the Philadelphia Eagles lose to the Arizona Cardinals on Sunday?
First of all, the game was being played in Philadelphia and it was something approaching a must-win for the Eagles. Second, the Eagles boast a supposed all-world secondary featuring Nnamdi Asomugha, Dominique Rodgers-Cromartie and Asante Samuel yet they allowed John Skelton to throw three touchdown passes in a 21-17 Cardinals win.
Are you kidding me? John Skelton? That should never happen and it shows the Eagles are a flawed team who cannot complain too loudly about their 3-6 record. They look exactly like a 3-6 team at the moment and can forget about the play-offs. Considering the hype surrounding this team in the summer, I find it amazing that we can pretty much forget about them for the remaining seven weeks of the season.
History repeats itself in Dallas
Admit it, Buffalo Bills fans - you hate seeing that star on the side of the Dallas Cowboys' helmets don't you? Last night's meeting in Texas was a rematch of Super Bowls XXVII and XXVIII and, for the record, Dallas won those games 52-17 and 30-13.
It was more one-way traffic on Sunday as the Cowboys romped to a 44-7 over the fast-slumping Bills, who have now lost two in a row in disappointing fashion. Tony Romo was outstanding in leading Dallas to 5-4 on the season as he hit on 23 of 26 attempts for 270 yards, three touchdowns and no interceptions.
But I still cannot make out exactly how strong the Cowboys are. They might be one of the better teams in the NFC as proven in their win over San Francisco and running New England close in Foxboro. Or they could be flat-track bullies who have collected easy wins against the St Louis Rams and Seattle Seahawks.
We might not find out until the Cowboys play the New York Giants on December 11th and January 1st. Their other games are very winnable - at Washington, home to Miami on Thanksgiving Day, at Arizona, at Tampa Bay and home to Philadelphia.
Bears are growling again
The Chicago Bears looked very good when I saw them play at Wembley Stadium in Week 7 and they have continued their impressive run of form, destroying the Lions to the tune of a 37-13 scoreline in Week 10.
The story with the Bears is normally how well they protect quarterback Jay Cutler and the running of Matt Forte, but Sunday's win was all about the defense which created six turnovers. Major Wright and Charles Tillman scored on pick sixes and the Bears harried Matthew Stafford into four interceptions. This game was filled with bad-tempered play, but it was never close.
The Bears have now won four in a row and appear to be coming good at just the right time of the year. They and the Lions had the look of teams heading in opposite directions and if I had to back one right now, I'd tip the Bears to be in the playoffs and not Jim Schwartz's Detroit team, who have now lost three of their last four.
49ers find new recipe for success
If I had told you before the game that running back Frank Gore would be held to 0 yards on six carries and that the New York Giants were going to score 20 points, you might have thought the San Francisco 49ers were in trouble.
But this team is proving to be resilient and they found a new way to win on Sunday as they rode the passing arm of the rejuvenated Alex Smith. After struggling for years in San Francisco and particularly losing confidence under former head coach Mike Singletary, it's great to see Smith playing at a very high level.
This is one of the NFL's nice guys and he deserves his moment in the spotlight after throwing for 242 yards and one touchdown against New York. He added a vital two-point pass to wide receiver Michael Crabtree and the Niners held on to win 27-20.
Smith made a lot of big-time throws in the game and the 49ers have now won seven in a row. If they can air it out when necessary in big games at the business end of the season, we might have to start thinking of Jim Harbaugh's team as genuine threats to Green Bay in the NFC.
Smith rolls the dice and fails
Dumb. Idiotic. Stupid. Foolish. Ludicrous. Arrogant. Pick a word or just add them all together and apply them to Mike Smith's decision to have his Atlanta Falcons go for it on fourth and inches at their own 29-yard line in overtime against the New Orleans Saints.
I know I promised no more negatives but this one is simply too massive and important to ignore. This was a mammoth divisional game for these NFC South rivals and they were locked at the horns at 23-apiece in the sudden-death period.
Rather than punt and play defense, as you should do every single time in that situation, Smith called for a Michael Turner run up the middle (everybody in the stadium knew he was getting the ball) and he was stuffed for a loss. Moments later, the Saints kicked the game-winning field goal to take charge of their division.
Words fail me. What a stupid decision, especially as Smith had already run the punting unit out there and then called time out before his ill-fated change of heart. The embattled coach said afterwards: "I want everybody to understand, I take full responsibility."
Er, coach, that is not a noble thing to do. That is the very least you could do and we are all too aware that the fault for this defeat rests on your shoulders.