Giants strides
Neil Reynolds looks at Eli Manning's growing influence on New York in this week's Pick Six.
Last Updated: 07/11/11 12:38pm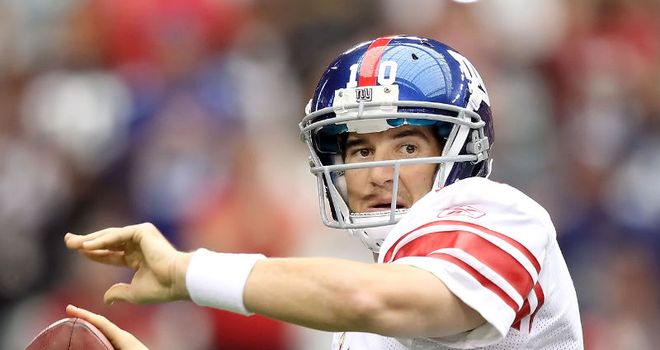 It was another wild weekend in the NFL, particularly among the late games where the thrills and spills were coming thick and fast on Sunday evening.
Tim Tebow enjoyed a bounce-back game at quarterback for the Denver Broncos, the Miami Dolphins got their first win of the 2011 campaign and the New York Giants secured a last-second win over the New England Patriots on a breath-taking night in the NFL.
But that doesn't tell half the story. The New Orleans Saints took control of the NFC South, the Cincinnati Bengals won for the fifth week in a row and the Baltimore Ravens did the double over the Pittsburgh Steelers. There is so much more - read on...
Eli got it right
There were a few sniggers among the media when Eli Manning, of the New York Giants, told a reporter this summer that he felt he was one of the NFL's elite quarterbacks. Sure, Eli had won a Super Bowl and put up decent numbers, but he had also been plagued by mistakes and inconsistency during his career.
Well, the 2011 season is proving that Eli might have been right and his Giants are sitting comfortably on top of the NFC East Division with a 6-2 record following their 24-20 win over New England in Foxboro.
Not for the first time this season, Manning dragged his team to victory with some gut-check plays in the clutch, throwing fourth quarter touchdown strikes to wide receiver Mario Manningham and tight end Jake Ballard - the latter coming with just 15 seconds left on the clock to secure the win and consign New England to back to back losses for the first time since Weeks 12 and 13 of 2009.
Thriller in San Diego
We got treated to an absolute thriller in San Diego on Sunday as the hometown Chargers fought back but ultimately fell to the Super Bowl champions Green Bay Packers by a 45-38 scoreline.
This game epitomised San Diego's season. They made some very big plays to showcase their undoubted talent, particularly on offense, but they were also hampered by mistakes, sloppy play and penalties.
Quarterback Philip Rivers threw two interceptions that Green Bay returned for touchdowns and another pick in Packers' territory inside the final minute ended the comeback attempt. Moments earlier, Green Bay had been able to run additional time off the clock due to a needless holding penalty against San Diego defensive back Quentin Jammer.
That was San Diego's ninth penalty of the game and gave them a three-match total of 34 penalties to go alongside their nine turnovers. You cannot win in the NFL with that kind of ill discipline and while the Chargers are exciting to watch, they are also frustrating and have now lost three in a row.
Greatness is among us
He will need to stand the test of time and maintain something close to his current level for a good few years yet, but I genuinely believe we are looking at one of the greatest quarterbacks in NFL history when we see Aaron Rodgers leading the Green Bay Packers.
Rodgers was ridiculously good against the Chargers, throwing for 247 yards and four touchdowns. His accuracy is out of this world, he is unflappable in pressure situations and he avoids the kind of mistakes that haunted his opposite number, Rivers, on Sunday night.
Rodgers posted a quarterback rating of 145.8 (100 is generally considered excellent) but that was no fluke. In his eight games under center for the Packers this season, he has yet to register a rating below 110.0.
With quarterback being considered the most important position in the NFL, you can see why the Packers are hot favourites to repeat as Super Bowl champions.
Tebow-Mania lives on!
It was not perfect. Far from it, in fact. But Tim Tebow turned in a much better showing at quarterback for the Denver Broncos on Sunday night, throwing two touchdowns and rushing for 117 yards as he led his team to a 38-24 win over the Oakland Raiders.
I still worry about his footwork and throwing motion and I don't think we can crown him as a star because he has beaten the Miami Dolphins and Raiders either side of a humiliating loss to the Detroit Lions, but Tebow is a fighter and a winner and the Broncos need to give him time to develop. This was only the sixth start of his young career and he undoubtedly needs more game experience.
The Broncos might as well keep Tebow in there until the end of the year. That way they find out what they truly have at that position as they head into the off-season. And as long as they keep gearing their offense to his skills - as they did in Oakland on Sunday - they will give Tebow the best possible chance to succeed.
Flacco helps Ravens soar
There is a quarterback theme developing this week but Joe Flacco turned in a massive showing late in his team's 23-20 win over the Pittsburgh Steelers, helping the Baltimore Ravens do the double over their hated rivals in the AFC North.
With the game on the line, Flacco stood tall and orchestrated a 92-yard drive in the most intense pressure imaginable for a quarterback playing on the road. He capped the scoring march with a spectacular 26-yard touchdown strike to rookie wide receiver Torrey Smith with eight seconds remaining.
This was your typical Ravens-Steelers slugfest with some big hitting and intense play on both sides of the ball - Steelers safety Ryan Clark and Ravens linebacker Ray Lewis should receive fines from the league office this week. Here's hoping these two rivals can meet again in the AFC playoffs - that really would be something to watch in the New Year.
Colts are out in front
With nine consecutive losses to their name, the Indianapolis Colts are now the clear leader in the Andrew Luck sweepstakes and look odds-on to be in position to grab the Stanford passer in the 2012 NFL Draft.
But what would they do with that pick? Select Luck and trade Peyton Manning? Stick with Manning and do a deal to get more players and picks from a team moving up to select Luck? Or select Luck and have him learn behind Manning?
Much depends on the long-term prognosis for Manning, who has missed the entire 2011 campaign to date with a serious neck injury. If Manning returns and is healthy, it is not a given that he gets to stick around in Indy. I understand how much he has done for that franchise, but this is a business. Joe Montana won four Super Bowls for the San Francisco 49ers but as soon as it was clear Steve Young was the better quarterback, Joe Cool found himself playing out his career with the Kansas City Chiefs.
It is going to be interesting to see what the Colts do with that first overall pick and based on the way they're playing right now, they're definitely going to have that selection come next April.