Shock tactics
Neil Reynolds looks at some of the stranger events in NFL over Halloween Weekend in Pick Six.
Last Updated: 31/10/11 11:07am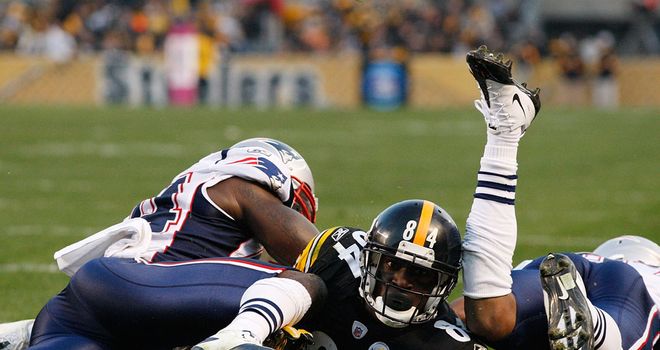 It was fitting that Week 8 in the NFL took place over Halloween Weekend because there were some results that were just plain weird and others that will leave several head coaches having nightmares for a few days to come.
In the shock of the day, the winless St. Louis Rams ran all over the New Orleans Saints en route to a 31-21 victory, the Washington Redskins were shut out by the Buffalo Bills 23-0 in a game played in Canada and Tim Tebow's 2011 home debut for the Denver Broncos turned into an absolute embarrassment as his side were hammered 45-10 by the Detroit Lions.
Who wrote the Steelers off?
It appears we might have been a bit premature in writing the Pittsburgh Steelers off as also-rans in 2011. After four weeks of play, the Steelers were 2-2 and coming off a disappointing loss to the Houston Texans. Their offensive line was shaky at best, they looked old on defense and they appeared to be in a rapid decline.
Wrong!
Four weeks later and the Steelers are sitting pretty on top of the AFC North having won four straight to move to 6-2. Their latest success was a big one as they recorded a 25-17 victory over the New England Patriots - a team that have had their way with Pittsburgh in recent years.
Patriots quarterback Tom Brady was under constant pressure from the 'old' Steelers defense, league-leading wide receiver Wes Welker was totally controlled and Pittsburgh kept the ball to themselves for nearly 40 minutes through an impressive aerial attack led by Ben Roethlisberger.
The Steelers now have the best record in the AFC and are poised for another title run in the second half of the season. Like any good champion in boxing, they have taken some blows but they never went down - now they're coming off the ropes swinging!
Tebow struggles
It makes total sense to me for the Denver Broncos to give Tim Tebow an extended run at quarterback so they can see what they have at that position heading into the 2012 campaign. I just don't think they're going to like the answer come the end of the year and they will be searching for their franchise quarterback.
I know Tebow has a huge following and people leap to his rescue every time he gets slammed in the media but let's be honest here - the guy is a long way from being good enough to start under center in the National Football League. That was clear in Sunday's hammering at the hands of the Lions.
Where shall I start? Okay, his footwork is poor and that makes it hard for him to operate under center, his wind-up and release of the football are way too slow and it makes it easy for defensive backs to know where he is throwing and his arm strength is sub-par. He throws up some ugly passes that take an age to reach their target.
Some of those things can be fixed and there is no doubting the fact that Tebow is a hard worker and a fierce competitor who will want to get better. I just cannot see it happening fast enough for John Elway and the Broncos to stand by their man.
Flacco responds
The Baltimore Ravens were coming off an embarrassing Monday Night Football loss to the Jacksonville Jaguars as they took on the Arizona Cardinals on Sunday. This was supposed to be an absolute doddle and a chance for the Ravens to restore confidence against a team with just one win to their name this season.
The Cardinals forgot to read the script. After 30 minutes of play, the Ravens trailed 24-6 at home and quarterback Joe Flacco was under serious pressure. Flacco has not been on top form this season and he set up two Arizona touchdowns with a fumble and an interception in the first half.
How he responded after the break was going to be crucial to Baltimore's season. Flacco answered the bell in fine fashion and ended the game with 336 passing yards as the Ravens fought back to win 30-27 on Billy Cundiff's 25-yard field goal as time expired. It was a win Baltimore absolutely had to have and they were helped by three Ray Rice scoring runs.
There have been some surprises in the NFL this season but some things remain the same - the Pittsburgh Steelers and Baltimore Ravens are slugging it out for supremacy in the AFC North and they meet again next weekend.
The Rams win!
I didn't see this one coming and I think this has to go down as one of the shocks of the season. Led by backup quarterback A.J. Feeley, the St. Louis Rams picked up their first win of the year by romping to a 31-21 win over the New Orleans Saints that was not as close as the final scoreline might suggest.
Steven Jackson was the star of the show for the Rams as he rushed for 159 yards and two touchdowns on 25 carries and newly-acquired wide receiver Brandon Lloyd showed up big with a much-needed scoring grab among his six receptions. I still cannot work out why he is no longer with the Denver Broncos.
This win might not help the Rams too much in the long run, but the result would have pleased the Tampa Bay Buccaneers and Atlanta Falcons who were on their byes in the NFC South.
There's still one Manning to shout about
The NFL may be missing four-time Most Valuable Player Peyton Manning (and the 0-8 Indianapolis Colts most certainly are) but we still have one Manning to get excited about as Eli is proving to be a big-time performer for the New York Giants this season.
While they are frustratingly inconsistent at times, the Giants have found their way to the top of the NFC East with a 5-2 record after Sunday's come-from-behind 20-17 win over the Miami Dolphins.
Eli Manning is playing really well at the moment and threw for 349 yards and two touchdowns. But he and the Giants cannot afford to get too comfy with their winning record - November brings a brutal run of games against New England, San Francisco, Philadelphia, New Orleans and Green Bay.
If they come out of that run still with a clear lead in the NFC East, we'll know Tom Coughlin's men are for real this season.
Caldwell needs a mulligan
If we were chatting in the street it would have been deemed an argument but because me and David Tuckman had our disagreement in a television studio on Sunday night it gets dubbed as a "healthy debate."
Tuckman was insistent that Jim Caldwell be fired as head coach of the Indianapolis Colts after his side laid another egg on Sunday night, losing 27-10 to the Tennessee Titans to fall to 0-8 on the year.
I had trouble defending the head man of such an under-achieving and disappointing team but I tried my best and sincerely hope owner Jim Irsay does not offer up a knee-jerk reaction to such a trying season. I would be surprised if he did that because he is a classy guy who is not prone to making rash decisions.
Caldwell deserves a do-over in 2012. Sure, his team have been poor this term and might have struggled even with Peyton Manning at the helm, but the emotional impact of losing such a massive player right on the eve of the 2011 campaign cannot be downplayed.
Colts president Bill Polian admitted as much last week and half-said that the team knew it would be a lost season with Peyton out. Caldwell has taken this team to a Super Bowl and to the playoffs again last year. Surely, these are special circumstances? If he under-performs with Manning or a decent QB at the helm next year, then fire him. But not now.