Running on empty
The Bucs, the Colts, the Dolphins and Donovan McNabb make Neil Reynolds' Pick Six.
Last Updated: 24/10/11 1:21pm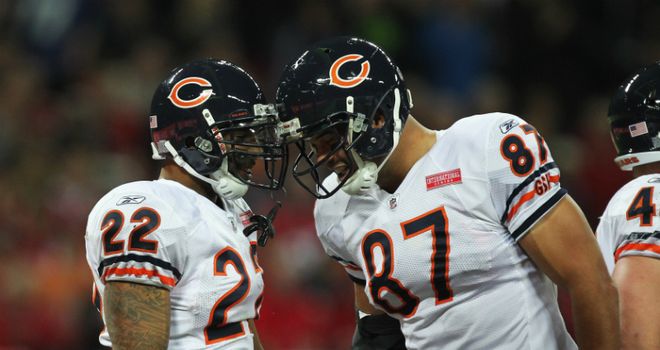 What a weekend! The NFL came to town and left thousands of British fans entrhalled, excited and, most probably, exhausted. But they were also left wanting a lot more NFL on these shores.
More than 7,500 fans were in Trafalgar Square on Friday night as Cuba Gooding Jnr was the guest of honour at a screening of Jerry Maguire, a whopping 40,000 fans packed out the same venue for the NFL Fan Rally on Saturday afternoon and then a crowd of 76,981 saw the Chicago Bears record a 24-18 win over the Tampa Bay Buccaneers on Sunday night.
I was privileged to host both Trafalgar Square events, the Tailgate Party at Wembley and then be part of the Sky Sports team covering what has become our Super Bowl. And it was another night to remember.
Pay the man!
Chicago Bears running back Matt Forte (main picture) is playing through this 2011 season even though he is unhappy with his contract situation and is probably being short-changed by the Bears.
Forte rushed for 145 yards and scored on a weaving 32-yard run on Sunday night and he leads the NFL with 1,091 yards from scrimmage in just seven games. Yet he is only due to earn a reported $550,000 this season. I know players always complain about how much they are being paid, but that is not fair.
This guy is the real deal and when he was the focal point of the Bears' attack on Sunday (in the first half) Chicago looked in control. When Mike Martz went away from Forte after the break and aired it our more, the Buccaneers came back into the contest. Sunday marked the first time I have seen Forte play in the flesh - count me among those who think he is one of the NFL's best backs.
Talking of running backs...
I spent quite a bit of last week at the Buccaneers' training base in Surrey and spoke with several team officials, including general manager Mark Dominik. Heading into the week, I thought the Bucs would sign a veteran running back for insurance behind Earnest Graham and the relatively untested Kregg Lumpkin (pictured).
But with LeGarrette Blount already out with an ankle injury, the Bucs were happy to go into Sunday's game with just Graham and Lumpkin. I thought that was a tad risky, even though Graham has been Mr Dependable in recent years. And wouldn't you know it - Graham went down in the first quarter with a potential season-ending injury.
Lumpkin carried just eight times and the Bucs ended up calling 11 running plays and 53 passes. That kind of imbalance killed the Buccaneers - they are a team that needs to be able to run the football, especially with some key offensive linemen missing.
The Bears knew the Buccaneers were going to pass a lot and their defenders were able to fly upfield and pressure Josh Freeman. I think Freeman is very good and has all the tools to be elite, but he was under constant pressure on Sunday night and threw four interceptions. And I think some of that goes back to the decision to take just two running backs into the game.
Colts sink to new low
When you consider that the Indianapolis Colts have made the play-offs for the past nine years in a row, it really is shocking how far they have fallen this term. The Colts lost 62-7 to the New Orleans Saints on Sunday night to open the season with seven consecutive losses.
It is fair to assume that future Hall of Famer Peyton Manning (pictured) was papering over some cracks in Indy because they miss him badly. Manning is out with a career-threatening neck injury and the Colts look lost without him. But he never played defense did he? That unit simply cannot tackle and they need to play with more pride. They let the Saints walk all over them in a nationally televised game.
The Colts need a win badly but I see no reason to bring Manning back before the start of the 2012 campaign. Owner Jim Irsay seems reluctant to put Manning on ice for the rest of the year but why bring him back to a losing team for four or five meaningless games at the end of the season? That would not make sense. As it stands right now, the Colts are locked in a battle with the equally-inept Miami Dolphins for the first pick in the 2012 NFL Draft and the riches that come with that in the form of Stanford quarterback Andrew Luck.
Don't forget the Dolphins
The Colts are bad but you have to credit the Miami Dolphins for finding different ways to lose games and for being able to pull out losses when they don't seem possible. The Broncos became the first team since the 1970 AFL-NFL merger to trail by 15 points or more with three minutes remaining and win a regular season game.
Miami were up 15-0 but ended up losing 18-15 in overtime and are now off to an 0-6 start and likely to be looking for a new head coach at the end of the season to replace Tony Sparano (pictured).
These are desperate times in Miami and they are failing to attract fans to their games in South Florida. This week's desperataion attempt saw the Dolphins offer Tim Tebow-signed merchandise to those who bought tickets, even though he was starting for the other team!
Donovan who?
I have long thought Donovan McNabb (pictured) was past his best and washed up. And I have long thought he should no longer be starting in the National Football League. After rookie Christian Ponder made an impressive debut for the Minnesota Vikings on Sunday night, I doubt McNabb will start again any time soon.
In fact, I would go so far as to say that McNabb is done as a quarterback in the NFL. All good careers must come to an end and I think it's McNabb's time.
The Vikings still lost to the Green Bay Packers by a 33-27 scoreline but Ponder offered hope of a brighter future, throwing for 219 yards and two touchdowns. It was always going to be tough to keep pace with Aaron Rodgers and that prolific Green Bay attack, but Ponder almost pulled it off.
Sanchez finds Burress
Wide receiver Plaxico Burress (pictured) has largely been a non-factor for the New York Jets this term having made his return from 20 months in prison but he exploded on Sunday night and, like Ponder with the Vikings, offers hope for the future.
Burress caught three touchdown passes from Mark Sanchez as the Jets came from behind to record a 27-21 win over the San Diego Chargers. Tellingly, the scores came from three, four and three yards. There may not be a better goal-line receiver in the game than the 6ft 5in Burress. If he can maintain that form, that gives the Jets more options in the most crucial area of the field.
The Jets are now 4-0 at home and 4-3 on the season. But they are not all the way back yet. They have some tough games coming up (at Buffalo in Week 9, New England in Week 10 and at Buffalo in Week 12) and still face a tough road to the playoffs. But an in-form Burress will certainly help their cause.