Wembley wonders
Neil Reynolds picks six to watch on Sunday as Tampa and Chicago lock horns in north west London.
Last Updated: 20/10/11 5:29pm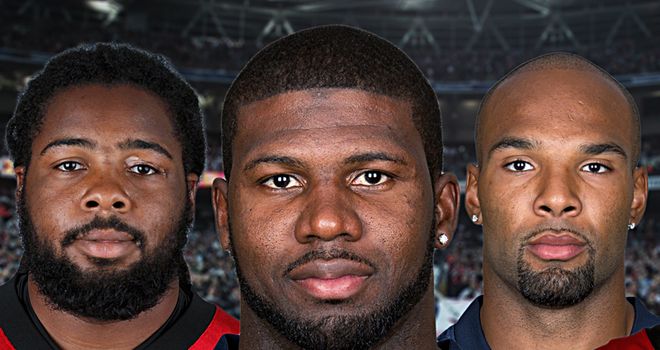 The NFL returns to Wembley Stadium on Sunday night as the young and exciting Tampa Bay Buccaneers play host to one of the most storied franchises in league history in the Chicago Bears.
The regular season showdown is the fifth in a row in London and it promises to be an evenly-matched contest between two teams who are right in the middle of the NFC play-off race.
The Bucs are 4-2 and sitting pretty on top of the NFC South Division, while the Bears are still alive in the NFC North with three wins and three losses.
If you're going to the game at Wembley or watching it live on Sky Sports on Sunday night, here are the players you need to keep an eye on...
JOSH FREEMAN
Quarterback, Tampa Bay Buccaneers

The giant-sized quarterback made his debut in London in 2009 and has already become a leader of the Buccaneers in just his third season. Freeman has a cannon for an arm and is mobile enough to hurt a defense with his legs should a play break down. But his greatest asset is his ability to perform at a high level under pressure - he is developing a nice habit of playing his best football when the stakes are at their highest. To put it simply, he is not the green-gilled rookie we saw at Wembley two years ago.
JAY CUTLER
Quarterback, Chicago Bears

When he is given time to throw by an offensive line that has been shaky at best and downright awful at worst, Jay Cutler has all the physical tools to be considered one of the top quarterbacks in the NFL. Blessed with a strong arm and the confidence that he can complete the most difficult of passes in any situation, Cutler is a gamer and is proving his toughness after being lambasted by the football world and his wife for limping out of last season's NFC Championship Game with a knee injury. He is taking a beating, but Cutler has the skills to be elite.
EARNEST GRAHAM
Running Back, Tampa Bay Buccaneers

Standing in for LeGarrette Blount last week, Graham rushed for over 100 yards against the New Orleans Saints and proved, once again, that he is a reliable and productive reserve who can be called upon at any time. Graham has the power to run over defenders but he also has some nifty moves for a big back. This locker room leader could shine at Wembley Stadium.
MATT FORTE
Running Back, Chicago Bears

The best player on the Chicago Bears roster can make plays on the ground or through the air. Forte is a dynamic player who can score from anywhere on the field. He leads the league with 908 yards from scrimmage and is averaging 6.4 yards per carry. When Forte is the focal point of their attack, the Bears tend to be at their most dangerous on offense.
ADRIAN CLAYBORN
Defensive End, Tampa Bay Buccaneers

Tampa Bay's first round draft choice has been described as a "tough dude" and an "alpha male" by head coach Raheem Morris. Adrian Clayborn was born with Erbs Palsy, which left him with nerve damage in his neck and shoulder. Yet he overcame that early setback to star at Iowa University and is already making his mark in the NFL. Powerful and strong, Clayborn could give Cutler a difficult time on Sunday night.
DEVIN HESTER
Wide Receiver/Kick Returner, Chicago Bears

The most dynamic kick returner in NFL history has the potential to light up Wembley Stadium on Sunday evening. Devin Hester scored on a 98-yard kick-off return last weekend, giving him an NFL record 17 return touchdowns in his career. Blessed with blazing speed and some incredible moves, Hester is a threat to take any ball he touches all the way to the end zone. A true NFL legend in the making.