Broken dreams
Philadelphia's nightmare and emotional times for Oakland... it's Neil Reynolds' latest Pick Six.
Last Updated: 10/10/11 2:48pm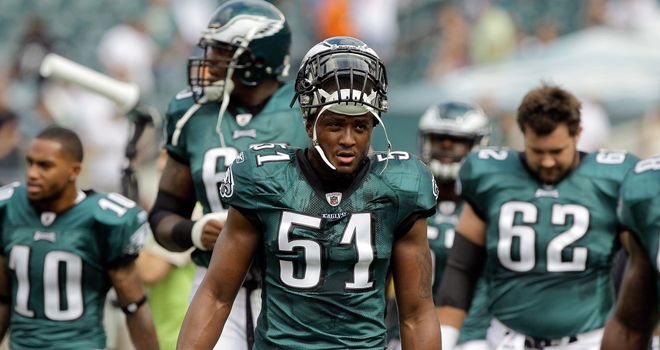 The 2011 NFL season continues to churn out fascinating headlines each and every week and Sunday proved to be no different.
Shockingly, the Buffalo Bills and San Francisco 49ers are 4-1 and harbouring genuine play-off hopes, the Philadelphia Eagles are 1-4 and the Indianapolis Colts remain winless after five games after they blew a big lead against the Kansas City Chiefs.
There are still some familiar faces leading the race to Super Bowl XLVI - Green Bay, New England and New Orleans - but there are also some teams in the mix who have spent years in the doldrums.
And that makes the NFL so exciting to follow each weekend and each and every season. It's very hard to predict how the action is going to play out - and long may it continue.
Here's what else I learned from watching the Week 5 games unfold in the United States...
The dream turns into a nightmare
What a nightmare start for the Dream Team. The Philadelphia Eagles dropped to 1-4 on the year with a dramatic 31-24 loss to the Buffalo Bills on Sunday night, putting themselves in a real hole for the remainder of the 2011 season.
Andy Reid's team keep hurting themselves with mistakes. The Eagles racked up 489 total yards but were undone by five turnovers and the silliest of late penalties when defensive end Juqua Parker was drawn off-side inside the game's final minute when everybody in the stadium knew the Bills were trying to draw the flag in order to run out the remaining time on the clock. I'm sorry, but that was just plain stupid.
There's no doubting the fact that the Eagles are talented and exciting to watch but they are so frustrating and they find it impossible to play an error-free game. Until they can clean up their act, Philadelphia will remain the biggest disappointment of this 2011 campaign and they'll be watching the Super Bowl on television with the rest of the world.
Harbaugh changes the attitude in San Francisco
Rookie head coach Jim Harbaugh has freshened up the San Francisco 49ers and has made what should be a relatively ordinary team play without fear and with a little spring in their step. Under previous head coach Mike Singletary, I think the Niners were inhibited by knowing they would be torn off a strip every time they made a mistake.
That doesn't appear to be the case under Harbaugh. He has given long-time struggling quarterback Alex Smith a fresh injection of confidence and the former first overall pick in the NFL Draft has responded with a strong start to the new season. Smith fired three touchdown passes during a 48-3 win over Tampa Bay on Sunday night and, crucially, did not throw any interceptions.
The 4-1 Niners appear to be undergoing an attitude change. Harbaugh wants them to be cold and ruthless. And that's probably why we saw San Francisco going for it on fourth down when they were already leading by 38 points - we also saw them piling on the points even when their backups were in the game. With four wins under their belt, San Francisco are already pretty close to wrapping up the NFC West, particularly given the poor state of that division.
Moral victories suck
NFL players will tell you there's no such thing as a moral victory - they give too much of their bodies each and every Sunday to come away feeling good about losses in any shape or form. The Carolina Panthers will probably agree, even though pundits are falling over themselves to praise exciting rookie quarterback Cam Newton.
The Panthers pushed the New Orleans Saints all the way on Sunday before falling to a 30-27 defeat. That dropped Carolina to 1-4 on the season but they could very well have beaten the Arizona Cardinals, Green Bay Packers, Chicago Bears and the Saints by now.
But they didn't - and that means that while they are undoubtedly exciting to watch, the Panthers still have a lot of growing to do before they find their way out of the NFL basement.
Emotional win for the Silver and Black
Emotions were running high for the Oakland Raiders as they took on the Houston Texans one day after the death of legendary team owner Al Davis. And the Silver and Black came up with a massive win on the road, defeating the Houston Texans by a 25-20 scoreline.
Davis came in for a lot of criticism in recent years. First, some wondered what he was playing at when he chose a pot-bellied kicker by the name of Sebastian Janikowski in the first round of the 2000 NFL Draft. And we all felt he had completely lost the plot when grabbing wide receiver Darrius Heyward-Bey seventh overall in 2009.
On Sunday, Janikowski once again proved he is one of the best in the business as he nailed field goals covering 54, 55, 50 and 42 yards. And Heyward-Bey scored a vital touchdown on a 34-yard catch and run.
Maybe the old fella did know what he was doing in Oakland after all, even in his supposed golden years.
It's Tebow Time in Denver
Let me first say this - Tim Tebow is not the best passing quarterback on the Denver Broncos roster. That 'honour' still belongs to Kyle Orton, but only just. The incumbent starter is low on confidence and is not getting the job done for the disappointing Broncos. And he must get fed up hearing the fans call for Tebow every time an incompletion hits the floor. That has massively impacted on his play this season.
The fans got their wish on Sunday night as Tebow replaced the struggling Orton and almost rallied the Broncos to victory against San Diego (the final score was 29-24 to the Chargers).
Tebow is very much a work in progress at quarterback, but he is a born winner, a tremendous athlete and a fan favourite. He may not get the Broncos many more wins than Orton - you could argue he'll bring them fewer victories - but Tebow offers something Broncos fans have not had for a while... hope and a bit of excitement in their lives.
With the 2011 campaign already beyond the Broncos in terms of making the playoffs, Denver might as well find out what they have in Tebow. If he succeeds, everyone will be happy and they can shop Orton to another team. If Tebow sucks, what have they lost? Nothing. They will have fully discovered what they have in their young passer and can then move on accordingly. In the meantime, it could be a move that makes the Broncos much more fun to watch for the remainder of the year.
Big Ben strikes for Steelers
Watching the pre-game warm-ups in Pittsburgh on Sunday night, it was hard to imagine how Ben Roethlisberger was going to be effective for the Steelers against the Tennessee Titans. Nursing a sore foot, Big Ben could hardly walk and he was not expected to have much in the way of running game support with Rashard Mendenhall and Mewelde Moore sidelined through injury.
Steelers fans needn't have worried - Roethlisberger threw for 228 yards and five touchdowns and Pittsburgh were in control from start to finish, romping to a 38-17 win.
Pittsburgh still have their problems (offensive line in particular) and they are not considered Super Bowl contenders in the AFC, but we shouldn't write the Steelers off just yet. They have too much pedigree and talent to go from near the top of the pile to the NFL basement in such a short space of time.
Do you agree with Neil? Let us know by filling in the feedback form below. And you can follow him on Twitter @neilreynoldsnfl...