Alex Ferguson picks his best offensive and defensive players in American college football
Alex Ferguson reveals his top ten offensive and defensive players in American college football.
Last Updated: 22/08/13 12:34pm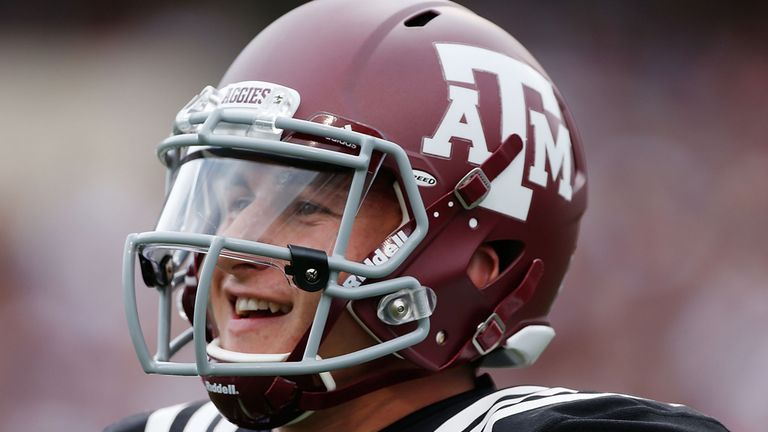 But who are the top players to watch out for? Alex Ferguson has the top ten players from offense and defence to watch out for this year in the college game.
Keep an eye on them... they may well be coming to your Sky Sports screens in 2014 and 2015 as the rookies of the NFL!
Offense
1. Johnny Manziel (Texas A&M)
'Johnny Football' won the Heisman Trophy in 2012 for America's best college football player, and it wasn't surprising. The player dazzled college football defences, passing for 3,706 yards and 26 TDs, while also rushing for an additional 1,410 yards and 21 TDs. He's a human joystick. NFL fans will be worrying about Manziel's maturity (he's not shown a lot of it this off-season), but right now, just enjoy it. We all will.
2. Marqise Lee (USC)
Sensational last season for Southern California, the 6ft third-year player seems to have sellotape on his hands. He can do the spectacular as well as the ordinary brilliantly. There is some speculation about a dodgy shoulder, but he insists he's 100%. College football secondary defences will hope he's not.
3. Teddy Bridgewater (Louisville)
Bridgewater impressed many last season, throwing for 3,718 yards and 27 TDs. He's seen by NFL scouts as being the real deal, with a powerful physique, a great arm, and a lot of people are saying he could be the top quarterback taken in the 2014 Draft. That remains to be seen - but at the moment, he'll be concentrating on trying to take Louisville to a National Championship.
4. Braxton Miller (Ohio State)
He reminds me a lot of Colin Kaepernick during his Nevada days. 'Braxton' (as he's lovably referred to in Columbus). He's a great leader for someone so young, he's improving all the time, and he can kill you with his legs and his proficient arm, which took the Buckeyes to a 12-0 record last season. He's a major reason why the Buckeyes are National Championship contenders this year.
5. AJ McCarron (Alabama)
In his four years as the starting quarterback at Alabama, all AJ McCarron has done is win. Sure, he's not had a 3,000 yard passing season, but that's generally because 'Bama coach Nick Saban's offense demands fantastic running backs over a highlight-reel quarterback. As a game manager, a kid with a great arm, and a pure winner, there's no better in the game than AJ.
6. Lache Seastrunk (Baylor)
This 5ft-10 running back is really, really fun to watch. He's quick, he can avoid tackles, and he's one of the most explosive players in college football. Although injured at the start of the year, he was fantastic last season, blazing for over 1,000 yards last season - and 100 yards receiving in just nine receptions. He'll form an excellent duo with Glasco Martin.
Although the jury's out as to whether he can take it to the next level as a pure power running back, there's no question that his speed will make NFL Scouts' mouths drop.
7. Sammy Watkins (Clemson)
There is no question that Watkins is talented. In fact, there's no question that Watkins could be one of the best wide receivers college football has ever seen (that's quite a list), and he could be a prodigious NFL talent. If he can overcome the major questions about his application (he said in the off-season that he didn't make the effort on some routes), he's one of the most dynamic receivers in college football.
8. De'Anthony Thomas (Oregon)
Nicknamed 'The Black Mamba' for his incredible speed, De'Anthony Thomas seems to be a little under the limelight this season - and maybe it's because of questions about his fitness. But if he stays healthy, Thomas is lightning quick and could be one of the best running back/punt returners to come into the NFL. He's got solid hands too.
9. Cyril Richardson (Baylor)
He might not be a playmaker in your eyes, but he's one of the most dominant lineman in college football. How else do you think Baylor put up all those yards last season? Because of pure speed? Nope. Richardson could well dominate in the NFL, too - and he'll certainly be a Top 10 pick come next year.
10. Amari Cooper (Alabama)
He's only a second year but he's already one - if not THE - best wide receiver in college football. Playing on a Crimson Tide that doesn't make mistakes, Amari Cooper frightened the life out of opposing secondaries - to the tune of 1,000 yards receiving and 11 TDs. Could this guy be the next Jerry Rice? Some people think so.
Defence
1. Jadeveon Clowney (South Carolina)
There is no question: Clowney is the most dominant defensive player college football has seen in years. The 6ft 6 defensive end has got lightning quick reactions and even in high school, NFL scouts were apparently saying that he was ready for the pros. Yep, he's that good. He eats quarterbacks and running backs for breakfast. This may well be the No.1 pick in the draft come 2014....if he decides to go pro.
2. Will Sutton (Arizona State)
One doesn't normally mention a defensive tackle as being 'exciting', but Sutton's 6ft 1in, 21 stone, and definitely worth watching for the future - particularly if he can add weight for the pros.
3. Louicheiz Purifoy (Florida)
Is he a corner? Is he a wide receiver? Is he a bird? Well, Purifoy could be all three. He's been described as 'electric' by some members of the US college football media. Oh, and he's a pretty damned good punt returner, too.
4.C.J. Mosley (Alabama)
CJ Mosley is one of the biggest stars at the top-rated university in the country - Alabama. Defensively, the linebacker was immense last year, making 107 tackles - including eight for a loss. He also had four sacks and two interceptions (including one for a TD) - and apparently this was all with a very sore shoulder. There is no doubt he'll be going places in 2014. To the very top.
5. Stephon Tuitt (Notre Dame)
This fantastic defensive end didn't stand out on the Notre Dame defence last year, because Manti Te'o was so darned good. But although Te'o's dead girlfriend was NOT for real, Tuitt's phenomenal 12 sacks and 47 tackles really were.
6. Bradley Roby (Ohio State)
We love Roby for a few reasons. First of all, he's a great cornerback (perhaps the best in the country), but he also returns punts and, not only that, he's one of the game's best talkers. We can't wait for his interviews if Ohio State get to the National Championship Game.
7. Anthony Barr (UCLA)
Converted from a running back in 2012, Barr ripped it up for the Bruins last season as an outside linebacker for Jim Mora's rejuvenated UCLA team. With 83 tackles and 13 ½ sacks, he's NFL material, despite some questions about his experience. Can you imagine what might have happened if he'd ALWAYS been a linebacker? We shudder to think.
8. Anthony Johnson (LSU)
Even after LSU lost a ton of talent this year, LSU's defence is still being talked about as being strong in 2013 - and Anthony Johnson is a massive reason. This dynamic defensive tackle had 30 tackles - including a team-leading 10 for a loss - last season, and we can't wait until he gets constant reps for the team in 2013.
9. HaHa Clinton-Dix (Alabama)
With a name like that, how could you NOT watch out for him? Seriously though, he had five interceptions, 37 tackles - including 23 solo - and a forced fumble and is thought of as being the most talented free safety in the country. So no laughs on opposing receivers for years to come, then.
10. Louis Nix III (Notre Dame)
'King Louis' may have been run over in the National Championship Game against Alabama, but for 12 games he was one of the best players on a very, very good Notre Dame team. The defensive tackle had 50 tackles, including seven and a half for a loss, two tackles and a forced fumble, and can be dominant again this year. The NFL scouts will like that he's bright, too.