NFL Draft 2014: Simon Veness looks back at the fallout
Simon Veness reviews the aftermath and fallout from an exhausting, rollercoaster 2014 NFL draft.
Last Updated: 15/05/14 9:24am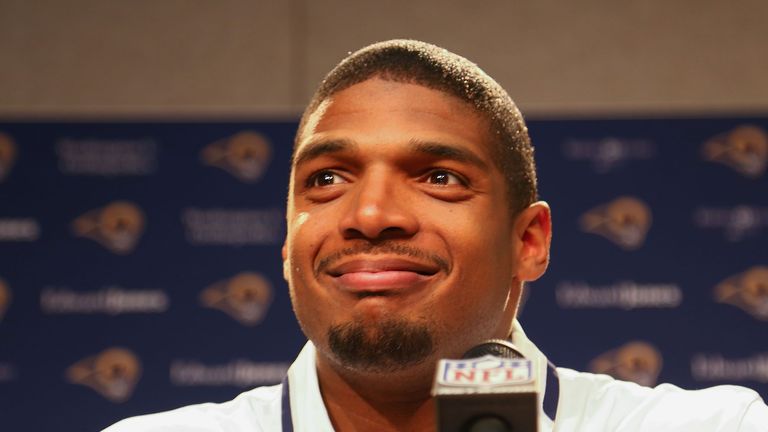 Can you have too much of the Draft and the myriad of stories that spin off from just about every pick?
And the answer is already in - you bet!
Yes, it was a college pick-fest rich in stories, from round 1 to 7; yes, the first day was a real roller-coaster ride, as we all waited to see where Johnny Manziel and his fellow quarterback class would land; and yes, the weekend focus on Michael Sam - the first openly gay player in NFL history - was laudable.
But did it really need to be stretched out over three days and, seemingly, 72 hours of live TV? Did we benefit from the mindless tweets of Miami safety Don Jones in a knee-jerk anti-Sam reaction? And did we have to be reminded with every pick by Cleveland that they haven't achieved a thing since dinosaurs roamed the Midwest?
Those were certainly the low points of a Draft that simply went on far too long, especially in the early stages of Saturday when, it seemed, most pundits were either punch-drunk from having to sit in front of the TV lights for so long or just plain drunk in a bid to survive the marathon ordeal.
Draft Downtime
We also had the additional agony of having to wait an extra two weeks before we even got to the Radio City Music Hall kick-off.
There is no immediate sign the NFL wants a return to an April date, despite howls of protests from media and coaches alike, the latter bemoaning the fact they have two weeks less to get their rookies sat in front of a playbook and the former (like me) just moaning.
The one thing we did learn from this year's process is that the league has a strong appetite (like double Madras on a Saturday night strong) for taking the Draft on the road each year, with the likes of Dallas and Chicago firmly in the frame for future staging rights.
Bye, bye, New York. It seems that getting Super Bowl XLVIII was your consolation prize and you, too, will have to follow the interminable events on the small screen in years to come.
However, if that was the down side of NFL Draft 2014 - or MMXIV, if we are maintaining the pigskin status quo (did you see what I did there with the double Latin lesson?) - there was still plenty to mull over and digest in more leisurely fashion once the TV cameras had departed and all the Kleenex moments had dried up.
And yes, that would be you Jadeveon Clowney and Michael Sam. Sheesh. Anyone would think you wouldn't know where or when you were going to be drafted. Oh, wait...
But I digress. There was certainly enough meat in this year's version of the Hit And Miss show, and much of it was centred on Cleveland (the city that hasn't won anything since the dinosaurs etc, etc).
We all knew in advance that Texas A&M quarterback Johnny Manziel would be the PR lightning rod for MMXIV and his slightly haunted gaze was hardly off our screens for the first couple of hours until The Commish stepped up and announced Philadelphia had traded the 22nd pick to the Browns and then the Johnny Football story officially hit overdrive.
Since then, we have been regaled with the fact that Manziel has the fastest-selling jersey in recent history and queried whether Johnny will become an Ohio resident due to the state's income tax laws (which require residents to actually pay income tax, unlike his native Texas - and Florida, Washington, Wyoming, South Dakota, Alaska and Nevada. Florida and Nevada I can understand, but South Dakota? Well, I guess you have to have some reason for people to go there!).
We have asked if the Aggies will rename their stadium The House That Johnny Built and started the countdown to the first bust-up between the player and the front office.
For the latter, consider these two salient facts:
1) The Browns have already announced access to the players (i.e. their first-round Draft pick) will be limited this off-season, and...
2) Owner Jimmy Haslam has already reminded Manziel he will start the build-up as the team's back-up, and would he please act accordingly?
This narrative is surely going to be the recurring theme through July, August and beyond and, if Cleveland thought they could blithely snatch this one-man publicity machine and just ride off into the sunset until September, they have got several major re-thinks to do en route to 100 Alfred Lerner Way (the official address of their FirstEnergy Stadium).
Not only that, but a slightly bigger footballing conundrum has been aired fairly extensively since weekend reports of star wide receiver Josh Gordon's potential full-season ban hit the daily news cycle harder than Chris Froome on l'Alpe d'Huez.
Almost to a man, the US sports media asked: "The Browns picked a new quarterback, knowing his top target could be MIA and they never selected even one new wideout with their other five picks?"
Sure, the likes of Miles Austin and Santonio Holmes are both still unsigned free agents, but can you honestly see either of those getting in the same zip-code as Gordon's 87 receptions and 1,646 yards in just 14 games in 2013? No, I thought not.
So, if Manziel is going to be the starter come September 7 at Pittsburgh, they are either going to have to hope third-round pick Terrance West develops into the second (and third) coming of Adrian Peterson, or they can try to prise another top receiving prospect out of someone like Seattle (Sidney Rice?) or New Orleans (Kenny Stills?). Watch this space, as they say.
Sam The Ram
Of course, we can't let any review of recent events pass without that seventh-round emotional explosion that was Michael Sam following his selection by St Louis.
As the first team to field an African-American player, the Rams have now completed a notable double with the openly gay Sam and that really will be an absolute TV-fest in the weeks and months to come as much of the news media wait to see if he makes the roster or not.
It is genuinely one of the most watchable stories on our pre-season calendar and you can be sure Sam the Ram will be the subject of any number of talk-show topics in that time (notwithstanding the fact his sexuality has already been criticised by none other than Donald Trump, that beacon of intellect and fair-minded clarity).
The former Missouri star certainly has a whole new fan-club already and, who knows, if he also starts against Minnesota on September 7, St Louis could well have quite a few new followers, too.
As a final thought on the weekend's events, and, as a closet Michigan State fan (it's my wife's family - long story), there are two players who signed as undrafted free agents this week who are worth keeping an eye on.
Max Bullough is a true bullock of a middle linebacker and is quite likely to catch on in Houston after signing a FA contract with the Texans (and how they have improved an already formidable defence).
Equally, Cincinnati may well have added a significant new defensive backfield hitman in the shape of former Spartan Isaiah Lewis - deemed too slow by some scouts who obviously didn't notice how hard he hit people in the Big 10 and the Rose Bowl last season.
If the old adage of 'defence wins championships' still holds true - and we know it does after witnessing Denver getting creamed all over the New York turf last February - then the Texans and Bengals are certainly going to be in the mix, and both the AFC North and South are going to be no-go zones for opposing offences.
You can hear the bruises going purple already...