NFL Draft 2014: Simon Veness was left confused by some selections
But credits Cleveland for their capture of Johnny Manziel
Last Updated: 09/05/14 9:47am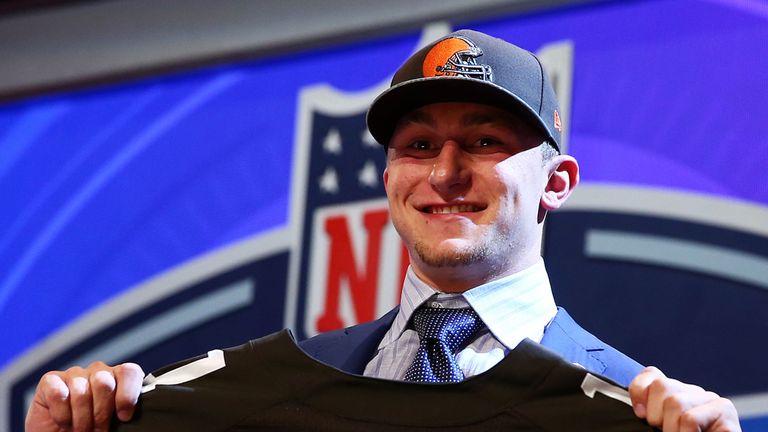 Jacksonville pulled the first rabbit from Roger Goodell's hat by claiming Orlando's homegrown star Blake Bortles at No.3. Buffalo then snuck in on the blind-side of The Commish to snatch arguably the best wide receiver since Calvin Johnson in the form of Sammy Watkins.
Oakland overturned almost 20 years of draft futility to pick up a player who could well make them tough to beat straight off the bat. And Dallas continued to confound their fans - and most football observers - by picking the most unlikely opening-round candidate going.
Cleveland's catch
But all of that was put in the shade when Cleveland traded back into the first round at No.22 to take Philadelphia's choice - and the NFL's seismograph was practically knocked off its axis by the Browns.
By all accounts, the roar that went up in the Forest City was akin to them beating Cincinnati in overtime as Goodell announced the Browns had picked Johnny Manziel, aka Johnny Football, aka Johnny Sweatypalms, after also taking outstanding Oklahoma State cornerback Justin Gilbert at No.8 (having traded down with the Bills).
As just about everyone who hasn't been away on a three-year assignment with the Starship Enterprise knows, Manziel was THE icon of the 2014 draft, a quarterback prospect with enormous upside but the potential to doom a franchise picking him in the top 10.
But Cleveland played their hand perfectly, grabbing a sure-fire starter in Gilbert to boost an already decent defence by dropping down just four spots and receiving an extra first and fourth-rounder next year.
The Browns had traded with Minnesota to move back up by one spot for the price of a fifth-rounder but the real meat of Thursday's 3hr 45min Radio City Music Hall epic was provided by the stealth bomber otherwise known as Cleveland general manager Ray Farmer, who snuck back into the opening night hoopla to snag a player seemingly everyone coveted but no-one was prepared to take a chance on.
It had already been a l-o-n-g night in the green room for the Texas A&M prodigy, the 2012 Heisman Trophy winner and a potential No.1 pick according to many draftniks. Both Mel Kiper and Todd McShay - my favourite draft fall guys - had predicted Johnny F would go in the top five, and Kiper remained adamant during the live coverage that Manziel was the best quarterback on the board.
We'll get back to the 'mock' drafters in a moment (with some serious mocking to come), but it was quickly obvious none of the most needy teams were thinking quarterback at all, let alone the most polarising player of recent years.
But Farmer clearly had a plan and, by giving up a third-rounder this year to the Eagles, he bagged the potential play-maker of tomorrow and, in the process, took Manziel out of the high-profile spotlight that had both over-inflated his value AND made him sweat in the TV spotlight like Mr Creosote in a Finnish sauna.
Now the Browns can start to plan for 2014 with an upgraded defensive backfield and a lower-value but high upside signal caller who can afford to sit behind Brian Hoyer for a while and actually learn his trade before needing to justify his high-profile moniker.
It also left each of Tennessee, Minnesota and Dallas to worry about what might-have-been as they all passed up on the chance to add Manziel before crafty Cleveland doubled down with the night's headline move.
Sure, the Titans will have a more solid offensive line after adding Michigan standout tackle Tayler Lewan. But will they rue the move if Jake Locker continues to be as fragile as a Faberge egg? Yes, the Vikings badly needed a defensive boost, and will almost certainly get it from UCLA linebacker Anthony Barr. But if their quarterback situation continues to resemble a revolving door, will they regret not rolling the dice on Johnny?
And Dallas - of all people, the Cowboys, with their penchant for looking for star power - also passed on The Passer who many thought would fit Jerry Jones' outfit like the proverbial glove, even allowing for their continued current investment in Tony Romo.
Crazy calls?
So, if Cleveland were the literal talk of the town, who else made all the right moves, while which teams were this year's footballing fools?
Well, it's probably no surprise at all to hear that most pundits were left scratching their heads at the 16th choice, which belonged to the Cowboys and limelight hound Jones. If ever there was a moment for the Dallas owner to seize the (first) day, it was with Manziel still on the board, along with a wealth of other offensive and defensive talent.
For Jones then to come up with Notre Dame offensive lineman Zack Martin - with all the challenges Romo had last season, while his defence was not so much an Achilles heel as an Achilles leg - is something that Texas football scribes will be working on for months to come. And, unless the Cowboys end their three-year run of play-off futility, you can bet this choice will resound in Valley Ranch with the boo birds.
Detroit are also firmly under the footballing question mark after reaching for North Carolina tight end Eric Ebron at No.10. They certainly need an upgrade at this key pass-catching position, but few observers thought Ebron worth taking this high. By the same token, Chicago's pick of cornerback Kyle Fuller was at the very least an eyebrow raiser.
He can certainly make the Bears' secondary stronger next time out but that wouldn't be difficult. And, when Marc Trestman's defence had all the run-stopping potency of wet toilet paper last year, surely they would have been better off with a run-stuffing lineman or linebacker? It's arguable that Michigan State's Darqueze Dennard - who slipped as far as a delighted Cincinnati at 24 - would have been a better bet than Fuller as his tackling ability was notably more prominent in 2013.
On the other side of the coin, Buffalo earned many plaudits for their bold swoop for wideout Watkins, a player rated as NFL-ready from the get-go in 2014. And the poor old Raiders confounded many by refusing to pass up on the chance to land a Mack truck for their linebacking corps. There should be some hesitant running backs willing to get to the second level of the Oakland D next time around and, while Dennis Allen's team still has many gaping holes to fill, this most assuredly means he has one less to worry about.
Of course, there was also the cojones exhibited by the Jaguars, who stated loud and clear that they think UCF quarterback Bortles is the next passing fancy, well ahead of both Manziel and Louisville's Teddy Bridgewater, who Minnesota snatched with a last-minute trade at No.32 with Seattle.
Many pundits felt we could see at least four passers get picked on the first night but, as it happened, there were almost only two.
Predictable surprises
And, having mentioned the pundits and those draft-board prognosticators, it really wasn't a stellar night for those who make a living at this kind of thing (which was pretty much what I had been saying for the past few weeks).
Mssrs Kiper and McShay had devoted fully 11 mock draft scenarios to predicting how things would all shake out once The Commish said 'Go!' But, after successfully sending Jadeveon Clowney to Houston and Greg Robinson to the Rams, things quickly unravelled for the terrible twosome.
True, they DID fruitfully nominate almost three quarters of the first-round names, but they matched up just FIVE players with the right teams in that 32, which isn't much of a success rate (barely 15%) after four months of boring us rigid with their mock version 1.0, 2.0, 3.0, etc.
Still, Clowney will not be arguing. Having wiped away his tears, he can now see his way to a multi-million dollar Houston future and the chance to team up with JJ Watt and form the most formidable defensive line since the third century BC, when Chinese Emperor Qin Shi Huang said, "This wall you have in mind, how long can you make it?"
And, if Houston still go 2-14 in 2014, I promise to give up this mickey-taking football mullarkey and get a REAL job.