Simon Veness looks forward to the NFL Draft and the likely first-round picks
Simon Veness looks at which men - other than Mr Manziel - may be selected early in the NFL Draft.
By Simon Veness
Last Updated: 08/05/14 10:58am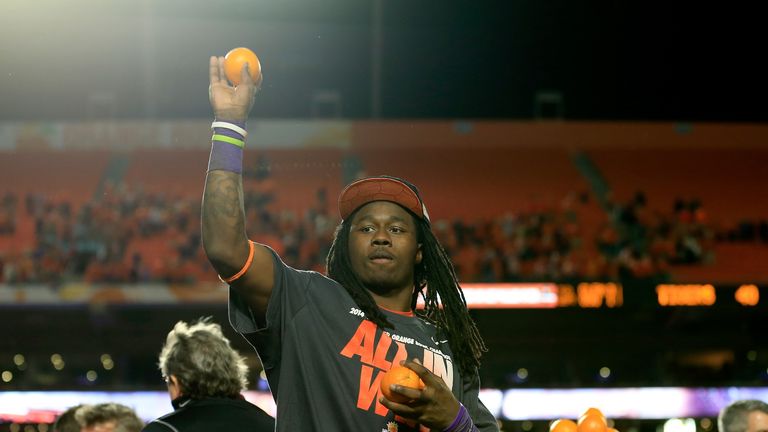 With the extra two weeks before the annual college pickathon, football fans on this side of the pond have been suffering from distinct Draft Fatigue, just desperate to get to Radio City Music Hall and GET THINGS STARTED. All right?
In that seemingly interminable void that has opened up between the normal April time slot and this year's May date, we have suffered from innumerable 'mock drafts' that have changed almost with the wind.
I'm tempted to say it makes a mockery of the whole process, but it's worse than that.
The pontificating has gone on for SO long and with SO many variables over such a short time, the various mocks have changed more times than Victoria Beckham at a fashion show.
Mel Kiper and Todd McShay are seen as the godfathers of the Mock Draft boards, lords of all they survey and oracles to be quoted at every opportunity. Yet here's a look at who they have 'drafted' in the five mocks they have created (SIX in the case of McShay), dating back to December:
Kiper: 1.0, Johnny Manziel (to Houston), Jake Matthews (St Louis), Jadeveon Clowney (Jacksonville), Blake Bortles (Cleveland), Sammy Watkins (Oakland); 2.0, Manziel, Greg Robinson, Clowney, Teddy Bridgewater, Watkins; 3.0, Khalil Mack, Robinson, Clowney, Bortles, Bridgewater; 4.0, Clowney, Robinson, Watkins, Manziel, Mack; and 5.0, Clowney, Robinson, Watkins, Manziel, Mack.
McShay: 1.0, Bridgewater, Matthews, Bortles, Manziel, Clowney; 2.0, Clowney, Robinson, Bridgewater, Bortles, Manziel; 3.0, Bortles, Clowney, Bridgewater, Manziel, Watkins; 4.0, Clowney, Robinson, Mack, Bortles, Watkins; 5.0, Clowney, Robinson, Watkins, Manziel, Mack; and finally 6.0, Clowney, Robinson, Watkins, Manziel, Mack.
That's eight different players over 11 different mocks, and only ONE (Clowney) appears in all 11. There are five No.1 choices at various stages and only one player, Robinson, appears consistently in the same slot (No. 2).
Moggy
Only Matthews, Watkins and Robinson are not tabbed as potential top picks. Kiper has picked our 'local' boy, University of Central Florida product Bortles, only twice while McShay has nominated him four times.
But, after all the back-and-forth and disagreements, McShay and Kiper are in full agreement of the Nos. 1-5. Well whoop-dee-doo. It's as if all the jockeying and previous versions were just there to fill air-time and print space. Wait - did I just let the moggy out of the proverbial bag?
Here's another example, using their five different versions over who they would pick for Philadelphia (at No.16):
McShay: CB Ifo Expre-Olumu, CB Darqueze Dennard, CB Bradley Roby, WR Marquise Lee, CB Justin Gilbert.
Kiper: WR Kelvin Benjamin, WR Odell Beckham Jr, S Calvin Pryor, Benjamin, Benjamin.
So at least Kiper is reasonably consistent with Florida State wideout Benjamin, but otherwise we're still looking at EIGHT different selections over just four months for the SAME team picking half-way through the first round.
Are we really supposed to take any of this seriously?
The simple answer is no. All this noise is simply the equivalent of tail-gating before a game - entertaining, fun and raucous, but absolutely irrelevant in terms of the outcome of the game itself.
Oh, and this particular tail-gate party has gone on SO long the meat has been burnt to a crisp and the potato salad has congealed into a totally unappetising lump.
Now we can finally tune out the noise and concentrate on the reality. Commissioner Roger Goodell is ready to step up to the microphone and announce the Texans as being on the clock, and the fun and games can REALLY start.
For, make no mistake, this is a HUGE draft both in terms of last year's also-rans and the sheer unpredictability we are about to witness.
Misdirection
Absolutely no-one - not Kiper, not McShay, not Mike Mayock, not Uncle Tom Pigskin - can have any confidence about what will happen once Houston set the ball rolling.
This year has been notable for one single thing - smokescreens. Teams have put out more mis-direction and mis-information than President Nixon at a Watergate reunion.
The extra time hasn't helped, of course, but the simple fact is teams now have so much tied to their first-round choices they are desperate to keep things close to their chest and give slightly less than nothing away. It's a game of high-stakes poker with no-one breathing, let alone talking.
It has obviously been a truly tortuous process for the fans, who have been left to sift through months of meaningless chatter and blathering, but we do, at last, get to the end game, and it promises to be a belter.
All eyes remain firmly fixed on Johnny Football, Texas A&M's polarising quarterback, who is either a sure-fire game-winner or another Tebow-like bust with a million off-field issues.
There are any number of possibilities for the mercurial college star, from No.1 to second-round obscurity, and virtually every point in between. He has become the lightning rod for this year's draft, so full of promise yet so apparently unready for an NFL future.
As far as us armchair fans, though, it is the best possible scenario, and one that is sure to have us on the edge of our seat throughout the first evening and conceivably well into the second.
The intrigue and options are thrillingly widespread and open to every outcome, from the obvious choice to a wild card pick and even trading down from the early selections altogether.
You only have to consider the number of teams linked with Manziel - who include at least 12 different contenders and possibly everyone except Seattle, San Francisco and Denver - to realise the enormous scope of what's about to unfold and how many different directions things can go once The Commish signals the off.
Seasoned draft watchers like Sports Illustrated's Peter King have notably cautioned about making any kind of hard-and-fast predictions, and that plays even further into the delicious anticipation of the event itself.
Proven
There will be more edge-of-seat drama than just Manziel as well.
Most scouts rate this one of the deepest drafts in recent years, hence teams will be looking for - and expecting - instant upgrades, and woe betide any general manager, especially among last season's also-rans, who pulls out a raspberry instead of a plum.
The misses will resound more loudly than the hits, you suspect, and not landing a proven performer in May will be tantamount to a resignation letter in December.
Wide receiver promises to be a particular rich vein this week, with all of Clemson standout Watkins, LSU's Beckham Jr, Mike Evans (who caught 17 touchdown passes from Manziel in two headline seasons), Oregon State's Brandin Crooks and Lee of USC likely to hear their name called in the first round.
Equally, there are no less than seven offensive lineman who could get an early call, continuing the trend from last year when nine pocket protectors were chosen among the first 32.
And, for the second year in a row, it looks like there will be no running back called on the first night, highlighting how the value of front-rank ball carriers has fallen since Adrian Peterson was called at No.7 in 2007.
Last year, Cincinnati tabbed Giovani Bernard at 37 as the first back and the pundits think University of Washington tailback Bishop Sankey will be the initial choice this time, at some stage on Friday night.
For those thinking back to 2013, there were also a staggering TWELVE trades among the first 32 picks, and I think that, more than anything else, should prepare us for Thursday's night's potential manoeuvers.
As Oscar Wilde once said - admittedly not about anything sporting - expect the unexpected. Oh, and as someone from a football background certainly said, have plenty of popcorn ready.