NFL Draft 2014: Simon Veness says picture is full of question marks
Simon Veness sees the pre-Draft scenario take a very murky turn
By Simon Veness
Last Updated: 08/05/14 7:49am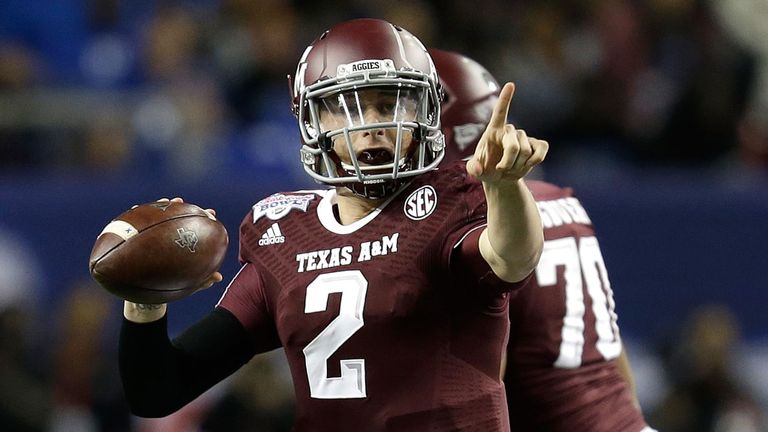 Prussian military analyst Carl von Clausewitz first coined the term 'the fog of war' back in 1837, and various authors and commentators have used it ever since, notably in American film director Errol Morris' Oscar-winning documentary of the same name in 2003.
But the fog of war barely begins to explain the current interpretative status of this year's NFL draft, just 17 days away from its annual outing in New York.
OK, so I have been on my travels for the past two weeks (in Germany, Austria and Switzerland, and highly recommended, too), hence I am still playing catch-up, but when I left, the pre-draft talk was all about Johnny Manziel's pro day, how Blake Bortles could actually be the first passer chosen and the general quarterback-worthiness and depth of this year's class.
Now, all I am reading is more question marks about Manziel; how Houston (with the top pick) would be crazy to overlook defensive lineman Jadeveon Clowney (who was the player with all the queries against his name the last time I looked); and how Louisville quarterback Teddy Bridgewater – previously considered a possible No.1 for his position – might drop out of the first round completely.
Not only that, but University of Buffalo linebacker Khalil Mack and offensive lineman Greg Robinson of Auburn are ALSO now being touted as potential top selections, which means the Texans could possibly select any one of FIVE players with the opening move in Radio City Music Hall.
It's not so much the Fog of War but the completely-impenetrable-and-impossible-to-fathom Wall of Doubt that now surrounds this year's draft. The closer we get, the less we can predict and the more reservations that cloud the whole process.
I categorised this year's annual pigskin pick 'em as "deep," but I also want to amend that to add another choice word – desperate, as in "we're desperate to find the right player but are just baffled as to which one IS that ideal choice."
Simon Veness
How about this for an example – Mel Kiper, that doyen of draftniks, has recently published his Draft version 4.0, listing his top five picks (for Houston, St Louis, Jacksonville, Cleveland and Oakland) as Clowney, Robinson, Clemson wide receiver Sammy Watkins, Manziel and Mack.
Yet version 1.0 had this rather different Famous Five: Manziel, offensive tackle Jake Mathews, Clowney, Bortles and Watkins. He also had Bridgewater (now struggling to be a first-round choice in many eyes) going to Minnesota at No.8. That was in January, barely three months ago.
No player has played a single down since then and, while we have had the scouting combine and various pro days, the only REAL thing making the players go up and down on the various draft boards – is speculation from the likes of Kiper and Co.
It's baffling; it really is. And the closer we get to the event itself, the more that smoke, bluster and rumour somehow becomes 'evidence' of a player's worth.
And the more it becomes in a team's interests to put out false information about their leanings on May 8 (and 9 and 10).
Hogwash
I know I've said it before, but I will say it again – just about all of these so-called draft predictions are just so much hogwash it makes you laugh (or scream, depending on your team's position in the all-important first round).
No-one – and I mean no-one outside the inner sanctum of each team's own draft selection committee – actually really KNOWS what each franchise is thinking about how they prepare for the most highly-anticipated day in the NFL calendar outside the Super Bowl itself.
We can speculate on each team's most pressing needs and quote 'team sources' all we like, but there is no real understanding of who-goes-where once Commissioner Roger Goodell tells Houston they are on the clock at 8pm EST on that Thursday in May.
But it highlights the enormous industry that has grown up over the whole draft process, from the analysis of each player, to the rather arbitrary demands of the combine and the frankly absurd shenanigans of the hopelessly artificial pro days staged by colleges for star players like Manziel (whose spell in the pass-throwing spotlight was as much an exercise in showbiz as sport).
Want another example of the out-and-out absurdity of it all? Here's what was said about one highly-touted prospect in 2007 (by ESPN's highly-regarded Todd McShay, no less).
"I can't remember being in such awe of a quarterback in my decade of attending combines and pro days. His passing session was the most impressive of all the pro days I've been to. His footwork for such a big quarterback was surprising. He was nimble in his dropbacks, rolling out and throwing on the run. The ball just explodes out of his hands."
The player in question? None other than Oakland mega-bust JaMarcus Russell. And, while it doesn't necessarily make Todd a McMug, it should serve to demonstrate the clear nonsense that comes into play at this time of year.
Just take the NFL Network's blanket coverage of the event – with a daily Path to the Draft show (that's an hour of chatter each evening), a Draft Ticker that has already been counting down to the kick-off – second by second – for weeks already, and a stunning 36 hours of live draft coverage. If you're not exhausted just reading that, you seriously need to think about switching to decaf.
The one thing we CAN say about this year's process, though, is that it is wide open. The experts clearly cannot agree on a consensus No.1, while the wide range of possibilities for the top 10 could keep us guessing for weeks.
One team executive has described the choices at quarterback alone as "torturous" and, while that may also be the best way to sum up all the pre-draft hype, it serves as the perfect metaphor for the torment that must be going on within the various war rooms of each team as they battle to make sense of the options.
Back in early March, I categorised this year's annual pigskin pick 'em as "deep," but I also want to amend that to add another choice word – desperate, as in "we're desperate to find the right player but are just baffled as to which one IS that ideal choice."
And how about another D-word for Draft Day – deadly. Because the team that makes the wrong choice – and there will certainly be at least one in this Russian Roulette of a year (and no, I'm not necessarily looking at the Raiders here, even though their recent quarterback choices include the less-than-household names of Marques Tuiasosopo and Andrew Walter as well as Russell) – will almost certainly be facing a long, miserable season of second-guessing, and, most likely, widespread firings at the end of the year.
What that little catalogue of misery really means, of course, is that the day itself should make for absolutely riveting viewing (all live on Sky Sports). There are going to be an awful lot of sweaty palms as the clock ticks away on May 8 – and we can then all rush to judgement on who Picked A Peyton and who are this year's Russell Rascals.