Simon Veness reviews a crazy week in the NFL's free agent frenzy
Simon Veness reviews a crazy week in the NFL's free agent frenzy, as sides splash out over $1bn.
By Simon Veness
Last Updated: 20/03/14 10:41am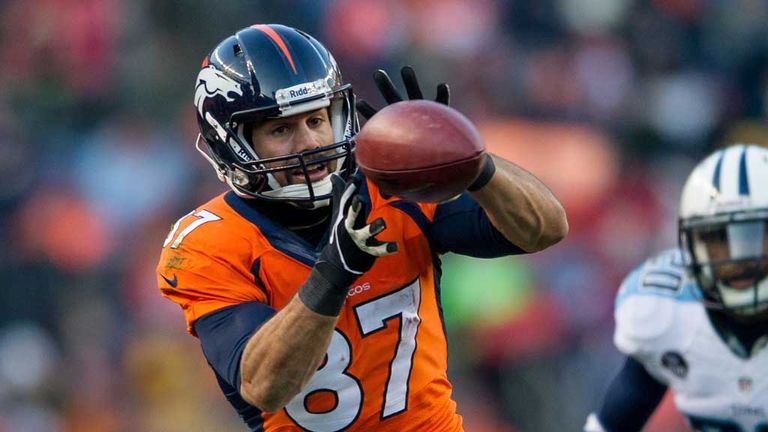 Des-per-a-tion (noun); a condition of recklessness AND hopefulness brought on by not winning the Super Bowl last season.
That can be the only conclusion to the absolute feeding frenzy we saw, notably by Denver, Atlanta, Miami and Tampa Bay, as Tuesday's deadline for the free agent period clicked to 'Open' and pigskin wallets (almost) everywhere burst open at the seams.
Peter King of Sports Illustrated calculated that the first nine HOURS of free agency saw the total value of all contracts either agreed or signed surpass the $1b mark, and that was before the New York Jets snapped up Eric Decker for $36.25m, New England bagged Darrelle Revis for $32m (albeit with some disagreement over the $20m second-year figure) and Chicago splashed $44m on two defensive linemen in the shape of Lamarr Houston and Willie Young.
That's an awful lot of Benjamins for a free agent class that most pundits had dubbed 'mediocre' well in advance. It's also a massive leap of faith for the teams in question, as recent history suggests that March's big spenders are not February's champions.
Consider this little triumvirate from the past three years - Miami, Buffalo and Philadelphia. Each was the biggest of spenders in each of the previous three campaigns and none of them even reached the play-offs in those years.
Then look at the make-up of the teams that have actually walked off with the Vince Lombardi silverware in recent years and the contrast becomes even starker.
Seattle feature just two significant free-agent signings in 'Beast Mode' himself, Marshawn Lynch, and tight end Zach Miller, with those two counting $19.5m towards last season's salary cap. It is also possible to argue Lynch has been rather better than value for money in the NFL's inflated world.
The core of the Seahawks line-up - notably quarterback Russell Wilson, secondary studs Kam Chancellor and Richard Sherman, and linebacker Bruce Irvin - were all solid draft picks, while the handful of other FA acquisitions were bargain-basement signings.
Equally, 2012 champs Baltimore were heavy on building through the draft and the previous year's winners, the New York Giants were also relatively free agent-light.
Go back to 2010 and it was Green Bay, same thing. Ditto for New Orleans and Pittsburgh in the previous two years. None of them actually bought their way to success via the FA market. Even Drew Brees, the Saints' big free agency acquisition in 2006, was arguably the bargain of the decade at just $10m a year.
No game changers
If there's a Brees in this year's big FA scramble, it's unlikely to be 35-year-old Josh McCown, the new Dolphin, and the only quarterback among the plethora of signings in the first three days (with the cash whirlwind looking like it had blown itself out in that period).
In fact, there is no obvious game-changing signing among ANY of the 100 or so names that have changed teams this week, which makes the huge amounts of money being thrown around even more baffling.
Sure, Denver have upgraded a couple of positions on a defence that ranked 19th last season, and they will be harder to pass on next time around with Aqib Talib in the secondary. Who knows, DeMarcus Ware might even be more of an asset in stopping the run than he was for Dallas last season (which wouldn't be difficult).
(And, talking of Dallas, while I ragged on them last week for their failures in recent years, they were noticeably absent from the free agent free-for-all, which ought to make all Cowboys fans breathe a bit easier for now).
But, for the Broncos, our lasting memory of them - and certainly the most recent - is of their much-vaunted offence being taken to the cleaners, stripped naked and hung out to dry by a Seahawks defence that dominated them from first minute to last in XLVIII.
So why they feel they need to re-tool the defensive side of the ball with almost $100m of new signings is a bit of a mystery, especially as they allowed their second-best receiver to walk out of the door without, apparently, even offering him any kind of deal.
Instead, Eric Decker - with 87 catches for 1,288 yards and 11 touchdowns - is now a Jet and, while Peyton Manning still has plenty of people to throw the ball to, it remains to be seen HOW he will be able to throw the ball in the light of the lesson Seattle gave the whole league in New York last month.
Likewise, Miami topped the $100m mark in FA signings and re-signings, but almost all on a defence that ranked 21st overall last term, and next to nothing on an offence that ranked 27th.
Sizeable
The Buccaneers are even more "all in" on free agency, with $110m-worth of new talent - and counting. The Lovie Smith era on Florida's west coast is clearly going to start with a fairly sizeable new broom but, again, you have to question the wisdom of throwing SO much cash around in March.
In each case - but especially that of the Broncos - it seems a case of "Must win now," and never mind how the finances stack up long-term.
It certainly smacks of desperation in the case of John Elway's team, a last, hectic throw of the dice to keep them not just at the top of the AFC heap but also able to get over that huge hurdle Pete Carroll has constructed in front of the next few Super Bowls.
Because make no mistake, the Seahawks are the new gold standard in the league, the same way as the Patriots were from 2001-05, the Cowboys from 1992-95 and the 49ers for most of the 1980s.
Any team that wants to triumph in the next few years is going to have to come up with an offence that can handle the kind of punishment Richard Sherman and Co dish out and, purely and simply, what we've seen in free agency this week just isn't going to get the job done.
Hence there is more than a hint of hopeful recklessness in the air right now and all those teams that have just bet the mortgage on the free agency route to success had better be thinking the last few years are NOT a sign of things to come.
But then there's always the draft, right...?