Simon Veness tip-toes through a quiet NFL off-season
Simon Veness reflects on an unusually quiet NFL off season and considers what could be around the corner.
By Simon Veness
Last Updated: 08/03/14 9:07am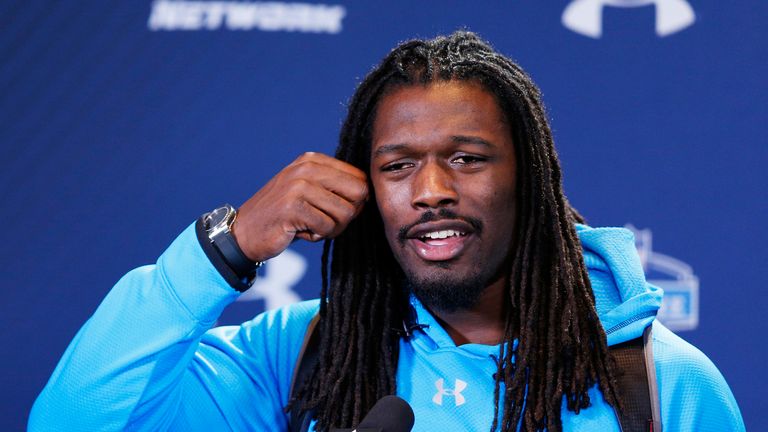 No, neither can I. And I've been listening pretty hard, I can tell you.
In fact, it has been the quietest few weeks for the NFL I can remember in the past 10 years.
There have been no major player indiscretions, no great rumours of imminent mega-trades, no big contracts signed, and no pronouncements of dream teams or play-off places guaranteed. All quiet on the whole league front, if it comes to that.
Sure, there have been a few contentious murmurings of discontent over in San Francisco, where the possibility of Jim Harbaugh being traded to Cleveland briefly surfaced as a near-fact and then swiftly submerged again, along with dark hints of some players being "tired' of their head coach.
We've even had the usual silliness from Dallas, with reports of Jerry Jones complaining about the salary cap system that has limited him to zero Super Bowl appearances in the past 18 years (and three straight 8-8 seasons). Nothing about lousy choices as head coach, poor draft picks and over-paying for ordinary players, then Jerry?
But that's just par for the course down Texas way, where every ripple is immediately magnified into a tsunami of impending doom.
No, not even the Cowboys' continuing ineptitude is enough to break us out of our footballing furlough, a prolonged period of pigskin stasis where Nothing In Particular continues to get the headlines and the merest hint of a rumour of a story is enough to bring the scribes running at the double.
The first over-riding fact is, there is a very mediocre free-agent crop this year and very few of the names have set the front-office pulses racing - especially once New Orleans confirmed they had put the franchise tag on tight end Jimmy Graham. And few fans can get excited over the prospect of Eric Decker as a leading wide receiver prospect or the 35-year-old Champ Bailey as a free agent (especially after seeing Ed Reed fail fairly spectacularly at a post-Baltimore career with Houston at the same age).
Sure, there might well be a brief feeding frenzy if Dallas do cut DeMarcus Ware, and sure, Buffalo safety Jairus Bird will make somebody's secondary a LOT better in 2014.
Yet, in their current Top 101 free agents, NFL.com can list only ONE 'Top Tier' likely lad (Bird), and virtually everyone else comes with a serious caveat, drawback, down-side, negative aspect or just a straight 'Blah' rating. It's unlikely teams are going to turn themselves into contenders by bringing in a bunch of FA's in the next month or two (are you listening, Jerry?).
Impact
So what does all this mean in the wide world of the National Football League?
Simply that - over-riding fact No. 2 - everyone is keeping their powder dry for this year's later-than-usual Draft, when there will be at least three and possibly four consensus first-round quarterback picks (remember, there was only one in 2013) and a positive wealth of talent at wide receiver and offensive line.
Many general managers are counting on the whole first round providing immediate-impact players, while the word 'deep' is bandied around with reckless abandon by many observers about the Draft in general.
Atlanta general manager Thomas Dimitroff insists: "In my mind, it's a fantastic top 10 Draft, and throughout the first round there are some marquee players who are going to be impact-type players in this league for a number of years to come."
Pittsburgh's Kevin Colbert pronounced it: "The deepest draft I've ever seen." And Jason Licht, the new GM at Tampa Bay, agrees: "Best draft I've seen."
Unlike last year, we can be pretty sure the top two will not be offensive linemen, and those in that vaunted Top 10 will have rich pickings indeed, with the promise of an instant boost to be had with the right pick.
That means the pressure is really on in Houston, St Louis and Jacksonville, the teams currently standing at numbers one to three in the Draft order, as the clear inference is 'You'd better get this right or look like complete dummies.'
It partly explains why all three of the above have steadfastly refused to give any significant hint of which may they might go come May 8. But only partly.
The other reason - many would say, the REAL reason - for so much clear fence-sitting at this stage as there just is NO consensus No. 1 pick, no sure lock to be the next Troy Aikman, Peyton Manning or Andrew Luck (or even Eli Manning, come to that).
In all the recent mock Drafts I've seen, there have been no less than five different No.1 choices and THREE as to the best quarterback of this year's crop, from Blake Bortles of the surprising Central Florida Golden Knights, to Louisville's Teddy Bridgewater and Texas A&M's mercurial Johnny Manziel.
Choice
If there is a majority choice as the best overall player available, it is South Carolina defensive end Jadeveon Clowney, but few Draft experts think the Texans' greatest need is on defence, and most see them grabbing a quarterback. They just can't agree which one.
Bortles has become the current trendy choice, although Bridgewater is rated the "most NFL-ready" and Manziel could go anywhere from No.1 to the third round (with ESPN analyst Ron Jaworski being the one to insist he wouldn't take Johnny Football in the first two rounds).
If all that gives you a sense of the current wait-and-see attitude developing inside many front offices (especially those in the Top 10 frame), it is certainly how it seems from my vantage point. Of course, I have yet to take the pulse of my good friend and Draft guru Tom Shaw, whose private coaching academy here in Orlando helped secure no less than four first-round selections in 2013, and Coach Shaw usually has some canny insight into the available talent.
But I do know that the last time there was a complete feeding frenzy over the quarterback position at the top of a Draft - in 1999 - it didn't end well. That year, signal callers were picked one, two AND three but only one of the trio went on to enjoy any kind of NFL career.
The threesome in question were Tim Couch, Donovan McNabb and Akili Smith, and two of those proved to be particularly embarrassing busts for Cleveland and Cincinnati respectively. Cleveland are STILL trying to find their quarterback-of-the-future 15 YEARS later, and some would say the Bengals might be, too, after the way Andy Dalton imploded in last season's play-offs.
The message is crystal clear, however. You'd better be 100 per cent certain of your man at the top of this year's Draft as there is plenty of scope to get it wrong.
Just for once, Dallas fans might be happy they are picking at No.16.