View from America: New York embraces XLVIII with dangerous obsession
Super Bowl or Weather Bowl? New York is building up with a cold obsession, says Simon Veness.
By Simon Veness
Last Updated: 29/01/14 11:45am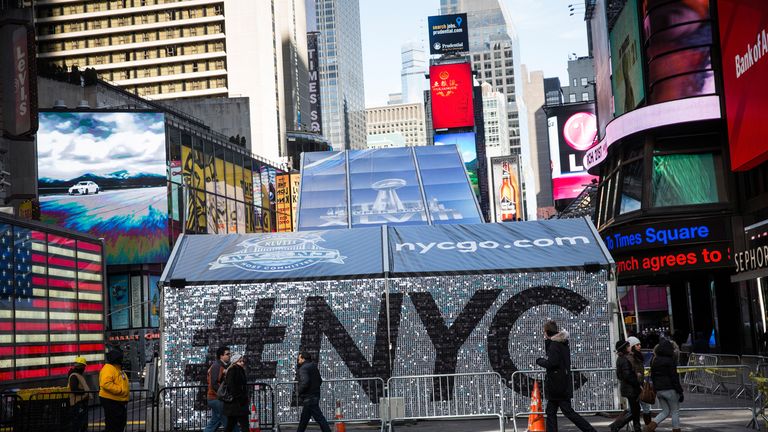 It came courtesy of local Fox TV channel WNYW and their meteorologist Nick Gregory, and it succinctly summed up New York's take on XLVIII.
This isn't the Super Bowl - it's the Weather Bowl.
Sure, there will be a game at the end of the week, and it's likely to be an absolute sizzling match-up of opposites, a study in contrasts from two of the most elemental forces in the game, and possibly even in NFL history.
But to get there, we are going to have to run a gauntlet of meteorological obsession, a complete fixation with what the elements will provide between now and then; weather mania, if you like.
Because it is not just the Fox folks who seem to lead every news item about this week's historic sporting event in this way, it is every TV station, radio outlet and even the army of cheery yellow-jacketed volunteers who are omni-present around every Super Bowl happening.
"Welcome to Media Day. Stay warm!" Ah yes, warmth. I remember that from my usual home of Orlando, Florida, before the 130-minute flight to Newark, New Jersey, and the start of this week's pigskin odyssey to the first open-stadium title game in a northern city.
Yet the actual temperature is only part of the climate picture. They are SO aware of the significance of being a trail-blazer for "real football weather" that just about every report is seemingly framed with terms like 'Wind-chill factor,' 'Wintry precipitation,' 'Polar vortex' and 'Freeze advisories.'
It is not so much a question of being cold, but exactly HOW cold we will be, and if it will be the temperature or the wind-chill that does us in.
I'm not kidding. I know for a fact it was 44F when I landed on Monday, but it dropped to 23 with an extra chilling wind that made the real temperature feel like 13 (around -10C). I know because I was told repeatedly, on TV, on my phone and on a variety of billboards around the sparkling colossus that is the Big Apple.
You are left wondering if we will hear first-and-10-degrees on Sunday night, or fourth-and-freezing.
Of course, this being the world of Michael Fish's American brethren, things change in forecast terms at regular intervals. At the weekend, we were told the game was likely to kick off in temperatures barely above freezing and with a decent chance of a "wintry mix" of rain, sleet and snow.
Today, it has become a possibility of snow sooner but a 'balmy' 40F on Sunday. Positively tropical by New York February standards.
Ice Age
No wonder the fans of Denver and Seattle are conspicuous by their absence in the early going (I can confirm several Bronco jersey sightings, while I also have an unconfirmed report of a Seahawks follower in the stands watching Media Day). It has been built up so far as a mix of Game Day meets Ice Age, with a touch of The Day After Tomorrow thrown in for good measure.
This all-encompassing preoccupation with all things climatological will ease off, happily, as we near the weekend and we can focus more on matters like how Peyton Manning will unlock the concrete pillbox that is the Seattle defence and how Marshawn Lynch can translate his newly-announced advertising deal with Skittles into something more satisfying in sporting terms.
The actual big-game build-up has been a slow burn so far, though, despite the best efforts of the Yellow Jackets (think of a cross between Butlins' redcoats and cheerleaders, although without the pom-poms).
New York is simply too substantial an entity in its own right to let a little thing like the world's biggest annual sporting event take it out of its famous wintry stride.
In other Super Bowl cities, we're used to seeing shop after shop stocked with souvenirs and apparel covered in the appropriate Roman numerals. But not here. Elsewhere, there are numerous visual reminders of what the Week is all about. But not here. And, while most host cities provide a central focal point that aims to draw fans into the proper party spirit, it isn't the case here, either.
Here in Manhattan, the billboards still shout about the latest Broadway show and the newest cinema or TV sensation. Your attention is snared by fancy restaurants and high-end fashion houses, not XLVIII, Peyton Manning and the Legion of Boom.
Sure, there is the Fox Sports TV centre just next to Times Square, and the 50ft toboggan run taking shape on "Super Bowl Boulevard," a 13-block extent of Broadway devoted to fan frolics. But they are lost in the immensity of downtown New York, with its canyons instead of streets and glaring neon signage instead of walls.
You could sail the Queen Mary 2 along Seventh Avenue and no-one would bat an eyelid. It is that kind of city. The Super Bowl? Just take your place among the myriad of other eye-catching outlets and presentations, and no end of yellow-coated supporters will be able to change that inherent characteristic.
Behemoth
Which isn't to say it's a BAD place for the NFL's title decider, just different. It is a theatrical behemoth of a location, overloaded with skyscrapers and show facades, the glittering and the not-so-glamorous, choked with traffic and yellow cabs to match the volunteers.
The fact much of the focus is here in downtown while the game itself is across the river divide in New Jersey is another awkward element in proceedings, a bi-polar position that absolutely killed the Super spirit in Dallas (sorry, "North Texas") and which also dilutes the hoopla surrounding XLVIII.
It is fighting an uphill battle in almost every direction and the best it can realistically hope for is an honourable draw with Frank Sinatra's famous home.
But, ultimately, we do have The Game. And, in the course of the next few days, it will be more of a case of Manning v Wilson and Thomas v Sherman, rather than Weather Forecasters v The Climate and Super Bowl v Hyperbole.
It is a truly fascinating prospect and, in the end, it will all play out on the same gridiron we are used to seeing every week of the NFL year. The city will fade into the background and it won't matter if it's New York or Newcastle. All bets will be on, and trying to work out if the Broncos or Seahawks will carry the day will be more satisfying than predicting the weather.
Mind you, my wife just called and it is 79F back in Orlando today. Pass me another scarf...