Super Bowl XLVIII: Denver and Seattle set up classic encounter, says Simon Veness
Denver and Seattle set for a classic Super Bowl battle after their championship wins, says Simon Veness.
By Simon Veness
Last Updated: 20/01/14 8:56am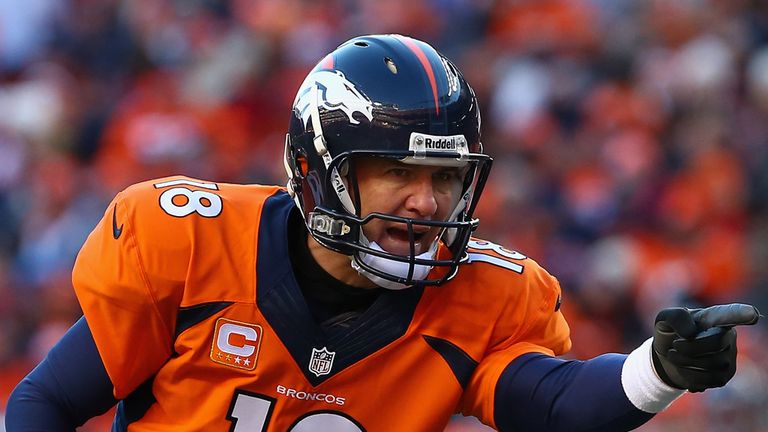 Every time the gunslinger reaches for one of his pistols, Nobody beats him to the draw of his own gun with one hand while slapping him sharply with the other. And each time the gunslinger reaches for his other gun, Nobody repeats the punishment with alternate hands.
It is a timeless piece of slapstick that is as much to do with sleight of hand as it is with camera tricks. The poor old gunslinger never has a chance and is left battered and bemused as he tries to figure out how he has just been so publically humiliated.
Which is pretty much how the New England defence must feel this morning after a complete public undressing at the hands of Peyton Manning in Denver's not-as-close-as-it-looked 26-16 dismissal of the Patriots.
In an astonishing piece of pigskin manipulation, Manning went toe-to-toe with Bill Belichick's defence and, as fast as they reached for one of their weapons, Peyton disarmed them and delivered a painful slap instead.
Third and 10 at the Denver 42? Here's a 29-yard pass to Demaryius Thomas. Slap! Third and 9 at the Denver 19? Take this 14-yarder to Wes Welker. Slap! Second and 20 at the Denver 10? Here comes another stinging 26-yard dart to Thomas. Slap! Second and 10 at the Denver 25? How about a whacking 37-yarder to Julius Thomas. Slap, and slap again.
Every time the New England defence thought they had their man dead to rights, pow! Along came another unseen left or right-hander that left them increasingly discombobulated and unable to stop the aerial assault in any way whatsoever.
In all, Manning delivered 400 yards-worth of slaps, going to eight different receivers and finding new ways to deal Belichick's men another stinging blow just when they thought they might have, finally, bottled up the Denver genie.
The Patriots were without top cornerback Aqib Talib for much of the game, of course, the human blanket who might well have been able to stop some of those big gains to Demaryius Thomas. But even Talib would have been hard-pressed to halt the slap-fest as the Broncos quarterback found Andrew Caldwell, or Jacob Tamme, or Eric Decker, or one of his running backs.
Slap! Slap! and Slap! again.
It was a master-class in moving a defence around, diagnosing their weakness and then dissecting it with clinical accuracy, time and time again.
For long periods, Tom Brady could only sit and watch his defence take their punishment. Then, when it was his turn to try to deliver a few slaps of his own, he was either wide of the mark or the Broncos simply ducked.
The visitors didn't get into the end zone until there were little more than nine minutes left and they were already 23-3 down. They made the final score slightly respectable but that was about it, outgained 507 yards to 320, with no turnovers recorded by either side, but the big turnover was in the fundamental derailing of a Belichick defensive scheme.
Previously, no matter how few weapons Brady might have on offence, the signature mark of all New England teams in the past 14 years has been their ability to hang tough on defence, to give themselves a chance, to be competitive.
Without Talib, this was simply a mis-match, a total slap-happy, pass-slinging dressing-down from the passer who many doubted could get it done in the play-offs, especially against his arch-rival who had beaten him in 10 of their previous 14 meetings. The fact it was only a 10-point final margin of victory was irrelevant. This was a beatdown, pure and simple.
Composed
Well, the main statistic is that the arch-rivals are now 2-2 on the post-season stage, and Peyton also has the chance to secure his second Super Bowl ring in New York on February 2.
Considering how 'Little brother' won his second title on Peyton's patch in Indianapolis, how appropriate is it that 'Big Brother' is now shooting for No.2 on Eli's stomping ground?
Awaiting them in the Big Apple (or, strictly speaking, New Jersey) will be the hard-as-nails Seahawks, after Seattle held off the error-prone 49ers in a shuddering heavyweight collision that proved once and for all that a good little 'un can beat a good big 'un.
Russell Wilson may be only 5ft 11in (standing on tip-toe) but he gave the 6ft 4in Colin Kaepernick an object lesson in focus and delivery on the biggest stage.
Wilson may not be the flashiest guy in The League of Extraordinary Quarterbacks, but he certainly showed how to move a team into a winning position and maintain a calm, composed attitude when it counted most.
From 17-10 down, the Seahawks ace made all the right decisions, didn't turn the ball over in the second half and delivered a couple of hefty blows, making light of his own pop-gun wideout corps while Kaepernick often looked good but made the costly errors - a fumble and two interceptions - that ensured San Francisco will not be making the coast-to-coast flight.
It was a breathtaking finale to the evening's double-header action; impossible to predict but a joy to witness (apart from Richard Sherman's witless rantings at Michael Crabtree in his post-game interview).
More importantly, it gives us a classic match-up for XLVIII - the unstoppable offensive force against the immovable defensive object, and we can, finally, answer that thorny old question - does defence REALLY win championships?
Prediction bust
OK, so I drew a complete blank with my Championship game predictions. The Patriot defence never turned up at Mile High and Kaepernick demonstrated an alarming Achilles heel on his latest visit to Seattle (two trips this season, seven turnovers).
Manning was simply too good, at the age of 38, for Brady and Belichick and he fully deserves the chance to gild his legacy still further with a priceless second ring.
Pete Carroll goes to his first Super Bowl and I'm sure my Sun colleague Nick Chapman will remind me non-stop how his pre-season pick was Denver-Seattle and he never doubted them for a minute (despite endorsing my Championship-game thoughts!).
Now, we just need to survive a week in the Big Apple without getting frostbite...