NFL Championship Game Sunday: Peyton Manning versus Tom Brady promises to be a classic
Simon Veness relishes two battles of mind and muscle on Championship Game Sunday.
Last Updated: 17/01/14 2:20pm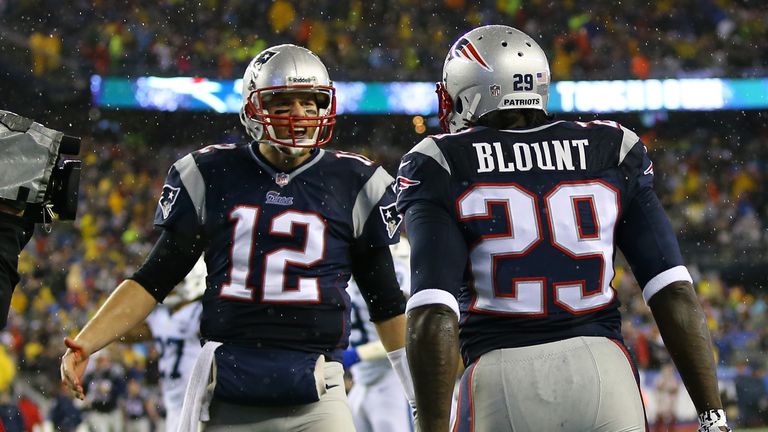 And it has caught the media attention here like a Tiger Woods Sunday afternoon Major charge - i.e. an unstoppable force of nature with plenty of intrigue and sideline cheering.
The match-up between Peyton Manning's Denver team and Tom Brady's New England is also serving to dominate the sporting conversation ahead of Sunday's Championship games (live on Sky Sports 1 from 7.30pm), which is no mean feat considering the REAL heavyweight showdown is actually the San Francisco-Seattle contest - and I will get to your game in due course, I promise, 49ers and Seahawks fans.
Yet the imminent outbreak of another little head-to-head between two sure-fire, gold-plated, first-ballot Hall of Famers has caught the imagination here more than the prospect of XLVIII itself.
And, like a fine wine, it is something to be savoured with exquisite nuance, a rare vintage that seldom disappoints and always adds to the lustre of at least one of the twin Canton-bound legends.
Purely and simply, Manning-Brady XV promises to be a riveting, multi-faceted epic, even by the stratospheric standards of this famous rivalry. It has all the appeal of Ali-Frazier, with Kasparov-Fischer and Woods-Mickelson for good measure. It is physical and mental in equal measure, at the highest possible level.
The subtleties and distinctions of each of the 14 previous meetings involving the two long-time duellists have all been resurrected and dissected, postulated over and pontificated upon; and we can be 100 per cent certain of one thing - you won't want to miss it.
The Big Game
There is a delicious irony to the undertone of the 15th and probably most eagerly anticipated meeting of Manning and Brady (remember, Twitter was barely six months old the last time the duo met in the play-offs, in 2007!) in the fact many people expect this game between two of the most revered arms in NFL history to be decided - on the ground.
Yes, that's right, arguably the greatest passing array ever assembled by two teams, going tete-a-tete, and yet the REAL battle may be in the trenches, the 300lb monoliths going toe-to-toe in the bid for running room, and Knowshon Moreno potentially being the deciding factor - unless it's LeGarrette Blount or Shane Vereen or Steven Ridley.
Yes, there will be passes, and Mr Omaha (that would be Peyton, for those who missed his 44 shouts of the Nebraskan city during his snap count against San Diego last weekend) will almost certainly make most of them. But the most interesting dynamic about the two teams - as opposed to their star-spangled passers - is how they have evolved in recent weeks. And where their weaknesses lie.
New England have simply been a revelation behind the bulldozing running of Blount, piling up 431 yards on 64 carries in the last three games for a gaudy 6.7 yard-per-rush average and the little matter of eight touchdowns. And they still have two other ground-churning weapons to choose from if necessary, with Vereen also a threat in the passing game as well.
It couldn't be more timely, as the teams that have all given the Broncos trouble this season have been the miserly ball-control offences; the stuff-it-up-your-jumper-and-eat-clock merchants. It's the "Let's keep Peyton off the field at all costs" approach, and it promises to pay most dividends in the hostile environs of Mile High on Sunday afternoon.
True, the Broncos did give up only 101.6 yards per game in the regular season, good enough for seventh in the league, but they gave up almost four yards per rush, good for only middling territory overall. And only seven teams saw FEWER rushing attempts than Denver, mainly because their opponents were often in a big hole against Manning and Co, yet they still gave up 15 rushing touchdowns - ninth worst in the NFL.
So the Patriots' strength could well be the Broncos' biggest weakness, especially without linebacker Von Miller. Factor in the specifics that Brady's receiving corps has absolutely no deep threat and is led by the diminutive Julian Edelman, and you can see why Bill Belichick might want to run on first, second AND third down. And he might give it to Blount on anything less than fourth-and-long, too.
At the same time, Moreno has also quietly had a stellar season, rushing for 1,038 yards on 241 attempts at a 4.3 yard-per-run clip and scoring 10 times. For all its aerial threat, Denver's running game still ranked 15th in the league in yards/game, while they were a very solid seventh in terms of rushing touchdowns.
Then, factor in the specifics of New England's defensive strength - its secondary, led by human blanket Aqib Talib - and their obvious fallibilities against the running game (an alarming 30th), and you can suddenly see why this may not be the air-it-out fest you'd imagine at first glance.
Having said all that, of course, Surly Bill is quite likely to come up with a completely different gameplan to the one most pundits expect. That's because he's Bill Belichick.
For all the fact I usually stress his dour demeanour and apparent grudging of every monotonal word in every press conference, he possesses the finest tactical mind of the past 20 years. If that's what Denver THINK will happen; well, he can just as easily make them think again. And again.
And herein lies the true, delicious, anticipatory delight of this game. It is a chess match of the deepest and most cerebral kind, full of players who can take their general's commands and dance all over the board in exquisite fulfilment of those orders.
It has Brady and Manning and Blount and Moreno, and it especially has a team of cast-offs from the north-east who have defied injury and circumstance at almost every turn this season.
We won't know what those orders are until the first line of scrimmage, and we won't know if Belichick can scheme his way to another surprise success, as a 3.5-point underdog, until the very last second has ticked off the clock. It's going to be a game where every second counts, and we will be able to relish every single one.
But just consider this. Three times, Brady has been a 3.5-point (or bigger) play-off 'dog. And each time he has come away victorious.
The Even Bigger Game
OK, while two legends duke it out for the right to represent the AFC in chilly New York on February 2, two teams of even more immense physique, iron will and sheer defensive nastiness will do battle in the Den of Din (copyright, S. Veness, 2013) that is Seattle's CenturyLink Field.
And this will not be a contest for the faint-hearted, and especially not for those who like to see pinball scoring and passes galore. This will be grind-it-out ferocity, miserly, strategic passing - and bruises galore. It promises to put the 'sick' in physical (and I'm thinking of copyrighting that, too).
Plus, they really don't like each other very much. It all stems from their two chalk-and-cheese head coaches, the freewheeling, loosey-goosey southern Californian in charge of the Seahawks and the buttoned-up, laser-beam-focused mid-Westerner at the helm of the 49ers.
There's nothing freewheeling or loosey-goosey about Seattle, of course, neither on offence or defence. They're big, hard-hitting and give the opposition slightly less than nothing. Just like the 49ers.
The Seahawks also boast a hard-to-pin-down, fleet-of-foot, read-option quarterback, who can be equally adept at pulling up on the run and tossing the ball to a wide-open receiver while the defence goes into quarterback-run panic mode as he can just pulling the ball down and running. Just like the 49ers.
Seattle positively revel in an overpowering defensive front that try to make mincemeat of visiting offensive lines and keep opposing running games to two yards and the proverbial cloud of dust. Just like the 49ers.
And Carroll's men also possess a battering ram running back who often drags multiple tacklers with him en route to another bruising encounter with Beast Mode. Just like the 49ers.
Because these teams are far more alike than dissimilar, an NFC West mirror-image of each other, two throwback super-powers who revel in the physicality of the game, and would only grudgingly give you the time of day, much less a yard of turf.
This is, of course, the rubber-match of a three-game set that has already seen both teams win their home outing, and the oddsmakers fancy another home win in this case, by three points.
And just consider this. San Francisco's last two visits to Washington ended in a pair of spankings by a combined 71-16, with Colin Kaepernick having the two worst games of his three-year career, giving up four interceptions.
The Big Predictions
Right, I am 7-1 for the play-offs so far, hence I think I've earned a bit of prognostication privilege. But when it comes to how to decide between these two pairs of evenly-matched behemoths, I am relying on one thing - gut instinct.
Manning's sheer array of offensive weapons ought to give Denver the edge, no matter how stingy the New England secondary. And the fact several pundits are casting doubt on his overall legacy - the regular-season dominator who can't get it done in the play-offs, they sneer - ought to have his sense of purpose fine-tuned to the very last degree.
Only I think Brady and Belichick have one last con to pull on Peyton, one last trick up their sleeve when it comes to bamboozling the Master Confuser himself. Blount will be hard to stop and Edelman and Co may be small but they simply catch balls, lots of them.
It might not be the points-fest several predict, but I see the Patriots snatching it, something like 24-23.
Equally, Seattle have the defence, the home advantage and the recent examples of dominance to be a solid favourite, despite San Francisco's current run of eight straight wins. They have also made life a misery for Kaepernick at regular intervals.
Only I think the Seahawks lack the wideouts to trouble the 49ers sufficiently if Percy Harvin is not fit (as seems likely), unless Beast Mode himself, Marshawn Lynch, goes Super-Beast. And that's the one thing Harbaugh's men will be primed to stop.
This definitely won't be a scoring fiesta, and both kickers will be under extreme pressure to make their work count. Phil Dawson could well have the answer, though, with San Francisco ending their CenturyLink hoodoo, 19-17.